Is it cold war between Victoria Beckham and Nicola Peltz?
Mother-in-law and daughter-in-law allegedly at loggerheads, but Nicholas and Brooklyn deny it in a recent interview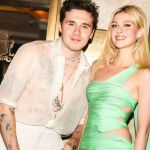 "It's not true that they don't get along," Brooklyn Beckham hastened to say during an interview with Variety, trying to squelch the headlines that have been talking for weeks about a feud between Victoria Beckham and Nicola Peltz. The rumors began when the American heiress showed up at the altar in a Valentino creation, deciding at the last minute not to wear a Victoria Beckham-designed wedding dress, as, instead, she had previously announced. For the young chef, it was a simple misunderstanding: "I was going to and I really wanted to, and then a few months down the line, she realized that her atelier couldn't do it, so then I had to pick another dress. She didn't say you can't wear it; I didn't say I didn't want to wear it. That's where it started, and then they ran with that. We all get along fine. It's just that some people enjoy stirring up trouble."
Despite Brooklyn's words, the British press is convinced that mother-in-law and daughter-in-law, as in the most classic of stereotypes, are at loggerheads and "can't stand each other or talk to each other." The clues supporting the theory of a breakdown in relations between the two women are all there. The first hints date back to the Beckham-Peltz wedding. It is said that Nicola feared that Posh Spice would steal her thunder on her most beautiful day and, because of this, she completely excluded Victoria from the wedding planning, reducing communication to a bare minimum. The former pop star reacted with indifference, at least until she saw the Tatler cover featuring her daughter-in-law in the foreground and the words "The New Mrs. Beckham." Apparently being ousted from her role as the only Mrs. Beckham infuriated her. The anger rose over the summer. Both Brooklyn and Nicola and Victoria and David with their children Harper and Cruz were on vacation in Italy but did not cross paths. The reason would be that the two Mrs. did not want to meet. The biggest clue to the chill between Victoria and Nicole is the lack of social interactions compared to the past. The Daily Mail took a "scientific approach" and did the math: "Last summer, in the three months between the beginning of June and the end of August, Victoria liked 20 posts from Nicola, commenting on August 29: "Kisses! We love you! ". In the same period, Nicola liked 25 of Victoria's posts." In the three months following the April 9 wedding, the numbers became very different: "Nicola liked only 5 out of 131 posts made on Instagram by Victoria, and in that same period Victoria liked only 6 out of 35 posts made by Nicola."
Inevitably, the feud also involves Brooklyn, who allegedly chose to side with his wife so much that he added her last name to his own. The choice to call himself Brooklyn Peltz Beckham also conceals the intention to make Peltz-Beckham a full-fledged brand, which would focus on clothing, beauty products, and perfumes. Financing the new business would be Nicola's father, American billionaire Nelson Peltz. This detail has turned the noses up at Victoria and David, who have always wanted their children, while helped and supported, to learn to fend for themselves, as they have done. Will the war between Beckham and Peltz ever come to an end or at least a truce?