Why Anne Hathaway is always cooler
It has to be said that the actress has done an excellent fashion "work it"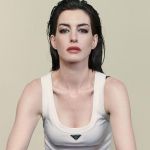 There is something akin between actress Anne Hathaway and her legendary character in The Devil Wears Prada, Andrea Sachs. Both women have had a rise in style over the years, going from the watery girl next door who dressed cute (but nothing more) on the red carpets, to undisputed style queens. The first memory we all have of Anne is in the film Pretty Princess, in which she is transformed from nerd to princess through and through. But her very first fashion breakthrough was undoubtedly alongside Meryl Streep aka Runway magazine's Miranda Priestly in The Devil Wears Prada, where she went from 'granny skirts' and cerulean jumpers to total Chanel and Valentino looks, teaching us that all it takes is the right accessory or a perfectly tailored dress (and a touch of the right hairdryer) to make us feel like front row It-girls.
After several lockdowns, however, Anne Hathaway somehow became the real Andrea Sachs of Hollywood. She started collaborating with major fashion houses, from Valentino to Bulgari, redefining her style and bringing out the Pretty Princess that had been in her since 2001 but which stands out 21 years after its release. What we like about Anne today is that she has retained her simplicity but at haute couture moments. Her latest "hit" is a shoot by Interview Mag, where she poses seductively in clothes by Balenciaga, Gucci and Dior. Sometime before that, she was enchanted at the Bulgari party in Paris, Eden The Garden of Wonders, in a canary yellow Valentino total look, and in purple wearing a stunning diamond and emerald necklace alongside Zendaya. Previously, at the Cannes Film Festival, Anne went from red carpet goddess, in snowy white by Giorgio Armani, to a scratchy photocall outfit by Louis Vuitton, for the presentation of her latest film Armageddon Time.
Going back not too far in mid-April, Anne unleashed her humor to tell us that for years she has been supporting what has now become the style that is all the rage on TikTok today, the Diane Keaton nineties style dubbed #coastalgrandmother for its ability to mix white with beige, reminiscent of a "rich lady with a house on the coast". There was no shortage of tributes to her Andrea Sachs character, first in a purple fringed dress by Valentino, and then in a micro jumpsuit, also by Valentino, paired with high black patent leather ankle boots. Dulcis in fundo there was no lack of entertainment. Hathaway, married since 2012 to Adam Shulman, seems to have more than one coincidence linking her to the poet William Shakespeare. She shares, in fact, the same name as the writer's wife, while her husband Adam Shulman bears a certain resemblance to Shakespeare himself. Coincidence or reincarnation? Your guess, while you acquire a dash of the Hathaway look (the modern-day one, though).