Hunter Schafer joins the cast of "The Hunger Games" prequel
The actress will play Tigris Snow, "cousin and confidant of the tyrant Coriolanus"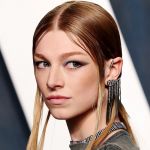 The prequel to The Hunger Games is shaping up to be one of next year's most anticipated projects. It is scheduled to debut in theaters worldwide on Nov. 17, 2023, but details are multiplying as the start of filming approaches. The latest news about the film that, like the three that made Jennifer Lawrence a star, will be directed by Francis Lawrence concerns an important addition to the cast: Hunter Schafer. According to The Hollywood Reporter, the Euphoria actress will play Tigris Snow, Coriolanus' "cousin and confidant, who advises him in everything from his role as mentor to the core of his moral compass."
Titled The Ballad of Songbirds and Snakes, the prequel to the successful Katniss Everdeen saga will follow the fortunes of teenager Coriolanus Snow, many years before he steps into the shoes of the villain, the despotic leader of Panem:
"Years before he would become the tyrannical President of Panem, 18-year-old Coriolanus Snow is the last hope for his fading lineage, a once-proud family that has fallen from grace in a post-war Capitol. With the 10th annual Hunger Games fast approaching, the young Snow is alarmed when he is assigned to mentor Lucy Gray Baird, the girl tribute from impoverished District 12. But, after Lucy Gray commands all of Panem's attention by defiantly singing during the reaping ceremony, Snow thinks he might be able to turn the odds in their favor. Uniting their instincts for showmanship and newfound political savvy, Snow and Lucy's race against time to survive will ultimately reveal who is a songbird and a snake."
Coriolanus Snow will have the face Tom Blyth, best known for The Gilded Age series in which he played Archie Baldwin; while the role of Lucy Gray has been given to Rachel Zegler, a young star on the rise who has already appeared in West Side Story and is currently on the set of the live-action remake of the Disney classic Snow White. The addition of Schafer, who is now working on Cuckoo, a horror film from director Tilman Singer, makes The Ballad of Songbirds and Snakes a surefire blockbuster, designed to bring Gen Z back to the movies and replicate the success of the trilogy starring Jennifer Lawrence.
"You're invited to return to the Games in 2023. The world will discover who is a songbird and who is a snake." It reads in the graphic of the film's first teaser trailer and, we are sure, many are looking forward to responding to the invitation and enter once again the world created by writer Suzanne Collins.