Julia Garner will play Madonna in the biopic about The Queen of Pop
According to insiders, the actress is ready to sign the contract for the movie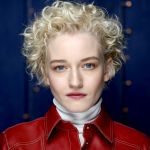 Desperately Seeking Madonna. Or maybe not anymore. Because, according to Variety, the singer has found who will play her in her biopic: Julia Garner. It seems that the actress, who became famous for two Netflix TV series, Ozark and Inventing Anna, "has emerged the favorite from over a dozen candidates" and has for months been speculated as "a frontrunner for the part", also because the producer, Universal Pictures, was pushing to have a well-known face in the cast. All that is missing to seal the deal is only for Garner's team, currently filming the thriller Apartment 7, to officially accept the offer.
Besides Garner, in the running for the role of the Material Girl were Florence Pugh, Euphoria stars Alexa Demie and Sydney Sweeney, Odessa Young, Bebe Rexha and Sky Ferreira. And they all had to undergo a casting process so demanding that it was dubbed Madonna Bootcamp. Over the past few months, insiders have revealed that to be Madonna you have to be able to do it all, so the actresses had to undergo long choreography sessions lasting up to 11 hours a day, first with Madonna's choreographers, then with Miss Ciccone herself. Not enough. Each candidate had to pass singing sessions and readings from the script, written by Madge herself with Diablo Cody and Erin Wilson. Sta, who will also direct, said she unveiled some details about the plot, which will retrace the most significant stages of her life:
"I want to convey the incredible journey that life has taken me on as an artist, a musician, a dancer — a human being, trying to make her way in this world. The focus of this film will always be music. Music has kept me going and art has kept me alive. There are so many untold and inspiring stories and who better to tell it than me. It's essential to share the roller coaster ride of my life with my voice and vision."
It seems that the highlight of the Madonna film should coincide with the 1990 Blond Ambition World Tour, a series of live shows with which the artist rewrote pop history with her empowered and feminist vision, provocative costumes designed by Jean Paul Gaultier and choreography as explicit as ever. It seems obvious, therefore, that if Garner agrees to take part in the project, she will have to display versatility and great acting skills to be a perfect Madonna even in song and dance sequences. We just have to wait for official confirmation to know if the actress is ready to transform herself into The Queen of Pop. We can't wait to see the biopic and we also wonder: will Julia Fox be in the cast as Debi Mazar?