5 things to know about "Elvis", Baz Luhrman's new movie
From the costumes by Miuccia Prada to Måneskin's cover for the soundtrack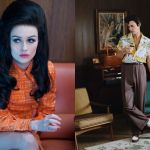 Soon, and on 24 June, we may finally watch Elvis, the latest highly anticipated movie directed by Baz Luhrmann, on the big screen. From the soundtrack to the costumes by Prada and Miu Miu, the ambitious project has all the ingredients to become a cult hit and will certainly cast its star, Austin Butler, among Hollywood's hottest young stars, but don't call it a biopic. Apparently, the film will be the journey of a young boy turned legend through America in the 1950s, 1960s and 1970s, told through the relationship between him and his manager, the despotic Colonel Tom Parker, played by Tom Hanks.
Here are five things you absolutely must know about Elvis.
Austin Butler is a perfect "King of rock'n roll"
It all started with a video of Austin Butler singing Unchained Melody in his bathrobe. Thanks to that and a warm recommendation from Denzel Washington, Baz Luhrmann cast the actor to play Elvis. Butler repaid the director's trust by working hard and meticulously on himself, almost obsessively studying every detail of The King, from his accent to the way he sings and moves. Besides, the teen idol face, the big blue eyes, the full lips, the sensual voice and the talent were already there. Stubbornness and commitment did the rest, turning him into a truly believable Elvis. In the end, his body was so stressed that he ended up in the hospital, but the result is apparently great.
The costumes are by Prada and Miu Miu
After Romeo + Juliet and The Great Gatsby, Miuccia Prada returned to collaborate with Luhrmann and costume designer Catherine Martin for the biopic dedicated to the king of rock and roll. The clothes designed by Prada and Miu Miu are a contemporary interpretation of fashion from the '50s, '60s and '70s, cleaned up of any redundant d kitsch. Away with country elements and a shower of sequins, the Elvis 2022 favors minimalist garments with clean lines, such as the plum-colored suit worn over a black satin shirt with a prominent collar and Chelsea boots on the feet, or the navy blue one with a baby blue-colored turtleneck. The coolness of Priscilla Presley reinterpreted through Miuccia Prada's ugly chic aesthetic is reflected in the reinterpretation of some archival prints (from Prada's Spring Summer 1996 collection), outerwear and dresses with a bon ton flavor, but also a touch of Las Vegas sixties given by the brocade trouser suit paired with a top covered in beads and fringes.
Måneskin are part of the soundtrack
Måneskin continue their climb to success by becoming part of the most anticipated film of the year. The Roman band, who were present at the Cannes preview in a series of glam by Gucci looks, sang a version of If I can dream. The song, which you can also in the trailer, was originally recorded in 1968 and contains references to Martin Luther King and his famous I Have a Dream speech. Besides Måneskin, the Elvis soundtrack includes Can't Help Falling In Love sung by Kacey Musgraves; Hound dog covered by Doja Cat; and many other artists such as Eminem, Tame Impala, Jack White, Swae Lee and Diplo.
The whole cast was in Cannes, amid applause and hot kisses
Elvis, will hit theatres on 24 June, but it premiered at the Cannes Film Festival. For the occasion, the entire cast walked the red carpet: from Tom Hanks to Olivia DeJonge, who plays Priscilla Presley and appeared on the Croisette in an aquamarine dress by Gucci like a true diva of yesteryear. However, all the attention was on the film's star, Austin Butler, in a black smoking by Celine, the same brand chosen by his girlfriend Kaia Gerber. The model sported a minimal chic red slip, but caught the paparazzi's flashes by having a passionate kiss with Austin.
Elvis' ex-wife Priscilla Presley watched the movie and enjoyed it
Luhrmann's movie had the approval of a very special person, Priscilla Presley, Elvis' widow, who wrote on Facebook:
"For those curious about the new film ELVIS, Baz Luhrmann, the director, provided a private screening for me and Jerry Schilling at Warner studios recently. This story is about Elvis and Colonel Parker's relationship. It is a true story told brilliantly and creatively that only Baz, in his unique artistic way, could have delivered. Austin Butler, who played Elvis is outstanding. Halfway through the film Jerry and I looked at each other and said WOW!!! Bravo to him…he knew he had big shoes to fill. He was extremely nervous playing this part. I can only imagine. Tom Hanks was Col Parker in this film. What a character he was. There was two sides to Colonel, Jerry and I witnessed both. The story, as we all know, does not have a happy ending. But I think you will understand a little bit more of Elvis' journey, penned by a directer who put his heart and soul and many hours into this film."