The new edition of Momy, the event dedicated to motherhood and parenthood, is coming soon
The appointment is in Milan and online from 6 to 8 May
From 6 to 8 May, Momy, the event dedicated to motherhood and parenthood returns for its second edition with a phygital format. The idea behind the project, as underlined by Valentina Contato, partner of My Events and CEO My Events Digital, remains the same: to tell stories and talk #nofilter with people, experts and professionals who can inspire the mums of today and those of tomorrow.
"Following the great success of the first edition, we decided to repropose the project in the in-person version. Momy is unique in its format because it speaks - without filters - to all families. Its ambition is to break taboos, with lightness but also great awareness, on all those sometimes difficult and complex aspects that often accompany families and that no one talks about. We want to tell stories or experiences in a real path of inclusivity and zero taboos through the voices of people who can inspire the mothers and fathers of today and those of tomorrow".
Momy 2022 will be held in the splendid setting of The House, Riccardo Catella Foundation, where for three days there will be appointments, talks, tutorials, workshops, experiences promoted by exhibitors, and fun and educational activities on the world of parenting, all developed in three main thematic areas: no filter, educational and lifestyle. The talks, all available live on instagram on the official profile @momy.live, not to be missed? Non chiamatemi mammo, which will clarify whether or not it is correct to call a dad who is active in the family unit a mommy; while in Parlare di diversity ai bambini, psychologist mum Elena Zauli together with rainbow parents Fedya Crespolini and Daniel Munari will discuss how to explain diversity to children and educate them from the very beginning about inclusiveness.
Among the most interesting appointments are Viola x Momy, an experiential workshop for the empowerment and awareness of mothers; Speed Dating during which @federicamamiclub will discuss with midwife Cetty Riggio the importance of creating contact with one's own baby right from pregnancy. There will also be lifestyle columns with advice from experts and professionals, many dedicated to yoga and mindfulness such as Me Time with @sarah_conlacca by @rainbomyoga who will offer some tips on how to carve out at least 30 minutes a day to dedicate to yourself. You can find the whole program of Momy 2022 here.
There are two new features in this second edition. The first is the collaboration with DonneXStrada, the association and digital community for the protection, support and safety of women (mothers and not) on the streets of Italy's main cities. The second is Talk by Momy: talking about diversity to children with the intervention of Dr. Elena Zauli @thelenazauli, psychologist and mom influencer, Fedya Crespolini, lgbt+ mom and event organizer at @pop.milano, Daniel Munari, lgbt+ dad and communication specialist, @danielmunari and Sharon Cialona, star of "16 Years and Pregnant", @cialona.sharon with whom we had a chat about her experience in the MTV reality show as a young mom.
Four years into her journey now, Sharon has two beautiful children who have taught her a lot about herself but also about today's world, where being a mom is often a competition to be "the perfect mom" and that can lead to encountering strong judgments in personal confrontations. Fortunately, during "16 and pregnant" she met many people who listened to her and made her feel understood, building good relationships that she would like to expand in the future with a network dedicated to moms.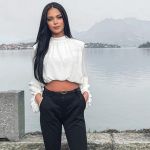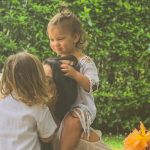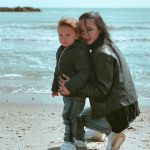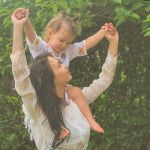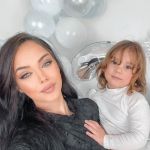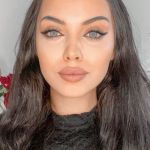 The stories of motherhood today are similar to those of the past for the fear of not feeling up to the mark and for the amount of energy consumed in the relationship with children. One difference, might be instead that in the "world made up of appearances, I would definitely want to teach my children to always look beyond. Appearances are fine but the real value must be what they really are". Being a mom is a life-transforming experience regardless of the age at which it happens, and although Sharon didn't feel ready today she defines herself as a very good mom who focuses everything on dialogue and listening to her children, confirming that patience, responsibility and love are prerogatives for a healthy relationship between children and parents, which includes teaching her own values to the parents of tomorrow.