5 Female-owned businesses to discover in Milan
To eat, drink, and shop at some of our favorite spots that also happen to be female-owned
The future [of Milan] is female. Some of the most popular businesses frequented by locals in Milan, both the dependable classics we've come to love and the up-and-comers, represent the international mosaic of the city. Lush new ideas, innovative solutions, and fresh perspectives come together in Milan, drawing talent and entrepreneurial spirits from all backgrounds. Not only are many of these solutions presented by women, but it is women that continue to demonstrate how to leverage these talents, turning diversity, and at times hardship, into opportunities.
Whether you're already a local or just a tourist looking for ideas of places to go, check out some of Milan's best spots for eating, drinking, snacking, and shopping that are also run by exceptional women. See how the city is innovating while carrying on generational traditions. Take a tour of Female-owned Milan, starting with these Top 5 picks for businesses owned and operated by women.
Fòla
Via Varanini 12
A true gem in the hip Nolo area, Fòla is a relative newcomer to the neighborhood and carries the title as the first pasticceria in this part of the city, although it's much too limiting as the locale offers a veritable culinary selection. The founders brought together their professional experience and individual perspectives to create truly flavorful and exquisite products. Tine has Belgian roots and was raised in Italy, Claudia is Bergamasca and runs the bar, and Luna has Italian and Filipina heritage and can usually be found in the kitchen. A modern, light space, the shop brings in warm woods, decorative tiles, and warm colors that despite the small space, comfortably accommodates seating, a small bodega area to purchase a variety of house made treats and a long glass case ready with a selection of small bites, soups, and baked goods. Most of the options are vegetarian and everything is housemade every day. The bottega and gastronomy are perfect spots for a meet-up or even to pick up gifts.
" We're your patisserie, delicatessen shop and small local bottega in Milan, we're unexpected. Pain au chocolat, lucious cakes,vegetable soups and roasted greens:everything with a touch of magia"
— Luna, una cliente
Baobab
Via Alessandro Tadino, 48, 20124 Milano MI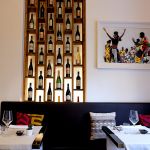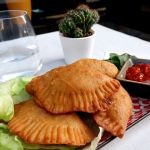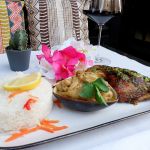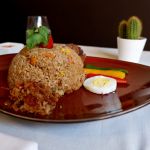 More than a restaurant, Baobab has become a hotspot for foodie insiders and a gathering place for famous and influential patrons. The owner Madelene brings flavorful and filling Senegalese cuisine to Milan's foodie hotspot and shopping district Corso Buenos Aires. A bright and airy space accented with saturated tones and luscious artwork, the white-tablecloth, fine dining eatery offers a modern experience with an ample menu consisting of authentic dishes from countries across West Africa from perfectly puffed savory beignets, fluffy couscous and rice, to a selection of barbecued specialties that include fish, lamb, veal, beef, and chicken, and an impressive selection of vegetarian items. The wine list is solid and serious with a mix of French and Italian options, including an excellent list of bubbles. The atmosphere lends itself to small or large gatherings, despite its cozy accommodations and has become known in the community as a place that women of all backgrounds can safely gather, even becoming a favorite spot of model and activist Bianca Balti. From the beautiful artwork from different Senegalese artists (all available for sale), to the menu that begins with enchanting poetry, to the kitchen and wait staff, and the warm ambiance channel a reverence for the contribution of black women, offering an open invitation to the international clientele who are looking for an elevated and fulfilling dining experience.
A loyal customer talks about her favourite food spot:
"Madeleine is an enterprising woman who has managed to bring a little bit of Africa to Milan. Small but cozy, Baobab faithfully reproduces the flavors of West African cuisine, full of scents and flavors to be discovered. Madeleine and her staff, with their hospitality, know how to make their customers feel at home."
— Macoura Fofana, Lifestyle Content Creator & Web Designer
Pop Milano
Via Alessandro Tadino, 5, 20124 Milano MI
One of the most popular areas among LGBTIA+ crowds, the San Felice side of Porta Venezia near Via Tadino is home to some of the most dynamic bars and restaurants in the city. In this pocket of the city a perfect spot to stop for coffee and cake is undoubtedly POP Milano which stands for Piece Of Pie, founded and led by Fedya Crespolini who is also an event organizer and Milena Cannavacciuolo who is a Designer. Crespolini and her wife Valentina Pozzi made news headlines in 2018, new mothers of just three days, going down in history as the first birth registered in Milan to two mothers. Now along with balancing family life, she and her business partner Cannavacciuolo turn out succulent sweet and savory pastries, pancakes, and organic yogurts along with coffee and drinks. Lunch items like fresh salads, salami and cheese plates, and torte salate are even better with one of their refreshing artisanal beers made locally and can be enjoyed in the easy-going modern space.
"Milan the big city that historically gives space to a movement that has made the foundations in terms of fashion, music and night life! From Plastic al Bianco to formidable Cabaret queer on the wave of 'equality we find immersed in the streets LGBTQIA + Porta Venezia a pub with a bright sign Pink. You are at Pop Feminist, beating heart of intersectional feminism where everyone can feel at ease sipping Bloodymary on the notes of Myss Keta. A place to feel safe and free with the highest lesbian pride ever!"
— Giorgia Zanin, Tattoo Artist
Riad Majorelle
Via San Gregorio 35
A bright, modern space with soft velvet stools and banquettes, filled with Mediterranean blues in varying shades, Riad Majorelle is the perfect spot to experience authentic Moroccan cuisine in Milan for lunch or dinner. The fresh botanical touches, traditional tiles, and contrasting white creates a cozy and fresh mood. With early opening hours during the week starting at 10:00am, it's also an ideal coffee spot on the way to work or for a coffee date with friends in the area. A female owned business run by 3 sisters Aziza who is the oldest, Donya who does pastry and Hasna. Aziza and Hasna run the kitchen with Aziza also finding time to run the sala. The three culinary entrepreneurs leveraged their love of food and their Moroccan roots to share a passion for cooking imparted by their mother with whom Aziza recounts spending her childhood with, making bread throughout the day. Located in the foodie-centric Porta Venezia neighborhood on via San Gregorio, the restaurant took a hard hit during Covid having just opened in 2018, but has been able to pull through thanks to what Aziza describes as a strong family network. The best news (especially for us) that is to come however, is that the restaurant will be doing a Moroccan Brunch on weekends starting in the Spring when the weather is warmer and there is more possibility for outdoor seating. What can we expect in a Moroccan Brunch? Founder and trained chef Aziza comments:
"At a Moroccan brunch you can expect things like 4 kinds of Moroccan pancakes, revisited Moroccan and Italian pastries, 4 kinds of tagine, many kinds of fresh breads like turmeric bread and even traditional dishes like the Marrakchia Tangia, known as Tangia, which is like a lemon confit osso bucco. When people come, they feel the energy here and know they are welcome. We took a big hit with Covid, but it's because of the fact that we have a family that we're still here."
— Aziza El Mafdoul, owner
Do Business Like A Girl
There are many ways to see a City and discover its secrets whether you're here for a while or just passing through. Alone or with friends, Milan is a city with something for everyone. Treat yourself and support female owned enterprises at the same time. If you know where to go, Milan doesn't disappoint and will leave you with the feeling that just by being here you are a part of something great and surrounded by exceptional women.