Before and after: beauty and style evolution of our 90s icons
Still fab after 30 years
Colored vests, flare pants, platform slippers, hairclips and hair clips, pop rings and funky accessories, micro bags and crochet mania. In 2021, fashion winks at the era of the nineties, to the delight of the most nostalgic, bringing back some of its trends that we cannot forget, even in beauty.
From the rediscovery of vintage to beauty trends to the most classic pop references, the 90s style peeps into our wardrobes and the impression is that it has never abandoned us. An era more than a decade, which was the cradle of some of the most decisive and avant-garde social, cultural, and technological revolutions, but above all an era that spoke of fashion. The 90s, the times of Hollywood, of celebs, of real fashion weeks with super models like Naomi and Cindy, and of it-girls, whose charm even the great giants of entertainment seem to be unable to resist, who now announce almost all agenda is the great return of the titles that have made the history of TV sitcoms, from the reboot of Sex and the City, to the new Friends: The Reunion.
In short, the nineties have marked history, above all thanks to those unforgettable, free, multifaceted icons, which we still regard today fascinated by the now digital shots that invade our Instagram feeds. So nss G-Club started the engines of its time-machine to pay homage to these extraordinary years, selecting 5 of the most iconic 90s fashion muses, and exploring their style evolution over the last 30 years.
Kate Moss
It could almost be said that the great Yves Saint Laurent was talking about Kate Moss, when he said, "fashion fades, style is forever" were it not that the supermodel from Croydon, UK, was not born yet. Because her style is definitely a legend. Kate has risen to prominence since discovering her at JFK Airport at just 14, and now, 30 years later, she remains one of the greatest fashion icons thanks to the rebellious allure she has defined as her style. effortless-chic than her. Bold in experimenting with her looks, Kate Moss has inspired generations of fashionistas around the world, because she is unique in subverting traditional fashion rules, and making new dogmas out of them. From the slip dress she wore at the beginning of her career, to the playful bohemian style to the renowned animal print coats, the Kate Moss style is rock but sophisticated, innovative and timeless, surprising and iconic, controversial and impossible to miss.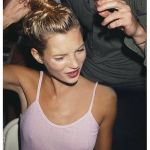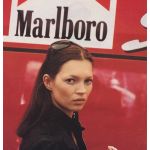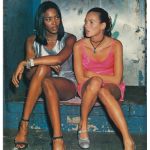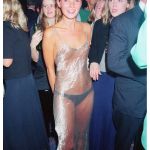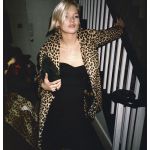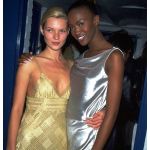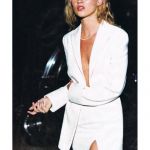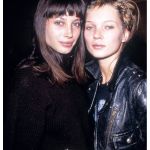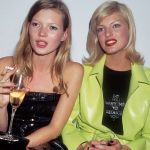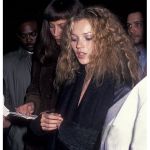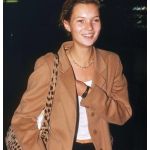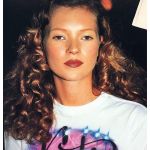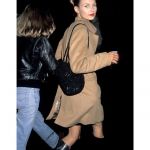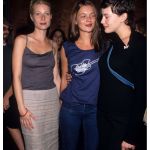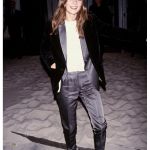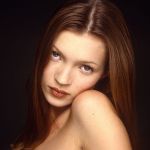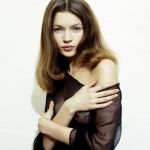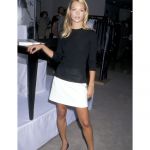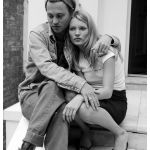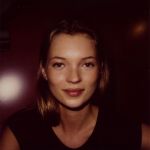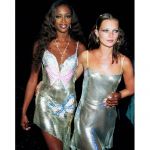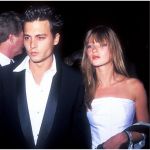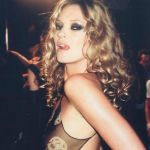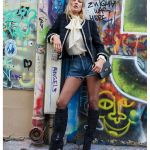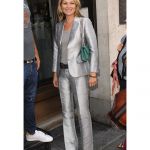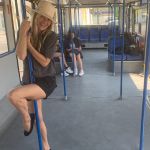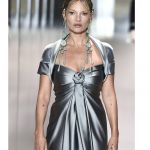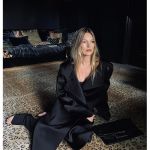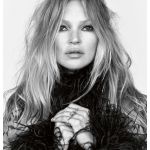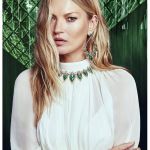 Among her outfits that have remained in history is the transparent metallic dress worn in 1993 that showed her slender figure and the black slip, which has become synonymous with the popular "heroin chic" look; but also the minimal slip dress with side cut shown at her first Met Gala with Christy Turlington and Naomi Campbell in 1995, and designed by the designer to whom she attributes her success, Calvin Klein. Today Kate Moss is still super cool, with her total black looks with rocknroll vibes faithful to her it-girl DNA. Her faux messy ash blonde cut and the natural beauty look with a light smoky make-up are her signature, indelible from her debut in the fashion scene to today.
Naomi Campbell
Partner in crime of the aforementioned Moss is the unforgettable Naomi Campbell, a regular presence on numerous red carpets from the 90s to today, like the Vanity Fair party, the Met Gala, the Cannes Film Festival, up to the various fashion awards, but above all ultimate queen of the runways in the last 30 years. The legendary supermodel is undoubtedly one of the most famous women to ever walk the runways, and she will go down in history as one of the most influential and provocative style icons. London-born, her first big break comes at age seven when she is chosen to appear in Bob Marley's Is This Love music video. Since then, Naomi has become a star of fashion and beyond, sought after by all the best designers starting from the late 80s, from Alaïa and Valentino to Versace, which has made her the muse and icon of the brand from the time of Gianni Versace to today. But the success also arrives on the cover, so much so that she is the first black model to appear on the cover of Vogue America in 1988. Her unique charm and her style as a true diva, earned her the place among the Trinity together with her colleagues Linda Evangelista and Christy Turlington.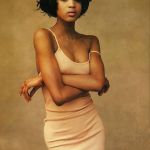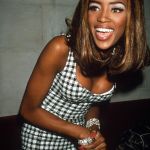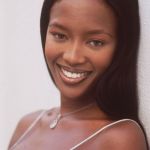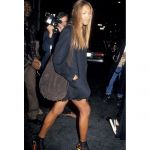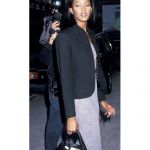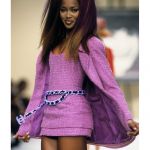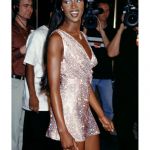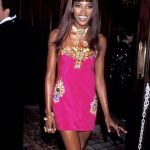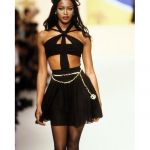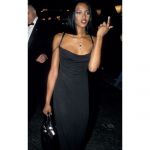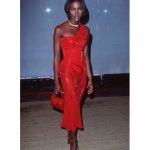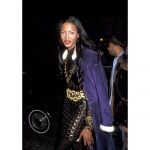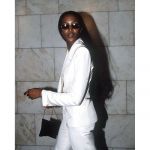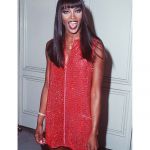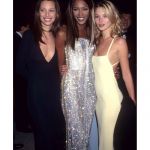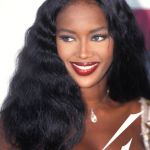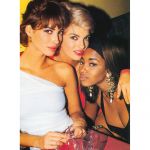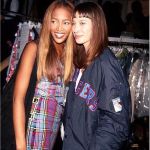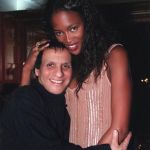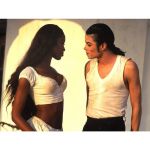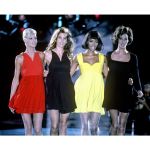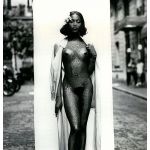 During her long career Naomi has experimented with a thousand different styles, first of all from hair, going from short with character bob cut to extra long, even if her signature look remains the voluminous hair with vintage waves. Her personality is strong, charismatic, and purposeful; all fundamental elements of a beauty destined to last, and that we always find in her looks too. Among the most iconic dresses shown on the red carpets of major events such as the vibrantly colored dress worn during the Met Gala of '90, or the Versace sparkling mini dress, unforgettable, of the Met 1995. Last year the black Venus has blown out the candles of her 50 years, but time seems not to have affected her charm in the least, just think of the recent shots on the occasion of the Valentino Pre-Fall 2019, where the model posed entirely naked in the New York subway, or the appearance on the Fendi by Kim Jones SS2021 Couture.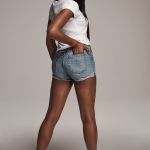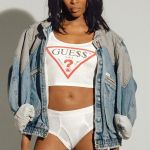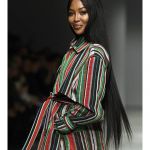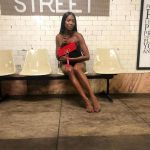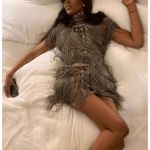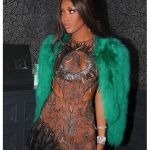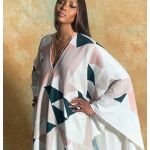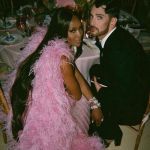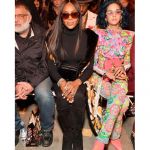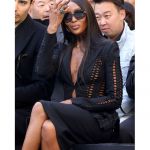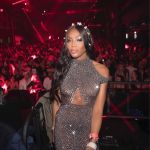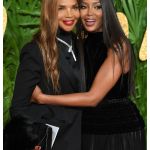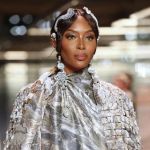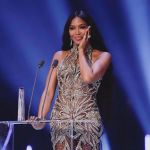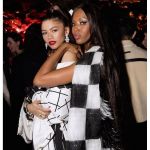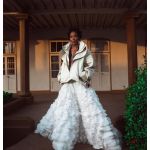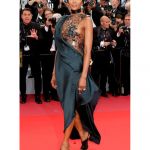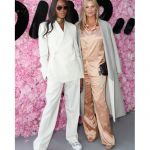 Naomi is a symbol not only of beauty, but of audacity and inclusiveness. She wrote the history of fashion together with the great names who accompanied her in her stellar career and still remains a monument woman of fashion of the last half century, an icon, with her timeless and elegant looks, but always ready to reveal an unexpected twist of a true fashion muse.
Julia Roberts
Among the style icons of the 90s, Julia Roberts is not lacking in appeal, known for her voluminous hair and big smile. But for those who have followed her since her first appearances, in films like Mystic Pizza, and Pretty Woman, Julia remains a pillar of fashion in recent decades, with a multifaceted and unique style. She loves minimal but elegant clothing, with strong references to menswear but at times feminine. Her versatility has led her to wear couture dresses that will remain etched in history, like the Armani Privé at the Met Gala 2008, or the Valentino sported at the 2001 Oscars, alternating them with avant-garde and cool tailored looks, among her favorites to tell the truth, with oversized blazers in neutral shades.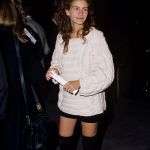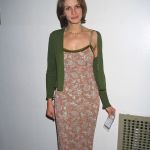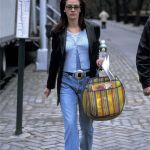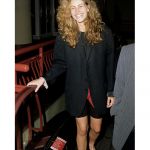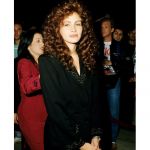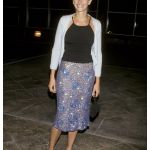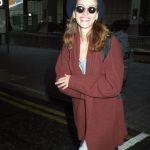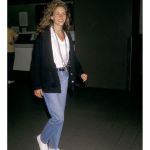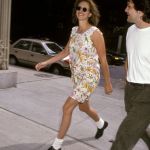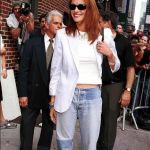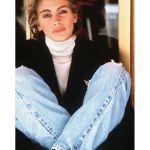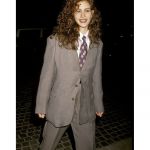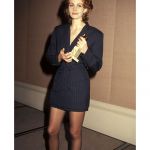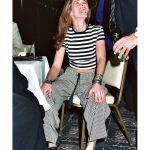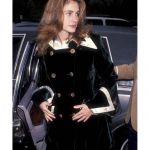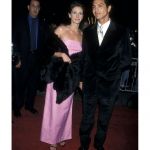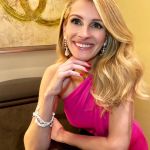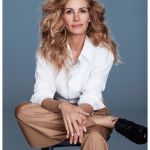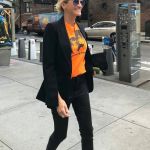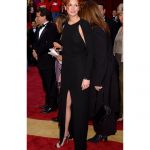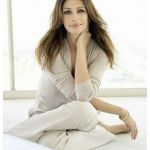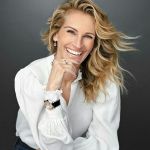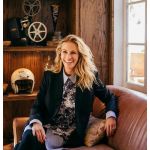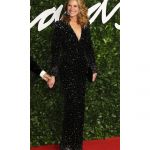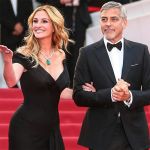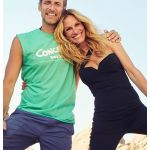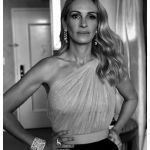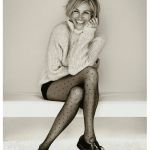 In the early 90s she used to show off with slip dresses or jackets with shoulder pads, which together with loose fit cardigans would have been a recurring theme in her style evolution over the last 30 years. For Julia, fashion is a wonderful game, but also a universe to explore, as are beauty looks. From Pretty Woman's wild curls, we saw her wearing bangs, chin bobs, vintage waves and more classic chignons; but also go from shades of blond to dark brown, and then return to her iconic coppery red. For her make-up, Roberts always opts for a natural look, with shades of eyeshadow and rosy lips, even today at 53 years old, she prefers to show off her smile at MonaLisa Smile rather than elaborate make-up.
Jennifer Aniston
When you think of the 90s, the reference fashion icon is definitely Jennifer Aniston. Also known as Rachel Green on the screens of Friends, one of the most famous TV shows of that period, the actress has amazed the audience since her debut thanks to a casual and easy-chic style, with which she has guaranteed the role of muse of fashion. Together with her longtime ex-husband Brad Pitt, they formed the perfect 90s couple goal, even in terms of matchy matchy style.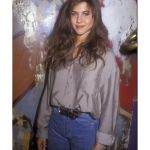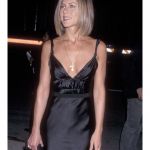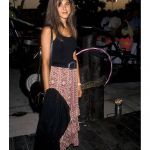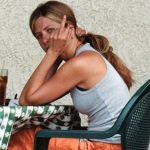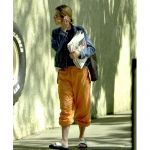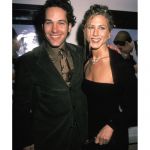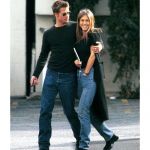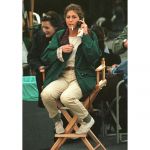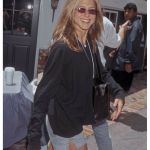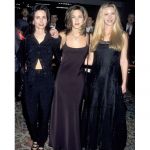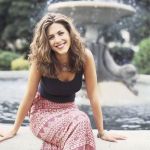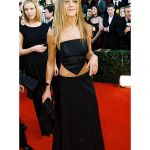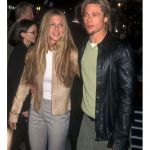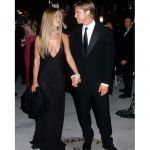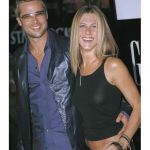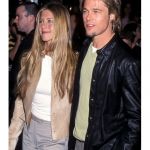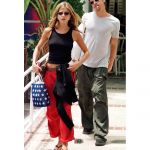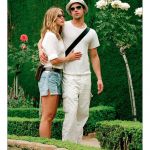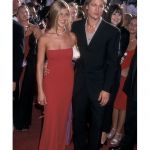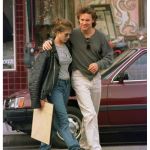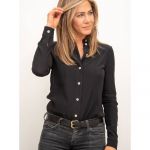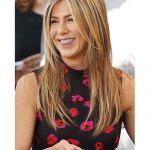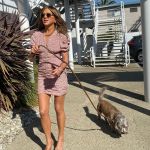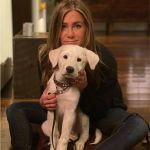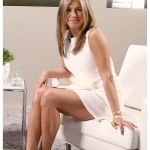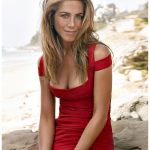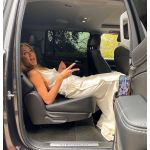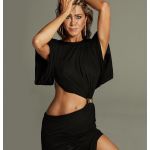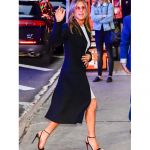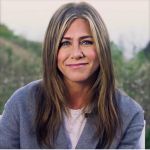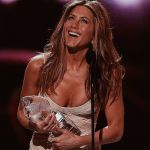 Aniston has earned her status as a fashion muse by evolving her style over the years, from clothing to hairstyle to beauty, with phases of crochet tops, leather trench coats, slip dresses, up to sporty looks, cargo pants, tank tops and concluding with breathtaking couture dresses for special occasions on the red carpet. Her cult element is the cut of her layered and voluminous shag cut at the root that marked an era, that of the 90s, and her face luminous as an eternal girl. Like Roberts, Jen has always preferred natural beauty looks, focusing instead on skincare. Since her first successes on the small screen, her versatility has led her to vary with short chin bobs, bangs, dark colors and highlights, without ever upsetting her look but surprising us with original twists.
Sarah Jessica Parker
We conclude the review with the fashion queen par excellence: Sarah Jessica Parker. A true style icon, best known for her role as Carrie Bradshaw in Sex and the City, herself an icon in her own right, SJP is always at the top of the best outfits charts thanks to her eclectic choice of unforgettable looks.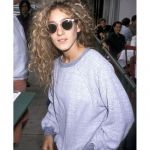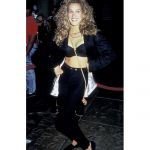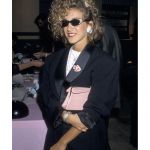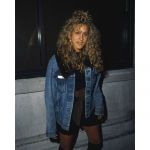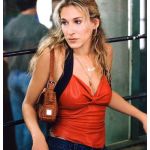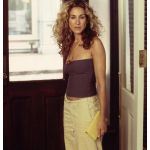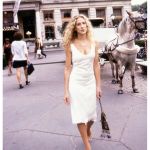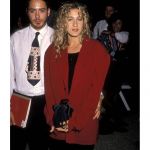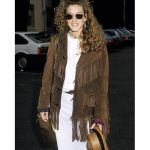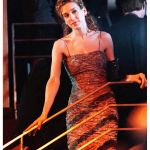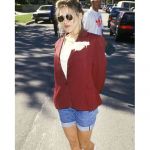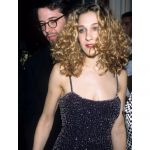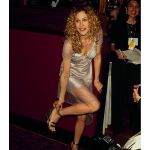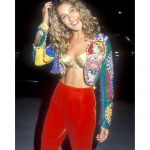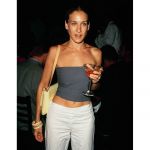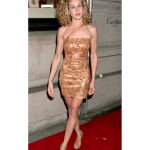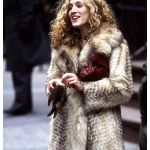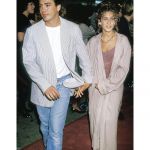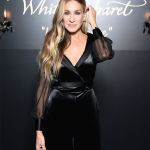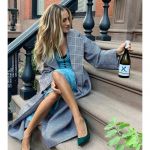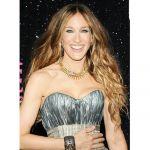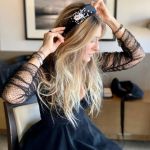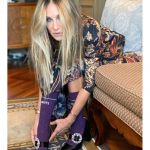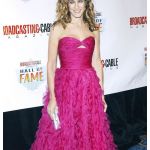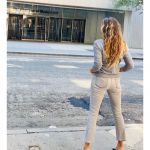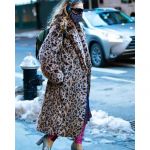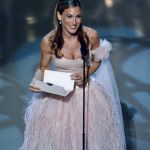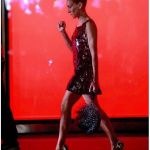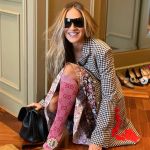 From the 90s to today, the actress-stylist has evolved her style from the wardrobe to the hair look, experimenting with different images depending on the moment and without ever being afraid to dare. Among her must-haves, the eccentric accessories that punctually give her OOTD a surprising twist, obviously including the it-bags of the moment. Among her most iconic features surely her blonde curls and messy effect hair, although she has tried from time to time to vary with marmaid waves, gathered hair, and darker shades, from copper red to raven. But her status as a fashion muse was not earned only thanks to her natural beauty. For over 30 years Sarah Jessica Parker has been giving her best on the red carpet runways, when she dresses the couture dresses of great designers or emerging talents and makes us dream. In front of the flashes of great occasions, she went from wearing mini slip dresses as light as air to maxi gowns in lace, tulle and feathers. One thing is certain, for the red carpet, SJP always choose the go big or go home philosophy, opting for a super glamorous look, including sparkles, sequins, transparencies, long trains or vibrant blocks of color, like a real diva.