Lidia Carew presents the docu-series 'Figli ≠ Genitori'
An inclusive project to tell the stories of "children in between"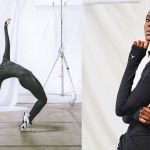 Lidia Carew (@lidia.carew) is a well-known face in the world of sportswear and also of Italian television. Dancer and actress with several appearances in films by Spike Lee and in the music videos by Alicia Keys, Kendrick Lamar and Pharrell, she was chosen by Jordan as Ambassador for its Flight Utility line Jordan Women, the first collection dedicated exclusively to the female universe.
Born in Udine on May 31, 1989, Lidia is the fruit of love between a white Neapolitan mother and a black Nigerian father. She is a "daughter in between": the living proof of how the lack of "mixed" experience of both parents made her unprepared to live in the society in which she grew up. Lidia was not white like her mother, but neither black like her father and she had to learn by herself how to adapt and react to a society that was unable to frame the color of her skin in some stereotypes. In November, the performer and her partner will welcome their first son Cesare, who, like her, will be the son of a mixed couple. To help him to not feel alone, Lidia thought about the project Figli ≠ Genitori: Raccolta di storie di figli del presente. Guida al genitore del futuro, a guide that can help boys and girls like her to collect experiences, lives, stories and comparisons.
All children, as a matter of fact, can be different from their parents for many reasons: skin color, sexual orientation, even for some disability. The question therefore arose spontaneously: how can that "child in between" be helped to face situations that his/her parents have not experienced and that nobody has taught them to face? Starting from July 10th, every Thursday, the dancer will host 5-6 minutes short videos on her Instagram account with the aim of inspiring people to share their experiences. The project will also translate into a podcast, where guests will speak to explore the topic of education and diversity in all possible aspects.
I will start from my story then I will listen and tell many more, asking whoever wants to participate to send me their experiences via email, video or audio, so that I can share them on social media in the meantime," explained Lidia; "The arrival of Cesare, my son, will give the opportunity to me and to those who will follow me to tell me and to tell the stories of those who, like me, have lived a life of social offenses, archaic traditions and avoidable vulnerabilities. Race, religion, disability, sex, age, sexual orientation ... all themes that my son will encounter in his life, and I want to be prepared to prepare him, as future parents and children will be able to do.
The stories will go online on the social networks of Lidia and the Lidia Dice... association. At the end of this cycle on Instagram, all the testimonials will be collected and culminate in a physical event in Milan, on October 10th.