How beauty brands are supporting the Black Lives Matter movement
From Glossier to Honest Beauty, the beauty world announced a series of actions in support of the Black Community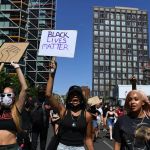 The killing of George Floyd by a white policeman uncovered more than 400 years of history of injustice against African Americans, provoking not only a long wave of protests from the States around the world, but also a global stance against discrimination and racial injustice. In addition to the thousands of ordinary people who are using social media to call a stop to police brutality, black images in solidarity with the #blackouttuesday protests, there are also fashion and beauty brand reactions. If the first ones preferred to share anti-racist messages, mostly inspired by the famous Nike For once, don't do it campaign, the cosmetics world decided to support with financial donations the #blacklivesmatter movement and other associations in Houston, Floyd's hometown.
Although the voices of the brands of the beauty industry have proved united in supporting the cause on their social platforms, there are still few concrete actions in favor of black-owned businesses.
From Glossier, which donated 1 million dollars, the largest amount (so far), to various entities committed to fighting racial injustice to Honest Beauty, which delivered 100 thousand dollars in support of NAACP Legal Defense and Educational Fund, Sephora is launching a charity initiative to convert the rewards into funds; this is what the beauty brands are actually doing.
GLOSSIER
The brand headed by Emily Weiss was one of the first to take concrete action to fight racial injustice and said it will donate $1 million: $500,000 to civil liberties organizations, including Black Lives Matter, Equal Justice Initiative and NAACP, and $500,000 to black-owned beauty companies.
NYX
The brand NYX has confirmed that it will donate money to the Minnesota Freedom Fund and Black Lives Matter through an Instagram post that states "It's not ok".
ESSIE
Responding to social media followers, Essie made a donation to NAACP and said: "We hear you, and agree that our language of solidarity to the Black community was not strong enough."
MAYBELLINE
The New York brand Maybelline has announced it will make a donation to NAACP.
MARC JACOBS BEAUTY
Marc Jacobs Beauty has chosen to share on Instagram a quotes by Martin Luther King Jr.: "There comes a time when silence becomes betrayal". It also announced a donation to Black Lives Matter.
MILK MAKEUP
Milk Makeup partner and beauty influencer Snitchery has pledged to donate 100 percent of her affiliate sales earnings to Black Visions Collective. Additionally, the company later pledged $50 thousand to the NAACP.
URBAN DECAY
Sharing a post that reads "Silence is not an option", Urban Decay announced its support for the Minnesota Freedom Fund and Black Lives Matter.
DECIEM
Deciem, not only contributed $100,000 to Black Lives Matter and the NAACP Legal Defence & Educational Fund, but also dedicated its Instagram Stories to the movement, calling its followers to share their messages.
ANASTASIA BEVERLY HILLS
Like Glossier, Anastasia Beverly Hills has pledged to donate over $1 million to the fight against systematic racism, oppression, and injustice. The first step was to contribute $100,000 to Black Lives Matter, The Innocence Project, NAACP Legal Defence and Educational Fund, Black Visions Collective and Marshall Project.
HONEST BEAUTY
Jessica Alba's company has donated $100k to organizations fighting racial injustice, including the NAACP Legal Defense and Educational Fund and the Equal Justice Initiative. In addition, Honest Beauty is committed to matching all employee donations to civil rights organizations.
SEPHORA
In a long letter, Sephora announces its support to the black community. From today, it will be possible to convert your points from the Beauty Insider rewards program into donations to the National Black Justice Coalition, a civil rights organization that is dedicated to empowering black members of the LGBTQ community, as well as ending racism, homophobia, and stigma. A $10 USD donation will be made for every 500 points earned.
SUNDAY RILEY
Founder Sunday Riley who hails from Houston, the same city George Floyd was from, pledges a donation of $50k to the NAACP Legal Defense Fund, as well as other grassroots organizations in Houston.