Patterns, vintage pieces and sneakers: fashion according to Blanca Mirò
We met the Spanish street style star and designer at the Converse Studio 70 during the MDW
Among the creative talents present as guests at the Converse Studio 70, which took place on the occasion of the Milan Design Week, there was also a unique and original talent: Blanca Mirò Scrimieri.
27 years old, born and raised in Barcelona, Blanca fell in love with fashion when she was just a little girl, becoming later a well-known stylist, fashion consultant and recently also a designer. She created, in fact, La Veste, a brand that produces mainly blazer jackets - a must-have item in Blanca's closet - pants and hats, and she designs also jewels for the label Wilhelmina Garcia. Mirò's latest work is Vasquiat, an e-commerce platform where users can pre-order collections created by emerging fashion designers. She continues to collaborate with the biggest fashion houses in the world and she's a regular presence at the front rows of the Fashion Weeks. It's sufficient to take a look at Blanca's Instagram profile to realize that her taste goes against the flow: she has a preference for colours, prints and patterns, she mixes volumes and silhouettes, her keyword is comfort, and she never jumps on trends too slavishly, she'd rather create them. She's characterised by sophisticated but never pretentious femininity, in her looks high fashion blends with sneakers - above all Converse - and vintage pieces, resulting in always interesting and unexpected outfits.
At Studio 70, we had the chance to sit down and catch up with Blanca, here's what she told us.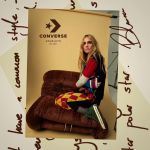 #1 When did you first start getting passionate about fashion?
As I've seen it since I was born it was something that came very naturally, I just grew up loving fashion. My mum loved it, she was very into clothes, and my dad too. Later I studied fashion marketing and communication: I think that when you live something with passion, and you wake up thinking about it, and you go to bed still thinking about it, you have to find a way to make it your job. It's the best thing to work with something you really really like.
#2 Do you remember your first pair of Converse?
I remember my mum bought them when I was very little. I've always loved Converse. Recently I've also collaborated with the brand for a special project in Spain. We did this project in Barcelona with my people. I chose a Converse silhouette that was very me to gift to my friends. A lot of people were confused about it, they thought I'd designed it.
#3 Can you suggest us a way to style a pair of Converse?
I think it's a sneaker you can wear with absolutely everything. You can wear it with a nightdress, to keep it more casual, or you can wear it with jeans and a basic T-shirt.
#4 How would you define your style? It seems a mix of different influences, but with a clear and distinctive taste.
I would define it as very fun because I love mixing colours and patterns, and also different styles. One day more punk, another day retro vintage, my favourite thing is to find vintage stuff to mix with new pieces. I'm a flat shoe girl. For me, heels are of course very cool, and sometimes I wear them but not every day. I find them a bit too girly, and I'm more for relaxed looks.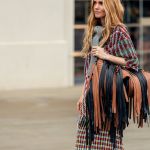 #5 You're an example of how the sportswear giants and the sneaker world is finally opening to the female audience too. What do you think of this evolution?
I absolutely love it, because I'm very much like this. I also think that for girls wearing sneakers means also freedom, to be comfortable.
#6 What is your idea of a sexy look?
For me, a sexy look is not the typical sexy look a girl would think of. Being sexy doesn't mean to show your ass and your boobs, I find a girl sexy for her attitude, not because of what she's wearing. You can be very sexy with a white T-shirt and a pair of jeans, or you can be very sexy with a men's suit.
#7 What are your projects for the upcoming future?
Right now, I'm working on mainly three projects. I still collaborate with a lot of brands, but I have also my own brand: I make blazers, pants and hats with my partner at La Veste. I have Vasquiat, a platform where we do pre-orders of future collections of emerging designers. And I also design jewellery at Wilhelmina Garcia so I would say I'm quite busy.