All the times fashion has been inspired by Disney
From Disney characters' forays on the catwalk to celebrities' love for Disney fairy tales
Twenty-one-year-old Walter Elias Disney moved to Los Angeles in July 1923 to be closer to his older brother Roy and to make animated films. On 16 October 1923, the two founded Disney Brothers Cartoon Studios, unaware that this ambitious project, which would later become the Walt Disney Company, would grow into a multi-billion dollar enterprise that would branch out into production houses, mass media and amusement parks, shaping the childhood and pop culture of generations. The first successes that changed everything came through two of Disney's most beloved characters, Mickey Mouse and Snow White. On 18 November 1929, Steamboat Willie was released, a black-and-white animated film, the first with synchronised sound, whose protagonist was Mickey Mouse, a mouse "an icon of generosity and good humour" who travelled on a steamboat whistling a funny tune. in 1934, Disney began production of Snow White and the Seven Dwarfs, the first animated film, which premiered in December 1937 and became the highest-grossing film of the time. Then came Fantasia, Bambi, Peter Pan, Cinderella, The Little Mermaid, Beauty and the Beast, Aladdin, The Lion King, Pocahontas, Tarzan and all the other animated films that are part of our lives. Whether you prefer Donald Duck to Mickey Mouse, Ariel to Elsa or Belle to Mulan, each of these characters has become part of our memories and has influenced our style, sometimes unconsciously. Admit it: would you ever have wanted Snow White's headband or Cinderella's crystal slippers? Stylists might have. Because the Disney world has often found its way into their collections and made their fashion shows special. From your cousin to Miuccia Prada, no one can escape the allure of Disney tales. Here are all the times fashion has been inspired by Disney.
Collaborations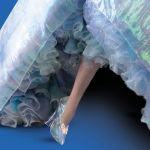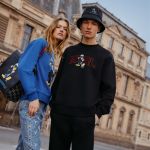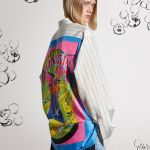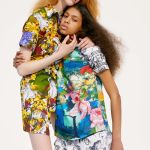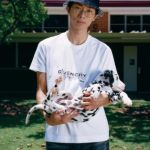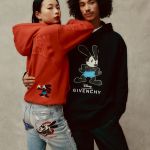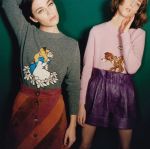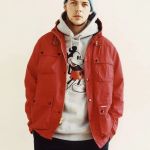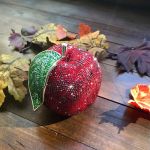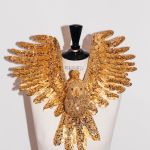 To celebrate Disney's 100th anniversary, many brands created ad hoc capsules. Swarovski presented a replica of Cinderella's crystal slipper made for the 2015 live-action film adaptation starring Lily James. The brand's team put in 150 hours of work to create a dreamy, romantic and brightly glowing piece carved from solid Aurora Borealis crystal, known for its dazzling reflections, thanks to 221 facets. Karl Lagerfeld, on the other hand, reused an old sketch of Donald Duck made by Kaiser Karl on a variety of items, from bomber jackets to handbags, featuring the duck wearing blue jeans, a black blazer over a turtleneck shirt, dark sunglasses and a white ponytail. Also for the Disney centennial, Schiaparelli's Daniel Roseberry transformed Cody's flight over Marahute in the film The Rescuers Down Under into a massive gold and Swarovski crystal necklace. The jewelry was sold for charity in support of Make a Wish. In 2022, Stella McCartney took inspiration from Fantasia, combining recycled materials and vintage silks with the stars of the 1940s musical film. A few years earlier, Miu Miu released a range of jumpers with motifs from Bambi, Alice in Wonderland and the Aristocats. in 2016, Kenzo used its archival prints with elements from the original 1967 Jungle Book for a men's and women's collection with tropical motifs and silk shorts directly inspired by Mowgli's iconic costume. Also in 2016, Judith Leiber created a bag inspired by Snow White's poisoned apple, a cluch in the shape of a red apple, studded with crystals. Givenchy has collaborated with Disney several times before, launching capsules inspired by One Hundred and One Dalmatians, Bambi and an early version of Mickey Mouse. Mickey Mouse himself is the most popular motif in fashion to celebrate Disney's legacy in pop culture. The image of the mouse with the big ears and yellow gloves has graced the garments of many brands over the years, including Supreme, BAPE, Vans, COMME des GARÇONS, Uniqlo, Coach, Opening Ceremony e Tommy Hilfiger.
Disney inspirations on the catwalks
For Burberry's SS19, Riccardo Tisci winked at the classic Bambi T-shirt with the words "Why Did They Kill Bambi?". But even earlier, when he was creative director of Givenchy, for SS13 he decided to pay homage to the cute fawn with a graphic that juxtaposed Bambi with the image of a naked woman. The result? The T-shirt went viral and was worn by many celebrities such as fashion editor Carine Roitfeld. in 2014, British designer Bobby Abley presented several looks inspired by The Little Mermaid and Aladdin at London Fashion Week; Dolce & Gabbana evoked the atmosphere of Beauty and the Beast in FW16; The Blonds dedicated SS19 to Disney villains like Cruella De Vil and Ursula; and Moschino referenced Cinderella and Snow White in FW16. Even Alessandro Michele celebrated Disney characters several times during his time at Gucci, from Donald Duck to Snow White to Mickey Mouse. Remember the bag with the perfectly recreated head of Mickey Mouse designed for SS19? There are many fashion tributes to Disney's iconic character that have been seen on several catwalks in recent years, adorning T-shirts, dresses and accessories from brands such as Marc Jacobs, Jeremy Scott, Iceberg and Opening Ceremony.
Celebrities' love for Disney characters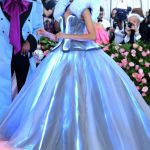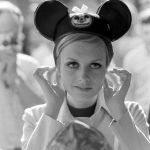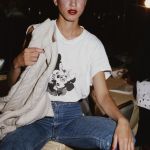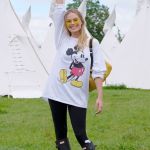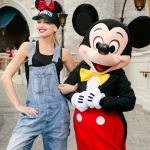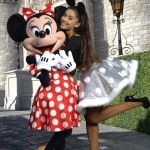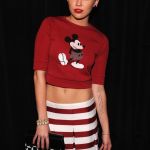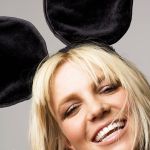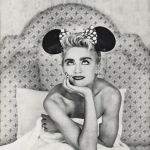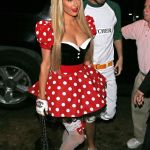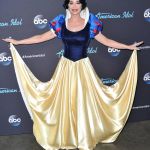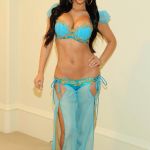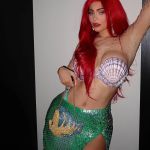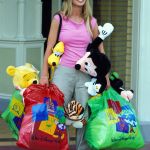 Celebrities love the Disney universe. Some of them, such as Britney Spears, Christina Aguilera, Zendaya and Selena Gomez, owe the start of their careers to the US company, while for others cartoons are part of their childhood and culture. Whether you're a kid or an adult, Disneyland remains a must-see, a place to escape the pressures of the celebrity system and spend a few hours surrounded by fairytale rides and castles. Remember that photo from the early 2000s of Britney with bags full of stuffed animals and other gadgets? And when they're not out and about at amusement parks, they're eagerly awaiting Halloween to dress up as princesses and Minnies. A few examples? Kim Kardashian as Jasmine, Paris Hilton in a red polka dot dress and giant Minnie ears, Katy Perry as Snow White and Kylie Jenner as Ariel. For the 2019 Met Gala, Zendaya went one step further and showed up on the red carpet dressed as the perfect Cinderella, complete with Law Roach as her fairy godmother. However, the item of clothing that celebrities love to wear the most is the Mickey Mouse t-shirt. It's a real statement piece, almost as much as the Star Spangled Banner. Over the years, almost everyone has worn it, from John Lennon to Michael Jackson, from Pat Cleveland to Kate Moss, from Miley Cyrus to Margot Robbie, from Rihanna to Gigi Hadid.