Tell me which item trend FW23 you prefer and I will tell you which movie to watch
The first couple: Mary Jane shoes and the cult "Clueless"
Fashion and cinema have always been intertwined. They influence each other, in a constant play of references and inspirations. But was the chicken or the egg born first? Is it fashion that gives costume designers ideas on how to dress characters to better tell a story, or is it the films that suggest silhouettes, cuts, colours and styling to designers that we then see on the catwalk? Maybe both assumptions are correct. We played around a bit and selected some of the trendy garments of the FW23 season, from Miu Miu briefs to Mary Janes, from maxi belts to colourful tights, and paired them with a film. Following the motto "Tell me which FW23 trend piece you like best and I'll tell you which movie to watch", we've put together a little list of cult films with an autumnal vibe, perfect for a marathon in front of the screen, but also to find out how to wear the latest trends.
Mary Jane - "Clueless"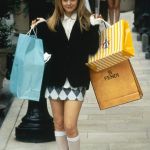 Maybe it's their naive charm or the fact that they remind us of the Roaring 20s and Swinging London, but Mary Janes have never been more popular. Designed for children in the early 20th century and characterised by a strap on the instep, these shoes are now trendier than ever. Voted the statement accessory of FW23, they are given different details depending on the brand offering them - they are white and black at Dior, with multiple straps and a gold heel at Fendi, ultra-flat at Sandy Liang and with a vertiginous platform at Simone Rocha, who pairs them with jewelled socks. Yes, because the trend wants Mary Janes to be worn with socks or tights, a bit like Alice in Wonderland. All the celebrities, from Olivia Rodrigo to Dua Lipa, wear them this way, but they take less inspiration from the Disney animated film and more from Cher Horowitz. Alicia Silverstone's character in Clueless has been dictating the rules of nineties fashion (and more) since her 1995 cinema release: Tartan shirts, wool vests, tank tops worn over T-shirts, slip dresses and tennis skirts. There is no shortage of flat, silver Mary Janes in Cher's wardrobe, which she combines with white leggings, an argyle mini skirt, a blazer and a white shirt.
Maxi Cintura - "Klute"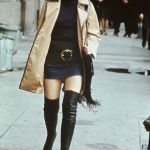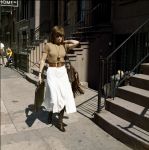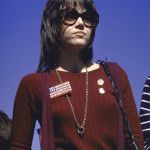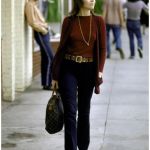 The maxi belt from the 1970s is back in the outfit spotlight this season. Made of leather, as thick as possible and with metal buckles and handmade inserts. At the time, absolute icons such as Jane Birkin, Brigitte Bardot and Jane Fonda were keen on it. It is the actress and activist, who has recently returned to the limelight through the charming series Grace & Frankie, who is the example that best interprets the trend. In the film noir Klute, Fonda plays a call girl involved in a missing persons case, but what stands out besides her talent is the many outfits she changes into throughout the film. For Alan J. Pakula's 1971 film, costume designer Ann Roth created a still current wardrobe in which the maxi belt plays a starring role, along with pumpkins, fringed handbags, lamé dresses, frilly shirts, suede miniskirts, turtlenecks, trench coats, printed maxi dresses and long necklaces.
Hair clips - "The Royal Tenenbaums"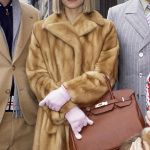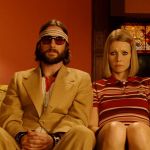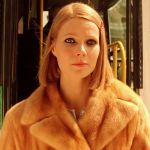 Not just headbands and hair clips. This autumn-winter we will adorn ourselves with hair accessories and just like when we were little girls we will wear bobby pins and hair clips again. Whether we have XXL hair, a bob or a pixie cut, this simple detail can make us feel special and give our look a new twist. Classic, with rhinestones, pearls, bows, in fun and irreverent shapes or completely minimalist - hair clips are the choice of all it-girls, both in real life and on screen. Celebrities who wear them regularly include Elsa Hosk and Alexa Chung, and in film, the most iconic character to wear them proudly is Margot Tenenbaum from The Royal Tenenbaums. The hyper-depressed playwright uses a red hair clip to stop the topknot of her immaculate blonde bob. It's just a small detail, but it makes all the difference. Costume designer Karen Patch chose it to give this sophisticated woman the look of a little girl playing with her mother's wardrobe. We all know and love the other elements of Margot's outfit: a long mink fur coat by Fendi, a striped mini dress by Lacoste (the same dress she has worn since she was 12), a Birkin bag, loafers and eyes adorned with thick eyeliner.
Colorful tights - "Irma la Douce"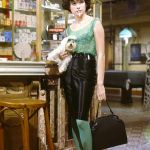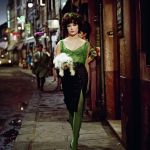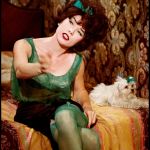 If we want to follow the seasonal trends, there's one thing we absolutely have to put on our autumn shopping list: colorful tights. Versace, Gucci, Miu Miu, Anna Sui, David Koma, Victoria Beckham and many other brands have presented them on the catwalk. The inspiration? We like to imagine that it was a classic film by Billy Wilder, Irma la Douce, that gave us the idea to reintroduce colorful stockings. The story? Nestor (Jack Lemmon), a Parisian flic, falls in love with Irma (Shirley MacLaine), a prostitute with green stockings and a beer-loving dog. To have her all to himself, the policeman becomes first her pimp and then her only customer, posing as Mr. X, a rich old English lord. When Mr. X disappears, Nestor is accused of his murder, but a happy ending is assured.
Opera gloves - "Little Women"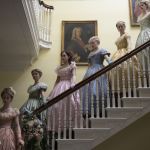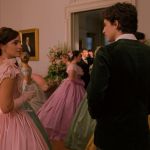 One of the benefits of the falling temperatures? The opportunity to wear opera gloves and pretend you're a chic and seductive woman like Audrey Hepburn in Breakfast at Tiffany's or Marilyn Monroe in Gentlemen Prefer Blondes or a real lady like the March sisters in Little Woman. Do you remember one of the first scenes in the version directed by Greta Gerwig? Meg, played by Emma Watson, makes her social debut at the Moffats' ball. She and all the other attendees have voluminous pastel dresses and long matching gloves. A curiosity: in Louis May Alcott's novel, the gloves are a kind of symbol. In Meg's case, they symbolise her desire to conform to social norms, while Jo's refusal to wear them reflects her rebellious and maladjusted nature.
Miu Miu Slip - "Ciao! Manhattan"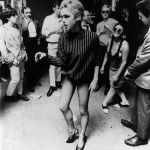 The most daring look of the season? No pants. Miu Miu redrew the contours of the ugly-chic silhouette by teaching us that knit underwear is worn over tights, with a jumper over it, a pair of loafers on your feet, a handbag on your arm and nothing else. Before Miuccia Prada, Edie Sedgwick pioneered this kind of outfit, both in everyday life and in films like Ciao! Manhattan. The film, written and directed by John Palmer and David Weisman, is a semi-biographical portrayal of Sedgwick (who here plays her alter ego Susan Superstar), using audio diaries and archive footage from the It girl's time at Andy Warhol's Factory combined with excerpts from the original screenplay. In a mix of fiction and documentary, Sedgwick's glory days in the late 1960s are shown until her inevitable decline and the addiction that took her life just weeks after filming ended in 1971.