Best Footwear NYFW
From Dion Lee's utility boots to the eccentric designs of Collina Strada x UGG
NYFW is not only synonymous with clothing, but also with accessories such as jewellery, handbags and especially shoes. For this, brands often resort to special collaborations that help us decipher the SS24 trends while making the outfits presented on the runway even more unique and making us want to collect the most shoes. This is what Dion Lee and Collina Strada have done, for example, teaming up with Ancuta Sarca and UGG respectively, following completely different styles. The suggestions for the coming hot season are very diverse and range from minimalist sandals to playful models that stand out in shape and colour. The must-have models? White ankle or knee-high boots, silver pumps, cuissards, platform sandals, red ballerinas and gladiator-style sandals.
Here are the brands that have presented the coolest shoes for SS24.
Dion Lee
Dion Lee's SS24 collection shows an evolution of the brand. This time, the clubwear that made him famous has been enriched with elements from the world of construction and workwear. Spanners appear on corsets, bungee cords hang from shoulders, electric cables are used for draping, screws replace rivets and leather tool belts replace pockets. To give the outfits even more emphasis, Dion Lee also decided to design the footwear with not one, but two other brands: Ancuta Sarca and BOTH. The result? Combat boots and rubber shoes that feature practical details, new fabrics and proportions.
Staud
Sarah Staudinger chose the prestigious Plaza Hotel in midtown Manhattan as the setting for the STAUD fashion show, bringing to the catwalk a collection inspired by Karl Lagerfeld and Chanel's spring 1999 couture creations. The models looked like modern princesses: They wore ball gown-style taffeta maxi skirts paired with cotton tops in sleek, minimalist silhouettes. All were in charming pastel shades. The perfect footwear for these outfits? Clearly: ballet shoes. The designer wanted them very low, with very simple shapes and made of soft leather. The colours? White, black, beige and red. Tres chic!
Palomo Spain
In the Plaza Hotel's terrace room, carpeted and rose-lined, Palomo Spain presented a collection inspired by the boudoir and the Jazz Age, with flapper-style dresses, silk robes, corsets, micro-shorts, flamenco trousers, lace, leather, feathered headpieces and roses with thorns, a recurring element of garments and accessories. We find the same mix of sensuality and fetish in shoes: in 1970s-style leather boots declined in red, black and white; in ballet shoes laced at the calf, like a real étoile.
Collina Strada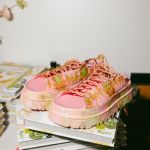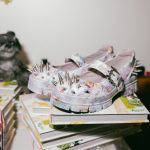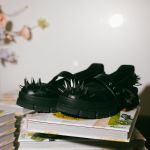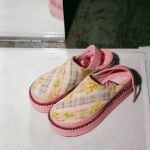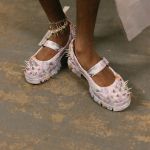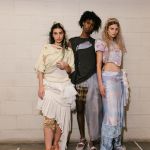 The footwear worn by Collina Strada models during the SS24 fashion show was designed in collaboration with UGG. The brand's creative director, Hillary Taymour, presented a collection on the catwalk that celebrated the potential of female strength and unity with draping, patchwork, eye-catching prints and overlays. Each look was accompanied by no less than seven new shoe styles, including elegant Mary Janes with spikes, animal-inspired clogs with motifs of flamingos, dogs and monsters, and colourful platform sandals and tulle. The inspiration? The same one that shaped the show: Flowers and animals, interpreted abstractly, combined with an eclectic and bold approach. The result is fun and definitely exciting.
AKNVAS
For AKNVAS's SS24 collection, entitled The Storyteller, Christian Juul Nielsen was inspired by the stories of Danish writer Hans Christian Andersen. The result is an eclectic and romantic range of dresses decorated with flowers, feathers, fabric leaves, fringe, tulle and lace. On their feet, the models wore beautiful shoes, both mules and platform sandals, decorated with leather leaves. In red, white and black, they looked almost like little sculptures and in a way were reminiscent of the shoes Prada presented in the FW23 collection.