Lancôme x Louvre: when art and beauty combines
A make-up collection inspired by the goddesses of the Louvre, played by Zendaya and a number of female celebrities
Great news for art and beauty lovers: from September, you have the chance to take home a piece of the Louvre, the famous Parisian museum. The Louvre has teamed up with Lancôme to create a make-up collection inspired by some of the most iconic representations of female strength and power within its walls.
The "Richelieu Wing" palette is inspired by Edme-François-Étienne Gois' sculpture "Corine", created in honour of the famous Greek poetess. "This palette speaks volumes about the challenges Corine faced, because at that time, you couldn't be a genius and a woman at the same time," says make-up artist Lisa Eldridge, who is also Lancôme's creative make-up director. "Today, women can decide on their image independently. One day you choose to wear makeup, the next day you might choose not to wear makeup at all. That may not sound like a revolution, but believe me, it's."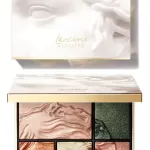 The Greek goddess of health, Hygieia, will feature in a limited edition of Lancôme's Advanced Génifique serum. But that's not all. "Diane de Gabies"," a statue by Praxiteles meant to represent the goddess Artemis, the mythological nymph Echo made famous by Nicolas Poussin's painting "Echo and Narcissus", Gian Lorenzo Bernini's life-size sculpture of the sleeping Hermaphroditus and Lorenzo Bartolini's "Nymph with Scorpion" - these muses will be featured in four L'Absolu Rouge lipsticks.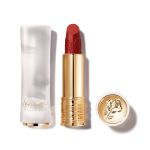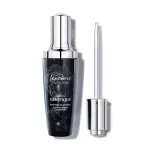 The Lancôme and Louvre team undertook this collaboration with the aim of drawing traditionally male attention to the women who inspired them. Rachelle Mladjenovic, marketing manager at Lancôme, says: "There are many tragedies in works of art, and we wanted to represent the positive stories of women," Mladjenovic tells Fashionista. "When we read the profiles of the women who inspired these statues, we immediately thought, 'She's a Lancôme girl' We didn't just want to choose the most famous artist or muse, but the strongest.
Lancôme pulled out all the stops to launch this collection, enlisting an impressive array of celebrities to embody the Greek goddesses at the Louvre. Zendaya portrays Nike, the goddess of victory, and her flowing dress replicates the outstretched wings of the famous Greek statue. "To me, her attitude represents a confident and victorious woman," the actress, who became a 2019 brand ambassador, said in a press release. "It's a powerful symbol of achievement. And that's how true beauty is shown: by leaning on our history to give us wings, a way to emancipate ourselves."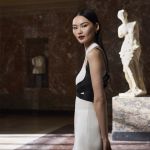 Er Cong is associated with Venus de Milo, the goddess of love or the sea. Aya Nakamura appears alongside the aforementioned Greek poet Corine. Amanda Seyfried, on the other hand, poses next to Diana of Gabies, the goddess of the moon or hunting. "When you stand in front of Diana, you're first struck by her beauty - delicate, yes, but beneath her exterior: powerful," Seyfried said in a press release. "The closer you look, the more you understand that she's a fierce goddess. Proud, courageous. She asserts her independence. That is where her beauty comes from."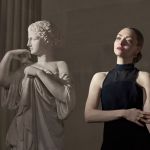 Lancôme's latest creation is just one example of a recent collaboration between cosmetics brands and celebrity museums - an unexpected combination that is becoming increasingly common. In March, Korean skincare brand Sulwhasoo announced a major partnership with the Metropolitan Museum of Art. And you may also remember the Brooklyn Museum's 2019 exhibition, "Frida Kahlo: Appearances Can Be Deceiving," sponsored in collaboration with Revlon. Through their collaboration, both institutions hope to inspire a new generation of museum-goers. The Lancôme x Louvre collection is already available on the Lancôme website.