Why everyone loves Carrie Bradshaw's little gray dress
From Kendall Jenner to Zendaya, celebrities are wearing it more and more often
Sarah Jessica Parker in a tiny white tutu and a pink tank top, walking down the stairs in the Newspaper Dress designed by John Galliano for Dior, or walking down the aisle (or almost walking down the aisle) in a wedding dress designed by Vivienne Westwood. There are many memorable looks that Carrie Bradshaw wore in Sex and the City, but there is one that is enjoying new popularity: the little grey dress.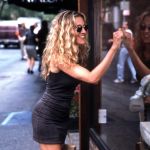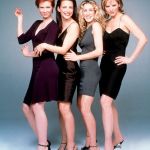 The freelancer with a penchant for shoes wore it in the 15th episode of season two, along with Rayban glasses and a vintage Gucci Kelly bag. Her image in this charcoal grey sleeveless dress, knocking on the window of the restaurant where her friends are staying before meeting up with Miranda, Charlotte and Samantha for a debrief dinner after a disastrous date, is a must-have on Pinterest and Instagram, a reference in the mood boards of millions of girls. The list of fans who have tried to recreate this outfit over the years is long and includes many celebrities. A few names? Among those who have opted for this alternative to the LBD in the past, with slight differences in the length or shape of the neckline, are Emily Ratajkowski, Rihanna, Gigi Hadid, Kim Kardashian e Jessica Alba.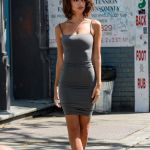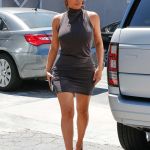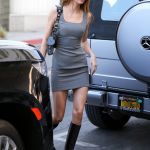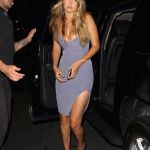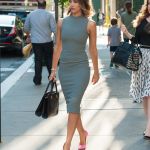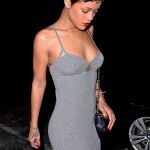 In recent months, however, along with the interest in 90s minimalism and the arrival of the new season of And Just Like That, the bodycon mini dress is back and establishing itself among the SS23 trends. The reason? It's simple, versatile, chic and, contrary to what we might think, fits different body types well, as Skims, Bec + Bridge, Wolford, Alyx and all the other brands that offer it in a variety of sizes show. The secret is the fabric, which needs to be stretchy to fit the body silhouette perfectly. Just like Carrie, we advise you to choose a minimal version and add or remove details depending on your personal style, but also on the intended use, i.e. whether it is worn as office wear or as an outfit for a summer date.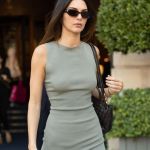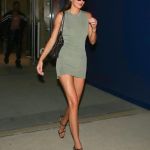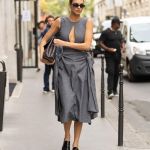 For better or worse, few TV personalities have captured our hearts and influenced our style like Carrie Bradshaw, and the renewed popularity of her little grey dress is further proof. Kendall Jenner wore no less than two of them as she explored Paris while waiting to walk the runway for Jacquemus' SS24 in the majestic gardens of the Palace of Versailles. The first was a grey, tight-fitting model with tank top by Australian brand St Agni, almost identical to Carrie's memorable look. With it, the model wore high-heeled sandals by Gucci, the same brand as the sunglasses, and the Andiamo bag by Bottega Veneta. For her second appearance in the French capital, Kendall opted for a tailored dress with a more elaborate silhouette from Bottega Veneta's Pre-Fall 2023 collection, which she paired with black leather loafers by The Row, a dark brown maxi clutch and sunglasses by Gucci.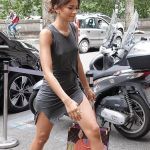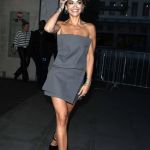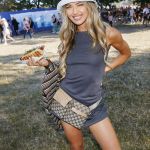 Rita Ora, on the other hand, reached back to Prada's SS23 catwalk for the grey mini dress that almost looked like a bra top and mini skirt. She wore it to a BBC show and teamed it with black patent leather heeled Mary Janes. However, a quiet, luxurious style is not the only way to effectively reject the Carrie-style shift dress, as Zendaya and Emili Sindlev prove. For a shopping trip to Rome's Bulgari shop, the actress dug out a tank top dress from her wardrobe that she had already worn on several occasions and paired it with a Louis Vuitton bag and a pair of loafers. Confirming that pink is not the only colour trending this summer, the influencer wore a model very similar to Carrie's to Roskilde Festival. How did she make it shine? With a bucket hat, knee-high buckled boots and a Gucci fanny pack.