Does Gen Z still care about Couture?
Exclusive glamour captures attention on social media
Haute Couture is a wonderful and extremely exclusive world: it catches the eye on social media because it offers an unrivalled glamorous lifestyle where elegance and creativity reign supreme.
However, apart from scrolling through the looks on the instagram feed, Gen Z is not completely sure about the meaning of 'Haute Couture', often perceived as a synonym for luxury ready-to-wear. However, the difference lies in the realisation of the product and, consequently, in the approach to design: Haute Couture is tailor made and each garment is sewn and customised according to the measurements of the individual client, whereas in the industrial production (the collections we find in the stores of luxury brands), the garment is made according to a standard system of sizes, through a more or less mechanised process. Moreover, Gen Z is more interested in the visual impact of Couture than in the tradition of tailoring and high craftsmanship behind it.
Privilege and creative freedom
Couture is only accessible to a lucky few thousand and it is quite difficult to see it worn by anyone on the streets of our cities. So why is it so important for the fashion system? It is an invaluable opportunity to implement brand allure and to express creativity 100%: young designers have realised this immediately. More and more up-and-coming designers are dedicating themselves to this sector, with very high barriers to entry imposed by the Fédération de la Haute Couture et de la Mode, the body that runs Couture Week and is in charge of brand selection.
Gen Z designers at Paris Couture Week
Among the newcomers in the field is the Miss Sohee fashion house of Korean designer Sohee Park, who graduated from Central Saint Martins a few years ago. She has made just a few collections and has already dressed the most famous celebrities and made icon model Anok Yai, who went viral on social media for wearing one of her creations at the last Met Gala. Moreover, her brand is in line with the environmental issues so close to Gen Z's heart; there are many videos of kids commenting on her masterpieces and his hashtag has almost 20 million views on TikTok.
The latest addition to Paris Couture week was Charles de Vilmorin, the young designer who has just left his role as creative director of Rochas. In his first show, he focused on the use of colour and draping.
L'ultimo arrivato di questa ultima Paris Couture week è stato Charles de Vilmorin, il giovane designer che ha appena lasciato il ruolo di direttore creativo di Rochas. Nella sua prima sfilata si focalizza sull'uso del colore e sul drappeggio.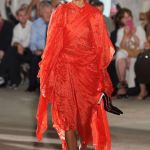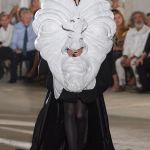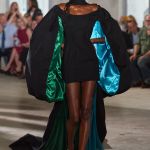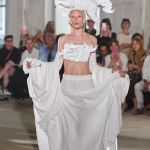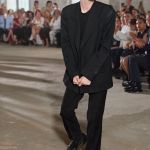 Viral Couture
The role of Haute Couture is linked to brand communication and is central to the creation of an imaginary. Consequently, virality on the various social networks is a key objective and Gen Z plays an important role, even though it isn't typically the target audience of ateliers. On Tik Tok, the views of Schiaparelli-themed content exceed 900 million, unlike other brands, such as Giambattista Valli, which has 60M views. Moreover, Schiaparelli is a favourite to repost in Ig stories, you will find it especially in those of fashion students.
And then on social media there are those who have fun recreating couture looks with materials found at home, for a parody effect.
Speed, trend and inclusion, the elements that determine the likes of gen Z are diametrically opposed to those of Haute Couture. This world, however, interests our generation: Couture is seen as a phenomenon to be shared on social networks rather than inspiration for one's own looks or a cue to delve into the history of a brand and its savoir faire.