Angelina Jolie launches a new brand
It will be a creative collective based on upcycling and the work of refugee artisans from around the world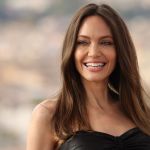 «I'm starting something new today a collective where everyone can create. Atelier Jolie is a place for creative people to collaborate with a skilled and diverse family of expert tailors, pattern makers and artisans from around the world. It stems from my appreciation and deep respect for the many tailors and makers I've worked with over the years, a desire to make use of the high-quality vintage material and deadstock fabric already available, and also to be part of a movement to cultivate more self-expression.»
With these words posted on Instagram, Angelina Jolie introduces the world to Atelier Jolie, her first fashion brand, a project with a cosmopolitan and supportive spirit that, according to the official website, aims to democratise the fashion industry and offer emerging talent the opportunity to bring their creations to life with the invaluable help of tailors, cutters and artisans from around the world, in «a place for creative people to collaborate with a skilled and diverse family of expert tailors, pattern makers and artisans from around the world. A place to have fun. To create your own designs with freedom. To discover yourself.»
Jolie is a Nepo baby, daughter of Oscar winner Jon Voight and actress Marcheline Bertrand. She grew up among the Hollywood elite and rose to fame as an actress in the 1990s and early 2000s. She stood out not only for her talent, but also for her radiant beauty, rebellious spirit and globetrotting disposition. After her restless teenage and post-adolescent years, she increasingly focused on filmmaking and especially activism. She became a Goodwill Ambassador and Special Envoy for the United Nations, working with the United Nations Refugee Agency, where she conducted more than 60 field missions while continuing to advocate for human rights. This particular background, combined with her current style favouring quiet luxury wardrobe from brands such as Valentino, Gabriela Hearst, Alberta Ferretti, Saint Laurent and Versace, will reflect Atelier Jolie's aesthetic and mission.
«We will spotlight the people who play a part in each creation. We will bring together a diverse team, including apprenticeships for refugees and other talented, underappreciated groups, with positions of dignity based on skill.»
The star explains that upcycling will be at the heart of the project and that unused textiles, «only leftover, quality vintage material and deadstock». We will have to wait until autumn 2023 to see the first creations from Atelier Jolie. According to The Sun, the brand will offer lifestyle items and jewellery in addition to clothing.