Condom in fashion
From Julia Fox to Diesel, the new style is "safe sex"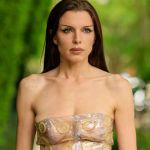 Everything Julia Fox wears goes viral, a topic of discussion that divides the public into those who appreciate her originality and those who miss the point. A few days ago, the Uncut Gems actress was spotted on the streets of Los Angeles in an outfit made entirely of condoms: a completely transparent vinyl bandeau top adorned with a kind of patchwork of rolled condoms, each tucked into its own sleeve, paired with a tiny white micro-mini skirt (possibly made of latex) and handbag (the same one Fox wore during New York Fashion Week last February) and boots that resembled rain galoshes but echoed the same motif as the bralette. To complete the "safe sex" effect, Fox wore a pair of gloves whose material and colour also made them look like worn condoms. Was the daring look an ironic extra protection against the Californian heat? Was it pure provocation or an attempt to promote the use of contraceptives in a light-hearted way?
Although the message of Julia Fox's outfit remains unclear, the concept behind Diesel's FW23 collection was much clearer. After Glenn Martens, the brand's creative director, invited guests to the show with a custom-made Durex six-pack, he delivered an ode to sex, nightlife and pleasure: "Sex positivity is something out of the ordinary. At Diesel, we like to play and we mean it. Have fun, respect each other, be safe. For a healthy life!" That's why he placed a mountain of 200,000 Durex condoms in the middle of the catwalk, around which the models wore the new pieces from the collection, including pieces from a collaboration with Durex. The brand also distributed another 300,000 condoms for free in shops around the world.
Neither Fox nor Diesel were the first to use condoms in fashion. During PWF, dedicated to SS23, Botter presented models wearing very special gloves, dubbed "condom gloves" by the internet, where they went viral immediately after their debut. The idea of creatives Lisi Herrebrugh and Rushemy Botter was to bring water to the catwalk, so they developed a kind of small portable aquariums alongside backpacks and ice packs: XXL condoms that were filled with sometimes coloured water and then worn as gloves on the models' hands. It was a nice way to remind people that the oceans drown in 8 million tonnes of plastic every year.
Perhaps few, however, remember the 2018 H&M and Moschino capsule that included a handbag and an array of condom-shaped jewellery, while the image of Naomi Campbell in shorts and top emblazoned with the rhinestone slogan "USE A CONDOM" on the Katharine Hamnett SS04 catwalk has gone down in history. The British fashion designer has spent her entire career proving that fashion and politics go together. On this occasion, she used her show to promote AIDS, a cause she has been involved with since she put condom pockets on her boxers in the 1980s. And who does not remember when TLC adorned her dungarees with wrapped condoms in the 1990s, expressing the importance of practising safe sex in a time when images of female artists were heavily sexualised, allowing fans to talk openly about sex without being too rhetorical under the guise of their looks during the AIDS epidemic?
Over the years, many designers and creatives have combined the idea of fashion and condoms, offering experimental outfits with a distinct DIY vibe that almost seemed like installations or actual sculptures to promote safe sex, such as Brazilian artist Adriana Bertini with her Condom Couture project.
Increasingly, instead of designing clothes with condoms, luxury brands have decided to sell or give away designer condoms as gadgets. One of the first to come up with such items was Marc Jacobs in 2008, when he launched a sexy merchandise line with an array of colourful condoms that read, "Remember, safety first! xxoo, Marc Jacobs" Those who followed the American designer's lead included Alexander Wang, who collaborated with Trojan in 2018 to launch a limited-edition capsule collection aptly named "Protect Your Wang"," and Saint Laurent, who launched his gold, black or animal-print condoms for Rive Droite Paris. In 2012, images of fake condoms with the Louis Vuitton logo by architect Irakli Kiziria, who had made them for a design project, began to pile up on Twitter. A few years later, an Off-White fan, Mikaël Barelaud Eludut , unveiled condoms inspired by the brand with the word "SAFE" emblazoned on their silver casing.