Nipple piercing is now on clothes
A new way to join the #Freethenipple movement?
When you open TikTok, you suddenly feel like you have stepped back almost a decade. Back then, Beyoncé was singing for Saint Laurent in a fancy bodysuit with pierced nipples from Tom Ford's SS01 collection, when New York-based brand Perfect Disorder aka LPD was making a splash with its range of clothing and accessories featuring fake piercings. DIY videos piled up on the Chinese platform showing how to make a T-shirt or tank top with a nipple piercing in just a few steps. What you need for this? A simple top, preferably black or white, an earring that you pin at chest level like a pin. Some versions require you to pierce the top with scissors first, but in any case the operation is dummy-proof.
For those who want a fancy look and have always dreamed of having their nipples pierced like Kendall and Kylie Jenner, Bella Hadid and Rihanna, but are afraid of needles, reaching for a stylish trick like the trompe l'oeil piercing effect top is the ideal solution. It's kind of like a temporary tattoo or the ugly fake tattoo t-shirt that was popular in the last millennium. Finally, it can be fun to keep an earring underneath the bijoux and pin it to a slightly boring t-shirt to add a special touch to our look. It's cheap and super easy to recreate. For the lazy ones who do not fancy DIY, there are several brands that offer openwork t-shirts off the shelf. A few examples? T.I.T.S., Dire Delights, Mistress Rocks, The End. Or the daring jerseys by Chrishabana X Zerina Akers.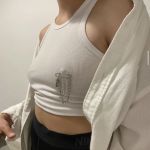 Maybe we cannot talk about trends yet, but even better known brands and big maisons have proposed garments with fake nipple piercings for their FW23 collections. The most elaborate model came from Schiaparelli Haute Couture SS23 and was worn by Naomi Campbell at this year's Vanity Fair Oscars party: a gauzy strap dress in beige stretch silk georgette embroidered with sequins in leather, shaped in the form of a chiclet, and adorned on the chest with trompe l'oeil nipple piercings in brass and hand-cut glass. Equally sophisticated but much easier to recreate at home is the transparent catsuit with mono nipple bead piercings from Alaïa's winter-spring collection23. Beautiful, elegant and ultra-minimalist is the turtleneck jumper by Georgian brand Lado Bokuchava.