Who is Anok Yai, the coolest model of the moment
Her looks on the catwalk and off are always on trend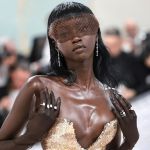 Let us go back a few days. It's May 1 and a crowd of celebrities is crowding the entrance of the Metropolitan Museum of Art for the Met Gala 2023. On the list of best dressed for the most anticipated event of the year are Dua Lipa, Rihanna and Anne Hathaway, but also a 25-year-old girl with ebony skin, almond eyes and diva charm who goes by the name of Anok Yai. The model, still unknown to the public and one of the most interesting faces in the contemporary fashion world, chose an almost futuristic dress by Atelier Prabal Gurung for the occasion. It was a decidedly opulent creation that made her look like a queen, a dress that consisted of a bustier with a sweetheart neckline and a panier skirt covered in gilding that grew larger and turned to silver the closer they got to the bottom, transforming into pearl puffs that moved smoothly across the black tulle train of transparent silk. To complete the look, Anok wore shoes by Jimmy Choo, jewellery by Mindi Mond NY and a brown veil over her eyes that hid the ultra-graphic cat eye in shades of gold and black, created by Sheika Daley with products by Lancome. The hairstyle? An asymmetrical mullet that was styled with a small wig. The end result was stunning, but the model was not content to look stunning that night.
Two days later, she caused a flurry of flashes from street style photographers on New York's Upper East Side and proved that she's a true it-girl off the red carpet too. All she needed to draw attention to herself was an artful mix of a few simple elements: an ankle-length faux fur coat in white with brown details, a tube top, Jehucal sweatpants with the side laces of the thong sticking out of them, a pair of black pointed boots, a cross necklace and a bag that was apparently a Birkin paisley bandana custom-made by Jay Ahr.
Anok's story reads like that of a modern fashion Cinderella. She was born in Egypt in 1997 and moved to Manchester, New Hampshire with her family of Sudanese descent when she was two years old. She graduated from Manchester High School West before going on to study biochemistry at Plymouth State University. "When my family came to America, my parents worked 16 hours a day to be able to send us to school. I knew I had to do the same. We were poor. We lived in public housing for a while, then we managed to get our own place." She recalled in an interview how her family kept pushing her to do practical studies because of all the sacrifices she had made, dreaming that one day she would become a doctor. Growing up among grammar tests and textbooks for maths, English and science, fashion seemed far from her future. Her first encounter with the fashion industry was in her childhood, watching America's Next Top Model with her sister or spending hours on YouTube memorising Naomi Campbell's runway shows. in 2017, everything suddenly changed after photographer Steve Hall posted a photo on Instagram of Anok, taken when she was 19 during the annual commencement concert at Howard University in Washington, D.C., that received so many likes, exactly 11,000 in just one day. From 100 followers, the girl grew to 30,000, then 80,000 followers on IG and started receiving calls from agencies. Among them was NEXT Model Management, the agency that managed to sign her.
From that moment on, Anok's career took off in a millisecond. Less than six months later, she had a worldwide exclusive contract with Prada and went down in history as the second black model in the fashion house's history to open Prada's fashion show. She recalls the episode, "It was an honour and I am very proud to open the Prada show, it's bigger than me. For me, it's a statement to the world to open for one of the most important fashion houses - especially for women of colour. Their beauty deserves to be celebrated." Following this resounding debut, Anok's career has been peppered with successes, campaigns and major covers for brands such as Nike, Mugler, Versace, Valentino, Estée Lauder and magazines like Vogue. However, Anok owes her fame and the Model of the Year Awards 2022 not only to the catwalk, but also to her casual looks. Anok loves to show off new trends that she reinterprets each time with her own personal style, combining crop tops, miniskirts, cargo trousers, denim, leather clothing and any other piece that looks super cool on her.
Here's a compilation of her best street style outfits.