How to recycle denim garments you no longer use
Some ideas from celebrities for revolutionising the clothes you no longer wear
The first weekend of Coachella is over and we have already noticed that the denim trend, presented at fashion week by brands such as Diesel in primis, but also Blumarine and Dolce&Gabbana, has opened the round of a fashion season that celebrates the historical passe fabric in all its forms. From clothing to accessories, denim is always a thoughtful and contemporary choice: in fact, it has not only been used for work uniforms or sturdy looms for more than 150 years, but revolutionised casual style forever after the creation of the first blue jeans, signed by Levi Strauss in 1873. Little did we know then that it would later become a staple for all kinds of looks.


Some of the celebrities present at the festival eschewed the boho style we had come to expect given its predecessors, making way for a more modern 90s minimalism of jeans and double denim: some favoured them oversized, like
Jaden Smith
, and others extremely tight, like
Suki Waterhouse
's proposal. Finally, there was no shortage of a synthesis of the two:
Amelia Grey
combined a corset with a maxi skirt, which is all over social media this spring.
Stella Maxwell
, on the other hand, opted for dungarees, also in denim but in white: a bold choice that looked great combined with glasses and accessories with rhinestones. It's time to take a cue from the looks of celebrities, led by trailblazer
Julia Fox
, who has never given up on denim, transforming the denim pieces you have in the back of your wardrobe into new basics or even staples for your wardrobe.

Denim maxi skirt

If your TikTok fyp is not flooded with the best denim maxi skirts, then that's really weird. Miniskirts, at least this season, have given way to midi or ankle length skirts. The perfect denim maxi skirt is cut to perfectly hug the silhouette without restricting movement. So do not forget to favour a model that has a slit in the middle of the front or back.


Of course, you can find new styles in any shop, from Zara to Balenciaga there are some for every price range; but what if we told you that all you need is a pair of wide-legged jeans that are long enough to get a new pair? Maybe you are tired of the usual Palazzo jeans, or maybe you have more than one. In that case, we suggest turning them into a skirt.
@ollilasara I soon have no pants left, only maxi skirts
Denim corset
A denim corset paired with jeans in the same shade has been the favourite double denim look of celebrities lately. Not only because it's both a casual and party-ready look, depending on the accessories you choose, but also because it's sure to save you many minutes of time spent thinking about the perfect top to go out in the evening. Again, choose a pair of jeans that have not seen the light of day for years and transform them into a much more fashionable garment. Perfect if the button fastening sits like a pendant just above the chest. So, tape measure in hand, take your measurements and go!


Denim patchwork bag

A little more material is needed here, because the more different shades of denim the patches have, the more effective the final product will be. You'll need a variety of denim fabrics, from the blouse that was all the rage in Tumblr's grunge era to summer shorts that are now so short they look dated.The pieces of fabric can be as irregular as you like, the only important thing is that you create a clear, modern pattern. You can choose silver hardware and whether you want leather or fabric handles. This recycled masterpiece can breathe life into a maxi bag or even a mini shoulder bag, you just have to decide. The finishing touch: try inserting a pocket between the different patches, like in this example from D&G.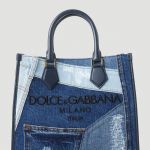 To end with some culturaland historical background: Denim is a cotton fabric whose name comes from the city of Nîmes in France.
It used to be called serge (n.d.a. sargia, a type of textile weaving) de Nîmes. So from "de Nîmes" comes "denim" The ethical and environmental cost of this type of material is really high, although each of us owns several pairs of jeans because they are comfortable and affordable. But how are jeans made? Why are they a danger to the environment? The production of this fabric takes up about 35 per cent of the world's total cotton production. This inevitably leads to a massive use of water, dyes and chemicals that have a huge impact on the environment. It takes 10,000 litres of water to produce a single kilogramme of cotton fibre. The case of the famous denim brand Wrangler is revolutionary: it has in fact launched the patent and the consequent line of Indigood® jeans, which saves more than 90 per cent water compared to conventional denim production, an advanced alternative for the fashion system.
In short, not only can you transform your wardrobe by creating new ones from the clothes you no longer need, but you can also keep your favourite denim trends while doing something for the environment - a winning, fashionable and sustainable combination.