Timberland's iconic yellow boots are dressed in knitwear
Interview with Suzanne Oude Hengel
What happens when a brand decides to collaborate? That's the question that should be asked of Timberland, which is celebrating the 50th anniversary of the iconic yellow 6-inch boots with Future73 with a special initiative involving six designers and creatives who were asked to reinterpret their personal vision of the icon: from Edison Chen to Samuel Ross, Nina Chanel Abney, Humberto Leon, Christopher Raeburn and Suzanne Oude Hengel, a Dutch designer we had the pleasure of meeting at the Milan Triennale during Design Week 2023. «My journey with Timberland started with the CONSTRUCT 10061 project in 2018, five years ago. It was an incredible experience: with other creatives we went to the Dominican Republic and did workshops to reinvent and create a new icon, a new shoe. And the memory of that collaboration and its impact on my experience as a designer is unforgettable. That's why I decided to bring them here in Future 73 as well.» The Future73 capsules will be available in seven editions over the next few months at some of the most influential retailers, as well as in flagship stores and on Timberland's official website. But that's not all. Each release will be complemented by creative sessions curated by cultural innovators and hosted by Future73 staff to educate and inspire the future generation of creatives.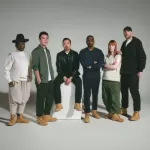 Entering the Triennale during Milan Design Week is magical.
Timberland has teamed up with Suzanne Oude Hengel to bring an installation to its space in collaboration with
Studio OUCHHH
. Inspired by the Dutch designer's style, the studio has divided the installation into three different chapters. The experience begins with a mosaic of archive images of the
Timberland Premium 6-Inch Boot
, continues with a model inspired by Suzanne's knitting techniques thanks to Artificial Intelligence (AI), and finally culminates in the last chapter, where a unique work has been created by combining Timberland and Suzanne's data thanks to AI.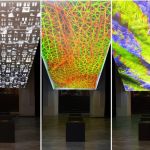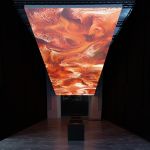 Oude Hengel describes himself as a mix of knitting engineer, technician and designer. For Future 73, he used these unique and specialised skills to reinterpret the iconic Timberland. «For me, it was very important to create something recognisable that immediately reminded me of Timberland. I wanted to do something unexpected and really push the boundaries of what you can do. So I made the upper of the boot from a single piece in a sculptural green knit, complete with a gusseted tongue and a contrasting blue lace-up closure system. With knitting you can really do so many things, you can create the materials you want, and in addition to pushing the boundaries further, you can slowly watch it build and change. Also, I wanted to incorporate the technique that I have been working on for a while. It's called spacers. It's a technique that makes a fabric look much puffier in certain areas.»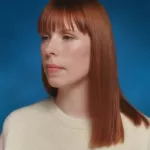 The Timberland x Suzanne Oude Hengel Future73 Knit 6-Inch Boot
is a bold and vibrant reinterpretation of the original, brought to life through knitwear for the first time ever. «I started out as a product designer and have always been fascinated by materials and how they evolve in that sense. So I started learning the technique of knitting. I realised that I really wanted to work alongside the machine and not have someone in the middle helping me. So I started combining all that, as a designer, as a programmer and as a knitting technician. And that's really all I want to be: pushing the boundaries and finding out what else the machine can do and how we can do it differently, how we can use new materials and new techniques.»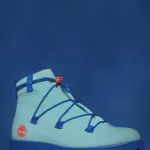 Oude Hengel, who lives in the Netherlands, has a bachelor's degree in product design from
ArtEZ University of the Arts in Arnhem
, where she presented a project for knitted shoes as her graduation collection. «I think shoes have always fascinated me because of their strange shape and functional character. I like to solve problems and see how far I can go. And I really believe that although a lot has already been done with knitwear and shoes, there is still more to do. I really want to explore this world to the end and show that you can push the boundaries a little further and always be more innovative.» Today, Suzanne is the founder of Knit in Motion, an initiative that is rethinking the way knitting is defined. «I draw inspiration from the little things in everyday life. It can be bricks, the changing weather or nature, but often I find inspiration in the creative process itself. As a designer working on the machine for me, it's very easy for me to find inspiration in my work, make mistakes, dive in and then redo everything.»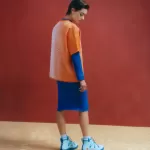 The Dutch product designer is not so much interested in creating magical shoes as she is in finding new ways to advance the conversation about footwear. Suzanne possesses a passionate independent spirit and wants to grow her studio into a full-fledged innovation hub. «My creative process starts with creating a mood board, a sort of starting point or solution I want to find to a problem. In this case, however, Future73 was about starting with a wooden board and creating a colour palette, then going through the machine, testing materials and then shaping them. For this project, I was lucky enough to visit Timberland's headquarters and work in a real workshop.» Suzanne dreams and realises, and as for the future of mesh in product design, she says: «I believe it can be used for many other products besides shoes, I am convinced its potential is endless.»