How to wear a transparent petticoat dress in reality?
From the Kate Moss myth to the present day: Here's how to go out dressed "naked"
Less than a month ago, the internet experienced the challenge it had been waiting for. Namely, to resurrect the famous naked dress that Kate Moss wore to the Elite Models party in 1993. The dress was a completely see-through slip dress (or according to Moss herself, so see-through because of the flashes from the camera that portrayed her at the party) by designer Liza Bruce, which the supermodel had paired with only a black slip (and a cigarette in her hand). Except, surprisingly, it was not worn by her daughter, model Lila grace Moss Hack (although she did praise her with a Burberry creation at the recent Met Gala), but by her ex Johnny's daughter, namely Lily-Rose Depp. The actress, who is currently the talk of the town with the film The Idol, paid homage to the catwalk icon in an i-D shoot, wearing a modern version of Martin Keehn's dress.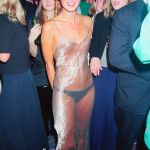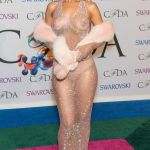 A question that has never gone out of fashion: how can you wear a see-through slip dress in real life? It-girl
Camille Charrièr
e, who recently wrote an article for Bazaar Uk about the misogyny that often starts with the way we dress, also asked herself this question. And galleot was, just in Charrière's case, a "nude" white lace dress she wore for her post-wedding party. "Misogyny is insidious, regardless of who perpetrates it (myself included), and it will not go away until we recognise it for what it is. Hopefully we can lift each other up; the fight is not over yet, unfortunately." While it's true that it's easier to dress "safely"," with clothes that are not too short or even too see-through, we should stop thinking about what might be seen as misogynistic by others and dress how we feel comfortable (even sexy), if we like it at all. Let us take a cue from Charrière herself, who wrote an article for Elle Uk about her latest passion for wearing naked clothes: We do not dress like this to attract the attention of others (and do not turn up your nose if you think the opposite), we do it for ourselves. She also gave all the other women a gift, precisely for the Christmas parties, with a collection for the cheap giant Mango that quickly sold out. Her nude dresses were toe-length and studded with crystals, to shine like a true contemporary It-girl without scruples or regrets. Just like
Carrie Bradshaw
did in Sex and the City in the early 2000s (remember her nude mini dress by DKNY that she used to promote her column on the bus?). A "clean" demonstration of this is provided by the latest star of the small screen, namely the front woman played by Riley Keough in the Prime Video TV series
Daisy Jones and the six.
Daisy, who lives very much in 1970s hippie era smoky California, shows us that it is possible to wear naked clothes with all the class without being - drum roll - over-the-top or extremely provocative. Her outfits in the show, carefully chosen by costume designer Denise Wingate, are foot-long sheer dresses that alternate the minimal aesthetic of a petticoat with the glamour of kimonos and gowns used as dresses.
So our answer to the question "Can you wear a see-through dress in real life?" is yes. As long as you do it according to your own rules, to feel comfortable and not be judged. But how? If it's true that today, in the spring of 2023, the leotard is the new dress, then you too put Kendall Jenner & Co's ground rules into practise. Use the leotard instead of a nice dress, maybe even paired with sheer tights. And if you feel more comfortable with a pair of panties, just pull them under the slip. As a third option, you can combine the panties with a bra or nipple sleeves to keep the breasts from showing too much under the nude dress. The result will be as picturesque as the ensemble Kate Moss put on in the early nineties, only with a different angle: your own personal angle.