How did we go from "dad shoes" to ballet flats?
From New Balance 990v5 to Adidas Samba to Carel Trainers... Keyword: comfort
When influencers popped up in our feed wearing classic American dad trainers from a 90s sitcom, the first reaction was, "I have to have those." Surprising even the most feminine and stylish fashion icons with a pair of mammoth - and for a more mature demographic - New Balance on their feet has made the post-pandemic much easier. Comfort has become an important prerogative again after months in sweatpants. If there is an explanation for every trend, the return of minimalism - in the first half of last year - in both shades and basics is due to the months we spent between closures and worry, not even feeling like thinking about certain outfits. Despite being considered "ugly"," they experienced a resurgence with 90s nostalgia. A typical dad shoe has a thick sole and can come up with plainer, neutral colours precisely because it can be combined with anything - not just dad jeans. New Balance is the most respected sneaker brand among fashion gurus.
The best-selling model is undoubtedly the 990v5, made famous by Steve Jobs, who, with all due respect, is not exactly known as a style icon. Think about it, how long has it been since a simple, grey sneaker became fashionable? Maybe since the 1990s and the Nike Silver, to be exact. In a short time, the New Balance sold out on both the direct website and all retailer platforms. The only way to get a pair was to find them at pretty high prices on Stock-X. But other models like the 608 Cross-Trainer have also managed to make a name for themselves, and before you know it, middle-aged men's footwear has joined us in numerous looks, although for once it has nothing to do with dad issues. The business casual aesthetic was the first player in this trend...tailored trousers, a blazer and a pair of dad shoes...what else?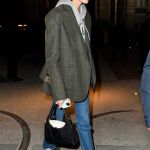 Kaia Gerber is a prime example of this. With her street looks that are always modern and casual, but at the same time have that effortless, posed charisma that only the 90s gave us, first and foremost her mother and supermodel Cindy Crawford, then actress Julia Roberts and finally all the muses of retro-chic minimalism that we want so badly to emulate. With the fondness for vintage back in full swing and Bella Hadid being the queen of streetwear trends, it's obvious that dad shoes had to pass the baton to the sporty but lightweight Adidas Samba. Thank you to their affordable price and the urban subculture in which they were worn in the 90s not only by skaters and models like Kate Moss, but also stars of the calibre of Freddie Mercury and Bob Marley, they have a timeless and untargeted appeal. They are simply the right shoes for anyone looking for a perfect blend of a sports shoe - originally designed just for indoor football in the 1950s - and an everyday shoe that adds that extra something to the whole look.
Thank you to their durable leather upper, thick rubber sole and low-profile design, they quickly became a style statement. A low profile that was revolutionised when Adidas launched its collaboration with Gucci with a reissue of the Gazelle model. The collaboration created an impeccable, colourful, recognisable vintage aesthetic in a reissue that does not cannibalise either brand and makes them both key players in the final product. Inspired by the creative director's memories of the 1980s and 1990s, style codes from sportswear brand Adidas and Gucci were combined to create a range of eye-catching looks.
From Harry Styles to Kendall Jenner, we have seen them worn by all the celebrities who dictate style. So have we ditched the bulky shoes in favour of shoes that fit like a glove? Maybe we have. Or maybe we have not. The important thing is that they retain their charm, which comes straight from the past and tells us a story as soon as we put them on. The era of the imposing and futuristic Triple-S by Balenciaga or the even earlier Speed, which caused a stir because it was as soft as a sock, is truly over.
That's good. Now forget about trainers and focus on the above concepts: comfort, retro taste and a statement shoe. We are talking about flat shoes, Mary Janes and sling backs. For many years, they were considered sloppy and too comfortable to be fashionable, and were considered the quintessential piece that no wardrobe could be without. Now they are back stronger than ever and becoming the hottest trend of the moment. Right now, as you read this article, a woman needs to add them to her wish list. Thank you to Miuccia Prada and Miu Miu's ballet core inspired collection that featured these gorgeous satin ballet shoes, they are still a must-have for all fashion-conscious women. The good news is that there is something for everyone, as the designers who have landed on this trend are not few.


Ganni soft square ballerina flats
Ganni, a Danish brand that has attracted attention in recent years for its collaboration with Levi's and its wonderful catwalk shows during
Copenhagen Fashion Week
, among other things, has designed its own version of ballerina flats. They were made from recycled polyester, showing the connection with the environment that the brand supports through its many sustainable initiatives in the use of materials and otherwise. One of the latest initiatives is the collaboration with Vestiaire Collective.
GG Pumps
Timeless is a pair of kitten heel sling backs from the
Gucci
brand. The 35 millimetre heel makes them perfect for those who are not used to wearing high shoes. This version in particular, with the
GG Supreme
fabric in shades of blue, stands out from the classic beige and brown logo and further emphasises their exclusivity.


Carel "Ariana" Mary Janes in platinum
Timeless, with Parisian elegance, they could only catch the attention of most again. Of course, for those who follow
Alexa Chung
, it's impossible not to have heard of them. The historic French brand, which turned 70 in 2022, offers a range of shoes in numerous colours and styles to suit all tastes. The 1960s revival in Paris is nostalgic and embracing when you wear these shoes that elevate your look with the comfort of a sneaker.
The triumph of comfort is showing up in so many facets this 2023, that although we are only at the beginning, we already have a large number of trends to draw inspiration from. Fashion month has recently come to an end, bringing with it, as it does every year, the irrepressible urge to renew one's wardrobe from top to bottom. But as we have seen, that's not recommended, because the cheeky but delicate vintage look will be with us for quite a while.