The illusion of plus-size models
The representation of bodies that are not extremely thin seems to have disappeared from the FW 2023 2024 shows, as has the commitment to inclusivity and body positivity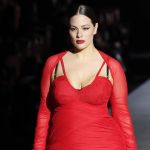 Where has inclusivity gone on the catwalk? In the fashion shows for FW23, plus-size models seem to have been dropped from the castings. A beauty ideal is once again being propagated that involves extreme thinness, consisting of hollowed cheeks, concave bellies, wafer-thin legs and non-existent hips. If in previous seasons it seemed like the industry was taking baby steps towards different sizes and body types, the current fashion month is a step back. Brands have returned to a 90s-Y2K aesthetic, and not just in terms of style inspiration. The newfound passion for low waists, crotch-high miniskirts, tops that expose the belly and heroin chic à la Kate Moss has helped to reaffirm the thin privilege and the fetishisation of being slim. As many had already predicted, most of the campaigns and declarations in favour of body positivity turned out to be empty words, an attempt to satisfy another trend that is still far from even scratching the prevailing fatphobia in the industry.
On the catwalk, for example, representations that were not size 0 were drastically reduced to the usual names: Ashley Graham in a tight mini dress for Dolce&Gabbana, Precious Lee for Off-White and Thom Browne, Jill Kortleve for Chanel, Nensi Dojaka, Michael Kors, Coperni, Alexander McQueen, and few other examples. Official reports on the FW23-24 fashion month have not yet been released, but they confirm a negative trend that started a long time ago. According to The Fashion Spot, in terms of Spring 2020, New York Fashion Week had 68 plus-size models, Spring 2022 had 48 plus-size models, and Fall 2022 had 51. At London Fashion Week, of the 2,640 models who walked the runway this season, only 71 could be described as plus-size, and Milan Fashion Week had 77 percent fewer plus-size models than London. In contrast, a recent report by InStyle looked at all the brands that appeared in Spring 2023, 327 designers in total, and examined the sizes they sell. Tess Garcia found that "London offers the smallest size range overall, with only 1 percent of designers offering size 20 or larger, and 27 percent going up to size 14." Paris, Milan and New York follow with "19 percent of designers offering a size 20 or larger."
The paean to diet culture ranges from the recent slimming of the Kardashians to the end of the BBL era (Brazilian Butt Lift, i.e. surgery to augment butt curves), from the return of indie sleaze to the rise of Ozempic abuse as a slimming tool, and boils down to a one-sided and often toxic portrayal of the female (as well as male) body on the catwalks of late. This has become so blatant that even Vanessa Friedman, the fashion director of the New York Times, wrote in a tweet last February: "Even Im distracted by the extreme thinness of many models in the Jason Wu show." Inevitably, she was criticised for mentioning Wu, who usually offers a few different sizes, and not mentioning brands like Saint Laurent or Prada, where thin models are the norm. The topic is certainly sensitive and should never lead to stigmatising those who are naturally slim (another thing Friedman was accused of), but it is undeniable, even to industry insiders, that there is a difference between a slim and a sick body. Combined with the lack of representation of diversity, this feeds a toxic system that is tacitly accepted in the industry, negatively impacting those who work in the industry but also shaping the mainstream aesthetic of much of the rest of the world. Simply put, the glossy aesthetics of magazines and the portrayal of thinness as the only synonym for beauty creates a desirable image of perfection that makes those who do not possess it feel inadequate, fake and ugly, triggering problems such as eating disorders and body dysmorphia. This is certainly nothing new, but the mirage of body-positive inclusivity that is increasingly fading feels like a defeat, or worse, a mockery, as if the promise of plural representation has vanished before our eyes. The question is why?
The answer is complex, touching on ethical, cultural and economic aspects, and largely in the hands of the decision-makers. And to say that, you know, that's how fashion works, only sample sizes 0 are good enough, is no excuse. Maybe talking about it will not change the situation in any concrete way, but it at least shows that we are no longer willing to accept a representation that creates a systemic discomfort that is socially accepted but not immutable. The dream of seeing as many different bodies as possible on the catwalk and garments of a wider size range in the shops cannot only become a reality for raggedy fast fashion chains or the underwear of Rihanna and Kim Kardashian. And body positivity cannot be just a temporary movement that lasts for the duration of a campaign or a social project. It cannot be that it loses traction and interest, that it is a fad to be superseded in the next season. Bodies are not trends. They exist, they have validity and the right to be represented beyond the fickleness of the market.