Julia Fox is the queen of denim
Celebrity collects another DIY outfit made from upcycled jeans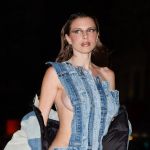 While everyone comments on the pictures of her messy apartment, with shoe boxes and her son's toys strewn everywhere, Julia Fox has presented us with another of her daring DIY looks. On 7. February, she was spotted on the streets of New York City and then at the party celebrating the Diamonds by Pandora collection with a creation that alluded to the Avant Apocalypse aesthetic and looked like the result of one of her many tutorials on how to transform any piece of clothing into a striking outfit with simple, casual scissor strokes: a mini dress made from recycled denim waistbands sewn together vertically to form an off-the-shoulder top and then horizontally to create a tiny skirt. The unusual outfit, which leaves large parts of the body exposed and is called the Ocean Dress, was not the responsibility of the Uncut Gems actress, but of MPaz Studio, a brand specializing in recycled denim clothing, from corsets to cropped trousers. Julia, who was advised by stylist Briana Andalore, made it even more eye-catching and statement-making by pairing it with other denim pieces: an oversized patchwork bomber jacket, a mini bag by Medea and a pair of joots by Gia Borghini. The beauty? Slicked-back hair, dramatic smokey eyes, blush to sculpt the cheekbones and lipstick with a slightly metallic finish.
This is just the latest of the full denim looks Fox has worn over the past year. She can be described as the true queen of the more experimental and minimalist (meaning minimal is the amount of fabric used) version of the Canadian tuxedo. Since she first appeared on Kenzo's Fashion Row alongside Kanye West, wearing both jeans and a denim jacket, she has made wearing denim a true art.
Her highlights include the Diesel pantaboots she chose for her first PFW, the jeans that were made into a bag and a micro crop top, or the Motomami version in black denim. However, her street style moment when she went to the supermarket with boots, bag and blazer (all made of denim, of course) and only under a Calvin Klein underwear set remains unforgettable. The question many are asking is: Will Julia have a classic pair of Levi's in her wardrobe?