Saint Laurent's Icare bag is the hottest product of the past three months
According to The Lyst Index for the fourth quarter of 2022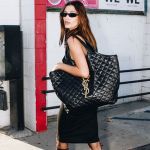 The Lyst index is sort of a fashion thermometer that monitors consumers behaviour, the hottest brands, clothes and accessories of the moment. Based on the searches and purchases of its 200,000 users, the online shopping platform produces a detailed list every quarter that informs us about trends, desires and purchases, giving us a picture of the current state (and perhaps direction) of style. Scrolling through the Lyst Index results for the fourth quarter of 2022, we find that the influence of celebrities and Gen Z, who can make a fortune or sharply criticise a brand or item on TikTok, is such that it is driving global shopping. Prada is becoming the most popular brand in the world, reaching the top spot for the first time with a 37% increase in searches this quarter, while Loewe and UGG are rising rapidly thanks to the virality of their products. Some of them, as easily predicted, ended up in the top 10 most searched items for the second time, in a list that no longer divides male and female preferences. Topping the list is one of the most popular It-bags among celebrities and influencers: the Icare by Saint Laurent, establishing itself as the hottest product of the fourth quarter of 2022. Luxurious, versatile and adored by many, the bag debuted last spring and was named after the waxwing from Greek mythology, the son of Daedalus and Naucrates who plummeted into the depths after getting too close to the sun. Recognisable by its soft quilted lambskin, frog closure and large brass logo, it establishes itself as a classic from the French maison Maison and, thanks to its XXL size, it is contributing to the return of maxi bags among trends. After being seen on the shoulders of Angelina Jolie, Bella Hadid, Zoë Kravitz, Leonie Hanne, Rosie Huntington-Whiteley and Sydney Sweeney searches increased by 46%.
The handbag category is generally seeing increased interest, with an overall increase in searches up by 55% overall. Prominent among these is Bottega Veneta's Sardine Bag, which features the brand's iconic Intrecciato fabric and the gold, sardine-shaped handle from which it takes its name, landing in fifth place in the rankings. Prada's silver logoed slingbacks take second place, followed by Dr. Martens' Leonore Chelsea boots, which are driving up the brand's searches by 51% in the wake of the rediscovery of '90s grunge. Equally popular are Mach & Mach's bowtie model (at No. 8), which has taken social media by storm with more than 70.9 million views on TikTok, and the more comfortable Crocs x Salehe Bembury clogs, which rank as the tenth most popular product.
Inevitably influenced by the holiday season, this latest Lyst index finds 16Arlington's Solaria dress, worn by Hailey Bieber, Jodie Turner-Smith, Paloma Elsesser and Olivia Wilde,, in fourth place in the most coveted rankings, foreshadowing a trend that will continue into spring, liquid-effect sequins; ninth place for the girly appeal of Miu Miu's logo patch satin briefs, which were also worn by Kendall and Kylie Jenner, confirming the preference for open-worn underwear and leading to a 96% increase in searches for logo briefs this quarter. Equally predictably, seventh place classics are taken by Loewe's viral puffer jacket, a new fetish for It girls. Acne's even more classic mohair scarf saw a 52 percent increase in searches.