The dreamy and sleazy Celine SS23's summer
For the spring/summer 2023 collection, Hedi Slimane takes us back to the early 2000s, between indie-sleaze, skinny jeans and Pete Doherty
No live fashion show during the official calendar. Celine chooses to present the spring/summer 2023 collection with a short video shot by Hedi Slimane last October in Saint Tropez. While Pete Doherty and Carl Barât, authors of the soundtrack, sing Music when the Lights Go Out, one of the most popular hits of The Libertines, color images of the models parading on the French city's harbor alternate with black-and-white ones of American model Lulu Tenney wandering around Villa Kerouac (she left Los Angeles after the end of the Saint Laurent experience, Slimane went to live in this villa on Ramatuelle beach), crossing the shoreline on a yacht or balancing on a rock in the sea.
Everything, from the music to the mood, takes us back to the early 2000s, to when Slimane, then at Dior Homme, was winning everyone over (including Karl Lagerfeld, who slimmed down specifically to fit into his garments) with his indie-sleaze in a luxury version. Celine's creative director re-imagines his past by adding a French Riviera and bohemian touch to his mannish tailoring and rock-chic style.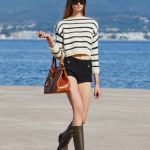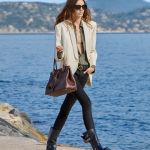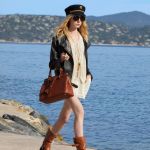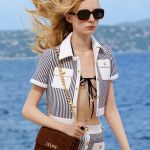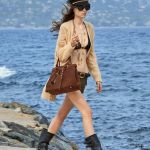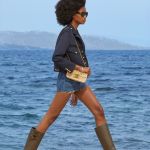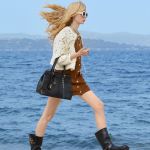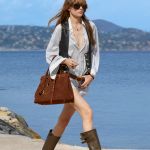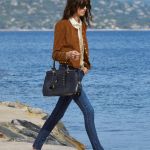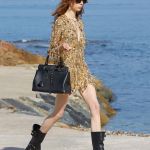 Thus, the Original Skinny Jean that Slimane created and launched in the 2000s and have become something of a uniform of the British and American rock scene return declined in blue or black Japanese denim and always with a very low waist. The characteristic sharp jackets, short at the waist and with a slim silhouette, soft leather vests, oversized toyboy shirts and sequined mini-dresses that tell the story of the decadence of the Moss-Doherty period are enriched with the codes of the French Riviera such as Breton-style sweaters, the dark blue blazer with gold buttons, denim shorts, crocheted triangle swim tops and sailor hats. On the feet the models wear ballet flats, Mary Jane's and beautiful biker boots, while the accessory of the season is the Conti bag.