"The Crown" brings 1996's Lady Dior back to stores
A limited edition inspired by the model worn by Princess Diana at the 1996 Met Gala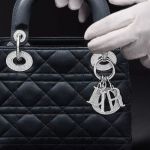 Twenty-five years after her tragic death in Paris under the Pont de l'Alma Diana Spencer continues to be a true fashion icon influencing contemporary wardrobe and brand and designer choices. Maybe it's the effect of the fifth season of The Crown just arriving on Netflix that takes us back in time and makes us relive the sad princess' most iconic outfits, but suddenly we're back to coveting slip dresses, blazers, tartans, revenge dresses and her accessories like her favorite: the Lady Dior mini. To celebrate Lady D's immortal style, the Maison announced the reissue of the model she wore to the 1996 Met Gala. It was the year her divorce from Charles was made official, and Diana showed up on the red carpet sporting a dark blue silk slip dress with black lace detailing from John Galliano's first couture collection as Dior's creative director, paired with a pearl and sapphire choker necklace and a Lady Dior that now returns to stores in a limited edition of 200 pieces and priced at 5,000 euros. The 2022 version is in blue satin with rhinestone details.
Do you know the history of the bag? In 1995, then First Lady Bernadette Chirac asked event planner Françoise Dumas to choose a gift from the Dior boutique for the Princess of Wales, who was expected for tea at the Elysée presidential palace during a visit to France. She noticed a small cloth bag that was then known as a Chouchou, characterized by a small top handle, a square shape, a quilted texture that echoed the cannage stitch pattern of the Napoleon III chairs where Christian Dior fashion show guests sat, and dangling charms that reproduced the letters of the logo. At the time, Maison's artisans were working on a leather prototype, and it was in that material that the bag was given to Spencer. The result was love at first sight. The royal wore it on many occasions. The first time was during the opening of the Paul Cézanne retrospective at the Grand Palais in Paris, then to Argentina for an official trip, and from that moment on it became her favorite so much so that the bag ended up being so closely associated with the princess that it was renamed Lady Dior in her honor, since in France, although she had lost her official title, Charles' ex-wife was still called Lady Diana.
Princess Diana's love affair with the Maison Dior coincided with the princess' 1990s outfits that expressed a new sense of freedom. Away from the royal family, Diana could finally breathe and shine in the spotlight by daring looks hitherto unthinkable by court diktat such as leopard-print costumes, daring necklines, transparencies, and couture dresses. And it is this that is recounted in The Crown 5 and celebrated by Dior's new bag. Spencer is no longer the naive teenager forced to wear pastel-colored meringue dresses and shapeless sweaters, but she is an adult and independent woman, master of her destiny. And that is how we want to remember her, beautiful and free with her Lady Dior on her arm.