Quilted fashion: blankets on runways and red carpets are a dream come true
The ultimate side of cozyness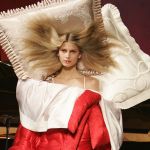 Raise your hand if during quarantine you haven't walked around the house or made a call on Zoom with your comforter or plaid worn as an overcoat, a homemade superhero cape capable of hiding overalls or pajamas from prying eyes and, at the same time, offering comfort and warmth. A solution facilitated by forced insulation that with the arrival of winter and high utility bills seems to exert its charm again on many, including celebrities who, of course, do not choose this extreme look for comfort or to save money, but to amaze, catalyze the flash of photographers and make people talk about themselves. Do you remember when, a few years ago, Rihanna showed up with A$AP Rocky on the Met Gala red carpet, she total black Balenciaga and he wrapped in a sort of cape inspired by the traditional American memory quilting blankets by ERL, a young American brand founded by Eli Russell Linnetz? The latest couple to choose to elevate their loungewear to outfit sa red carpet was the brand-new one consisting of Billie Eilish and Jess Rutherford. The two showed up at the LACMA Art + Film Gala 2022 under a Gucci monogram quilted maxi blanket, paired with two matching pajamas complete with eye mask and slippers.
Before singers, actors and millions of smart working people, it was the fashion world that sensed the stylistic potential of quilts, blankets and pillows. The origins go back to Cinzia Ruggeri's classic "Bed Dress", originally created for Vogue Casa in 1986, i.e., a quilted down dress paired with a satin pillow, a combo later reinvented by Viktor & Rolf in the Fall/Winter 2005-06 collection (appropriately titled Bedtime Story) and by Sarah Burton for Alexander McQueen FW16 collection. Hybrids between quilts, plaids, and coats have trod the Maison Margiela runway several times, first thanks to a collaboration with Italian quilt and bedding manufacturer Featherlite and then under the artistic direction of John Galliano, such as when the typical quilted fabric was transformed into soft giant pillow-like clutches in the SS18 and FW18 collections. In the same year, 1999, in which Margiela presented his duvet coats equipped with detachable sleeves, other designers also had a similar insight. Jean-Paul Gaultier presented a young Gisele Bündchen dressed in a huge avocado-green quilted comforter coat paired with glitter cuissards, and Comme des Garçons modeled pillows and sheets to recreate a fashion cocoon. As dramatic as Charles James white quilted satin Swan down jacket or the Issey Miyake Futon coat launched in the 1990s, were the proposals developed by Rick Owens in partnership with Moncler for the FW20 collection, Mulberry FW17, Preen by Thornton Bregazzi resort 2019 or Marques Almeida FW16.
As cozy and irresistible as the legendary Linus blanket, the quilted effect quilts, very wide and often with enveloping shapes as if they were to be laid out on the bed have often alternated with real wool or chachemire blankets to be worn by hand or over the shoulders as precious stoles. For example, almost anticipating the pandemic and boom of loungewear, for FW19 the big brands split evenly between those who preferred one or the other. They played at reinventing quilted fashion Balenciaga, Jil Sander, Dries Van Noten, Celine, while they preferred the more sophisticated blanket style Burberry, Etro, Michael Kors and many others.
The "just out of bed" look likes and can go viral, as happened with the Burberry signature plaid worn on the catwalk by Cara Delevingne and then by many other stars such as Sarah Jessica Parker and Olivia Palermo or as happened in 2020 with the #pillowchallenge. So, during this and the coming winters, let's feel free to sport maxi quilts and scarves inspired by plaids and blankets. Those who want can dare with a total look and add deluxe pajamas and a pair of babouches or friulanas on their feet. A word of advice? Leave our snuggies (the famous wearable fleece blankets) on the couch and opt for a slightly more sophisticated interpretation.