Which emerging brands are most loved by celebrities?
It has to do with a pleated skirt, a pair of parachute pants and a fashion show that went viral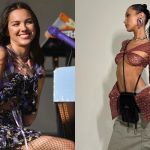 Who decides whether a brand will be successful? There are many factors that come into play, from the development of an attractive product to an effective marketing strategy, which working in sync build an imagery that represents consumers' tastes and values, in which they recognize themselves. Among the many variables is, however, undeniable the weight of a testimonial, official or otherwise, that elevates its popularity. If Bella Hadid, Hailey Bieber, Rihanna or another celebrity known for her style wears a garment from a young brand the boom effect is almost always guaranteed. It is no coincidence, then, that Lyst's report covering the third quarter of 2022 named Breakout brands three names that have entered the wardrobes of models, stars, and influencers who routinely sport them on the red carpet and in their daily lives. The Paris show featuring the dress-sprayed on Bella Hadid generated more than 1 million mentions on Tiktok, increasing Coperni searches by 50 percent over the previous quarter. Jared London, on the other hand, owes his fame and a 63 percent increase in searches to his wildly popular cargo pants; while the hype around Chopowa Lowena (+86 percent) is due to her London Fashion Week debut. To this triad of up-and-coming talents, to be kept an eye on because they are on the rise so fast, we must add two others that the Hadid sisters and other celebrities can no longer do without: Ottolinger with her experimental garments and Miaou with her inclusive corsets.
Coperni
Designers: Sébastien Meyer and Arnaud Vaillant
Trending product: Swipe bag
Worn by: Kylie Jenner, Dua Lipa, Nicola Peltz Beckham, Doja Cat, Rihanna
History: Sébastien Meyer and Arnaud Vaillant met while studying at the Mod'Art school in Paris in 2009. The understanding between the two is immediate, and after joining forces and their different backgrounds, they founded Coperni in 2013 drawing inspiration from the scientist Nicholas Copernicus, who by proving that the planets in the solar system revolve around the sun and not vice versa revolutionized the worldview. The idea behind the brand is to mix the notion of chic, inherent in French DNA, with something more futuristic, fusing fashion, art, science and technology. The most successful example? The dress-spray sprayed on Bella Hadid during the SS23 fashion show, a performance that immediately went viral and recalled another iconic moment in fashion history: supermodel Shalom Harlow and her dress sprayed by two mechanical arms for Alexander McQueen's 1999 Spring/Summer fashion show. Celebrities such as Maisie Williams, Doja Cat, and Kylie Jenner fell in love with Coperni's creations long before the show closed by Bella Hadid, thanks to the minimal chic garments that perfectly meet the tastes of Millennials and Gen Z, but most importantly, thanks to the Swipe bag. One of the most beloved bags of recent years, featuring an arched design inspired by the iPhone unlock icon, and declined in different materials each season, from fiber obtained from apple production waste to blown glass to solid gold.
Jaded London
Designers: Jade and Grant Goulden
Trending product: cargo pants
Worn by: Kylie Jenner, Hailey Bieber, Kaia Gerber, Beyoncè, Camille Charriere
History: Jaded London was born in 2013 from the passion for streetwear and casual style of two brothers and designers Jade and Grant Goulden. The idea behind the project is to create simple, eye-catching and easily accessible garments that can quickly intercept the dominant trends for Gen Z. The result is a mix of grunge, new punk, athleisure, Y2K style and vintage inspirations declined in vitaminic shades and prints that immediately won the attention of celebrities who usually have different styles such as Beyoncè, Taylor Swift and Cara Delevingne. In the last season, the London-based brand has gained even more popularity thanks to its cargo and parachute pants that, from the break-dance scene of the early 2000s, have carved out a place of honor in the outfits of Kylie Jenner, Kaia Gerber, Bella Hadid, Hailey Bieber and so many other common people that they have gone viral on TikTok.
Chopova Lowena
Designers: Emma Chopova e Laura Lowena
Trending product: belted argyle mini skirt
Worn by: Madonna, Dua Lipa, Olivia Rodrigo, Harry Styles, Gabriella Karefa-Johnson
History: Emma Chopova and Laura Lowena met in their freshman year at Central St Martins and have never been apart since, combining their love of Bulgarian folk aesthetics, obscure references, "minor" sports, and a flair for DIY punk. The turning point came in 2018, when the two designers received a 30-piece order from Matchesfashion, which saved them from liquidation of the brand, now sold in more than 60 retailers worldwide, including Ssense, Nordstrom, Dover Street Market, LN-CC, and 10 Corso Como. Much of the credit for their success goes to their pleated skirts, particularly the belted and lobster-clip pattern, a veritable explosion of shapes, fabrics, patterns and colors that has made them into the wardrobes of Dua Lipa, Olivia Rodrigo, Gabriella Karefa-Johnson and even Harry Styles and Madonna. The skirt, made from recycled and deadstock fabrics, remains the main item even in the latest collection entitled, from a quote from a Gertrude Stein poem, Rose is a rose is a rose, which is inspired by the Rose Festival held in the city of Kazanlak in Bulgaria and lacrosse.
Miaou
Designer: Alexia Elkaim
Trending product: corsets
Worn by: Rita Ora, Barbie Ferreira, Julia Fox, Paloma Elsesser, Bella Hadid
History: "It's sexy. It's Miaou." That's how one could sum up the history of the brand founded in 2016 by Alexia Elkaim. Born in France and raised in Los Angeles, the designer took on the project shortly after graduating from Parsons School of Design with an idea in mind: to make the perfect pair of pants. Inspired by her love of vintage clothing, she created an alternative to classic five-pocket denim jeans. Add a strong social media presence, an Instagirl fanbase, eye-catching garments made in inclusive sizes and voila, success is immediate. Among the admirers of Miaou, which has been making a splash in recent seasons with its colorful and cool corsets in many different materials and a wide range of sizes, are Gigi Hadid, Paloma Elsesser, Barbie Ferreira, Julia Fox and Alexa Demie.
Ottolinger
Designers: Cosima Gadient e Christa Bösch
Trending product: mesh dress
Worn by: Cardi B, Gigi Hadid, Barbie Ferreira, Kylie Jenner, Willow Smith
History: Christa Bösch and Cosima Gadient met while studying fashion design at the Institute of Fashion Design in Basel and decided to start their own brand in Berlin, soon distinguishing themselves for their talent, so much so that they were chosen by Kanye West as creative leaders for the Yeezy Season Four collection. The approach that made Ottolinger famous among celebrities such as Dua Lipa, Barbie Ferreira, and Bella Hadid is based on the interplay between creativity and destruction. The result is a kind of deconstructed couture perfect for creating an easy-cool style that winks at the Avant Apocalypse aesthetic and the Subversive Basics trend. The brand's garments are distinguished by fitted silhouettes, asymmetrical cuts, precise draping, cut-outs, and a cacophony of abstract prints often invented with the help of artist friends.