What are the most sought-after fashion items of the moment?
According to the Lyst Index, Miu Miu ballet flats and Prada's white logo tank top are also on the list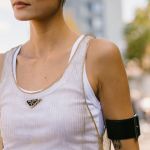 Every quarter, Lyst analyses the data of its more than 200 million annual users, monitoring purchasing behavior, searches, product views, social media mentions, sales and, in this way, determines which brands and products are the hottest of the moment. Scrolling through the Lyst Index results for the third quarter of 2022, we discover that we love a gender-neutral style, capable of combining functionality and glamour, preferably Made in Italy. It may be the effect of MFW or the stainless appeal of the craftsmanship of our peninsula, but Italian Maisons dominate the Top 10 of the most fashionable brands. Driven by the beautiful SS23 catwalk show with 68 pairs of identical twins, Gucci maintains the first position, followed by Prada, Valentino, Balenciaga and Dior who occupy the first five places and are just ahead of Miu Miu, Fendi, Diesel and Versace, which thanks also to Paris Hilton's total pink wedding dress at the end of the catwalk has gained a leap in searches of 2,000% reaching the tenth place. We find many of these names among the creators of the 10 most desired items, presented for the first time in a list no longer divided into male and female preferences.
In first place, with a 1.100% increase in searches, are Miu Miu ballet flats, which combined on the Autumn/Winter 2022 catwalk with thick ribbed stockings, chiffon, miniskirts and leather bomber jackets gave an unexpected twist to the Balletcore and Indie-Sleaze trends and won over celebrities such as Sydney Sweeney, Rosalía and Bella Hadid. Staying on the footwear theme, the ugly and functional aesthetic that dictated our shopping choices during the pandemic continues to influence us, pushing Birkenstock Boston Clog and Ugg Tazz slippers into second and fourth place respectively. If adidas Samba is the only trainer to make the list, probably thanks to the many Instagram posts featuring it on the feet of the most popular influencers, Gucci Horsebit leather loafers represent the luxury dresser we'd all like in our wardrobes.
Despite its prohibitive price tag of €690, the new fashion addict's essential is Prada white logo tank top (third in the Top 10), sported on the Milan catwalks by actress Hunter Schafer and Kaia Gerber and perfect for inclusion in our outfits all season long. A gorpcore garment also makes its appearance in the ranking: Patagonia Better Sweater Fleece. Three are the most desired accessories for Q3 2022: Valentino Mini One Handbag in the distinctive PP Pink; Diesel B-1DR belt and Balenciaga Swift Oval sunglasses, whose sporty-futuristic aesthetic has won over Kim Kardashian and Dua Lipa.