Moschino launches new line M05CH1N0 Jeans
The debut is scheduled for Pre-Fall 2023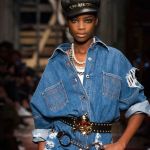 Moschino looks to the past to design the future. The brand has, in fact, decided to revisit the historic Moschino Jeans line, designed by Franco Moschino starting in 1986, and transform it into a line, revamped in both logo and spirit, of ready-to-wear and women's accessories inspired by the tradition, history and culture of denim, which will be presented for the first time with the Pre-Fall 2023 collection. M05CH1N0 JEANS will add a touch of rebellion to the brand's craftsmanship, giving jeans a new approach balanced between industrial and designer, without forgetting the characteristics that have always animated the brand such as the rock'n roll mood, irreverence and the trompe-l'oeil effect.
Jeremy Scott, the brand's creative director, will create clothing and accessories in pure denim, which will be treated with stone washed, sanforized and frayed washes, but will also experiment with other fabrics such as chambray, cotton, jersey, velvet and leather. The arch stitching on the pockets that was used for the historical Moschino Jeans will remain as a distinctive feature, while the emblems of classic denim, from rivets to metal buttons, will be declined with different materials to give an eclectic and original twist to the collection.
The first M05CH1N0 JEANS collection will be available from May 2023 in a selected network of multibrands internationally and on moschino.com and Jeremy Scott promises "Trust me, you won't want anyone coming between you and your M05ch1n0 Jeans".