Fashion's obsession with trash
Why the relationship between fashion and trash as a critique of reality inspires desires
"It looks good even with a trash bag." The ironic way people used to say in the 2000s, to refer to someone who enhances a cheaply purchased garment, exalting it as if it were couture, never could be more relevant than now. But today everything has a different meaning. The relationship between fashion and trash lies in the inspiration of garbage bags-see under Balenciaga bag or Kanye West Yeezy x GAP collection-synonymous with the demolishing force of what fashion actually is, namely the second most polluting industry contributing to the destruction of our planet. There were numerous tributes on the runway, from Moschino to John Galliano and Alexander McQueen. But let's see them in detail.
Until recently, there was always a certain fear of being seen by your neighbor throwing out the trash. But now, that very bag turns out to be extremely on the latest trend, as well as a rather expensive accessory for that matter. After all, it has literally been making the rounds on the catwalks. Giving the latest viral example of this was Baleciaga who, for the FW22 collection, created luxurious bags inspired precisely by the garbage bags, putting them on the shelves at a price exceeding a thousand euros. Then there was the controversial Yeezy x Gap collection, with Kanye West's idea of stuffing garments into huge garbage bags (or, as he later clarified, large "yard" bags) instead of classic shopping displays. In short, the aesthetics of garbage for many has a certain appeal, for others it is comparable to bags for collecting one's dog's needs or, even worse, an insult to the homeless who necessarily put all their belongings right inside these huge black bags. Two cases that have drawn attention to themselves, certainly creating more controversy than past collections. One thing is certain to all: these expensive bags to carry on the arm are to be related to the polluting factor of fashion towards the environment. The origin of fashion's interest in junk is obligatorily linked to a 360-degree supply chain vision, a path begun by the Japanese Hohji Yamamoto and Rei Kawakubo in the 1980s thanks to their focus on the subject that is repurposed in the first decade of the 2000s by the genius minds of John Galliano and Alexander McQueen. The former applies to the interpretation of garbage a veritable cult straddle with historical references of the post-French Revolution clochards, with deconstructed silhouettes that reconnect with a fluidity of genderless figures that allows the body to free itself from structural canons, an element that Demna Gvsalia is taking up in her own way with her iconic silhouette.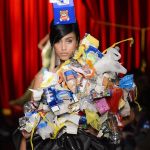 The collection designed by John Galliano for Dior, in 2000, was the big breakthrough. Indeed, the couturier had created clothes made from newspaper prints, paired with plastic bags similar to those in the supermarket, in reference to the homeless people of Paris, long observed by the designer as he ran in the morning along the Seine. Alexander McQueen, too, had brought his collection The Horn of Plenty to the runway in 2009, with models swathed in sculptural dresses walking among trash and wearing headdresses made from bags and cans abandoned on the street. But no reference to the homeless here. It was rather a criticism by the designer of all the garbage that we human beings find ourselves producing every day, leaving it in every corner of the Globe's cities without respect. Jeremy Scott has given us a third different version. For Moschino FW17 collection, he literally dressed models in garbage, giving new life to cardboard boxes, shower curtains and black bags. An antidote, according to the designer, in reference to waste, as if to incite recycling. Recycling that, by the way, we wear every day. Just think of the designer labels, even low-cost ones, that choose to create their clothes from discarded materials, from fishing nets abandoned at the bottom of the sea to plastic reworked into high-tech materials that do not create problems of microplastic emissions even during washing machines. In short, it is not surprising that an ordinary accessory of our everyday life is revisited by the creativity of designers, as long as this gesture is done with respect and not as an insult, not only in price but also in ethics.
The conclusion? Trash fashion is, in short, a statement. Controversial certainly, funny at times, but that is the point. Fashion itself is, after all, defined by many as trash, a frighteningly topical metaphor.