Will North West be Yeezy's new creative?
The little girl seems to have inherited the talent and sense of style of dad Kanye and mom Kim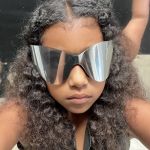 Do you remember when, a few years ago, Kim Kardashian, as a proud mom, showed the oil painting of a mountain landscape made by her eldest daughter? Well, she did it again. This time, the occasion was a visit by North West to the Yeezy offices. In an Instagram story posted earlier in the week, the SKIMS founder shared with fans the firstborn's latest sketches: the faces of two black-eyed aliens, made even creepier by 3-D braids decorating the heads and coming out of the mouths of these strange creatures. These images, alternating with a series of selfies in which the little girl was sporting a pair of futuristic YR 3022 YEEZY SHDZ, were enough to raise speculation about the upcoming release of a Yeezy capsule designed by North. Will it be true?
What is certain is that North has inherited the creative talent and the sense of style of dad Kanye and mom Kim. She has proven it before and not only by revealing her skills as a painter. Always accustomed to living in the spotlight, the young girl grew up breathing fashion, music, art and knows showbiz much more than many established celebrities. Even at a very young age, alongside her parents, aunts or bff Penelope Disick, she enchanted the paparazzi with her cool looks, from tutus to baggy pants, Y2K outfits to gorpcore pieces. Each outfit change seems to have honed her taste in styling so much so that last February she made her styling debut for Vogue, choosing not only her own outfits but also those of her siblings for a photo shoot dedicated to her mother Kim. Among her cult moments is definitely the Yeezy season 8 fashion show. On that occasion, North took to the runway, giving the audience a 2-minute rap performance in which she showed a naturalness as a seasoned artist.
In the coming months we will find out if North West will join the family business, but, in the meantime, she is rehearsing as an it girl. In fact, at only nine years old, she continues to steal the show from her mother whenever they go out together. The last time was during the recent Parsi Fashion Week. The little one flew to the Ville Lumiere for the haute couture shows, attending Balenciaga and Jean Paul Gaultier front rows. Each outing was an opportunity to show off a new outfit: vest, asymmetric pleated skirt, blouse, tie, and combat boots, complemented by Matrix-style sunglasses and a nose piercing, all Jean Paul Gaultier; blue varsity jacket by Pastelle (Kanye's first brand), paired with black pants, Crocs clogs, and a Balenciaga mini bag; but also retro-grunge maxi sweatshirt; rhinestone-covered black denim jacket; and ripped pants. Talk about an enfant prodige of fashion.