The eternal charm of Carolyn Bessette Kennedy
Minimalist 90s New York style icon celebrated in fashion, movies and Instagram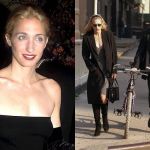 More than twenty years after her tragic death, Carolyn Bessette Kennedy continues to be a much-loved fashion icon, the object of an almost mystical devotion carried on by millions of people who celebrate her minimalist style online, but also by many brands who look back to her 90s images for inspiration. The latest is Prada, which has decided to revive the it-girl's favorite bag, originally introduced as part of the Fall/Winter 1995 collection and returned to the catwalk for the SS22 season with an updated version and the name Re-Edition 1995. The new model, available in black, creamy white and red, retains all the features of its predecessor: clean, geometric lines, a brushed leather body and a central zipped closure with three internal compartments to combine functionality with refined elegance. The absolute minimalism of the Re-Edition 1995 mirrors the refined understatement that made Carolyn the best example of 1990s minimal chic.
Born in 1966, the daughter of an engineer and a schoolteacher, she grew up in Greenwich, Connecticut. After graduating from Boston University, she found work at the Calvin Klein flagship store, first as a sales assistant, then as a personal shopper for Manhattan's celebrity socialites, and finally as an executive PR person. Her life changed in 1992 when she met John F. Kennedy Jr, the son of John Fitzgerald and Jackie Kennedy. He is the scion of America's only royal family, the world's most eligible bachelor, a tombeur de femmes with a history of relationships with Madonna and Daryl Hannah, and she is a sort of modern princess who has risen from anonymity to become the it-girl to copy. Beautiful, rich and famous, they are constantly chased by the paparazzi who lurk for hours under their Tribeca flat in search of a kiss or another photo in which the couple shines in all its coolness.
Carolyn and John were married on 21 September 1996 on Cocumberland Island, Georgia, in a very private ceremony in front of only 50 guests. The image of the two of them coming out of the small chapel hand in hand, he in a dinner jacket and she in a simple and beautiful Narciso Rodriguez slip dress, accessorized with a shawl and see-through gloves, has made history. It's an immortal shot that freezes in time a moment of absolute happiness of two envied and loved icons of the 90s and helps to fuel the cult of the power couple, as do the many Instagram accounts that publish every walk with the dog, party, boat trip or glimpse of life shared by the two. From @carolynbessettehd to @carolyn_iconic, from @carolynbessette to @officialcarolynbessettekennedy, each of these profiles, with an almost maniacal work, documents not only the fragments of two existences, but the spirit of a certain part of the nineties, the one in which the ultra-chic, monochromatic and effortless minimalism of Calvin Klein, Prada and Yohji Yamamoto reigned supreme. The same for which Carolyn Bessette Kennedy is the perfect testimonial.
Carolyn and John's fairytale came to an abrupt end on the evening of 16 July 1999 when the couple and her sister, Lauren, lost their lives. The Piper Saratoga piloted by John himself, in which they were on their way to a wedding on Martha's Vineyard, sank into the Atlantic Ocean, consigning their figures to a sort of religious cult that keeps them alive and perfect to this day. Not even Hollywood is immune. Ryan Murphy, the creative mind behind American Horror Story and American Crime Story, has announced that he will be making a TV series about them. The biopic will be titled American Love Story and will trace the timeline of the golden couple's 90s romance:
"What started out as a beautiful union for the young couple, widely regarded as American royalty, began to fray under the stress of the relentless microscope and navel-gaze of tabloid media," the release continued. "The pressures of their careers and rumored family discord ended with their tragic deaths when his private plane crashed into the ocean on a hazy summer night off the coast of Massachusetts."