Trend alert: Canadian Tuxedo
From Britney Spears and Justin Timberlake to Julia Fox and Kanye West. Denim on denim is the new couple uniform?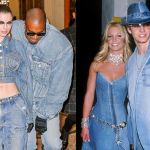 We can say it without doubt: Julia Fox and Kanye West are the hottest couple of the moment. Although it seems they've only been dating for a couple of months, each date is documented better than a Vogue shoot, with looks and brands in evidence. They started with Balenciaga and continued with a matching denim look. The pair showed up at Kenzo's Paris show, which marked Nigo's debut as creative director, as matchy-matchy sweethearts. Kanye wore a Balenciaga jacket, black padded Midwest Red Wing boots and a pair of rectangular-shaped sunglasses. Julia, on the other hand, opted for a cropped jacket decorated with the silhouette of two conical breasts and XXL gold earrings, both by Schiaparelli, with boots, also in denim, from the new Diesel collection designed by Glenn Martens.
Watching them run around covered in denim at the Paris Fashion Week shows, many felt like going back to the early 2000s, when another hot couple set the trends of the time. Remember Britney Spears and Justin Timberlake on the red carpet of the 2001 American Music Awards? It was the year of I'm a Slave 4 U and 'N Sync's third album, when Britney arrived at the awards ceremony in a patchwork demi-dye dress, coordinated with a small handbag in the same fabric, a jeweled belt and a sparkling crystal choker. Hand in hand with the pop star was Justin, also dressed head to toe in denim and complete with cowboy hat and maxi bling bling cross around his neck. Their looks immediately went viral and branded as the ultimate example of Y2K bad taste, it entered the list of the most copied Halloween costumes. This kitsch classic was also replicated in 2014 by Katy Perry (her dress was by Versace) and rapper Riff Raff for the Video Music Awards. What many people ignore, however, is that the outfit has a precise name, Canadian Tuxedo, and an interesting story behind it.
Let's go back to 1951. It was the golden age of Hollywood and one of its most famous stars, Bing Crosby (for Gen Z he sings the OG version of White Christmas) was visiting Vancouver. After a hunting trip, the actor was checking into a luxury hotel when the concierge, mistaking him for a tramp, refused him entry. The reason? Cosby's clothing, which featured head-to-toe Levi's denim. The misunderstanding was immediately resolved and a bellboy revealed to the unsuspecting concierge that the guy in jeans was in fact a real star, but news of the misunderstanding reached Levi's. The American brand decided to make and sell a brand of denim with the same name. The American brand decided to make and present Bing with what would henceforth be called the Canadian Tuxedo, a suit made from the same material as the classic Levi's 501 jeans. The highlight was the jacket, which was shaped like a classic tuxedo-style jacket, but featured a bodice of red tabs and shiny rivets, with an internal leather patch that read: "Notice to All Hotel Men: a perfectly appropriate fabric and anyone wearing it should be allowed entrance into the finest hotels."
Since that curious debut, the Canadian Tuxedo has remained a difficult outfit to wear without falling into kitsch, as proven by Britney and Justin's fashion experiment, while denim on denim has become a timeless trend. Over the years, everyone has worn it at least once, playing with shapes, proportions and denim washes. In the fabulous Fifties it was worn by Elvis, James Dean and Marilyn Monroe, in the Sixties by Jane Birkin and Lauren Hutton, in the Seventies by Debbie Harry, in the Eighties by Madonna and Sade, in the Nineties by Drew Barrymore and the entire cast of Beverly Hills 90210, right up to the new millennium and contemporary it-girls such as Bella Hadid and Rihanna.
Now that Kanye West and Julia Fox have presented their version of the Canadian Tuxedo to Gen Z, how much do we want to bet that many other couples will imitate them? Time will tell if we're right, but in the meantime, let's dust off our jeans, shirts and denim jackets.