Barbie and Balmain launch a ready-to-wear and NFTs collection
"I'm a Barbie girl, in a fashion digital world."
Barbie and Balmain combine their aesthetics for a project with a double identity: fashion and digital. For this new and original partnership, Olivier Rousteing has revisited the codes of the French Maison such as the Labyrinth monogram designed by Pierre Balmain in the '70s, the marinière models, the shoulder pads, the oversize gold buttons and even his popular Fabergé dresses in Swarovski from the FW12 collection, giving life to over 50 garments and accessories. The result is a captivating array of wide-shouldered, sequined minidresses, satin suits, leggings, micro cardigans, furry and glittery bomber jackets, pajamas, blazers, hoop earrings, heeled boots and it-bags. All united by a nostalgic mood of the 90s and declined in different shades of pink. Rousteing defined the collaboration as a "bridge between Barbie and the world of Balmain haute couture, of a house born in Paris in 1945" and, after revealing where the inspiration for the collection came from, he said how important working with Barbie was for him:
For this collaboration, we are building upon the New French Style of Balmain's most recent collections, once again showing that Balmain is inspired by the truly diverse and exciting beauty found on today's Parisian boulevards and avenues. This collection also rejects any arbitrary gender limitations—this is an almost 100% unisex collection.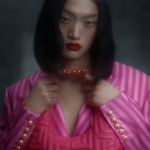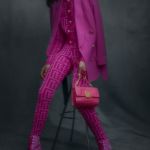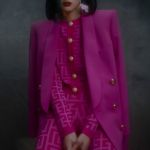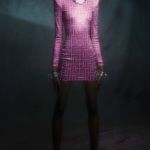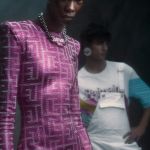 Talking to WWD, Balmain's creative director recalled when he used to make clothes for his Barbie doll with his grandmother as a child, despite his father's disapproval of him playing with the famous doll. While to the New York Times he reiterated:
For me, it's much more than a commercial project. It's very emotional. Having Barbie in my Balmain army, making a collection inspired by her where there are no boy clothes or girl clothes, is my small revenge. I think Barbie represents a joyful dream world. There's nothing wrong with a dream. But let's push the dream and not dream of the 1950s or 1960s, but 2022. Ken can be Barbie's best friend, he can be her boyfriend, he can borrow his girlfriend's or best friend's clothes. Ken can be the best friend of Barbie, can be the boyfriend, can borrow the clothes of his girlfriend or of his best friend. Barbie can borrow the clothes of her boyfriend or her girlfriend — so it's completely another Barbie world, but I believe that this is the Barbie world that we all want to see right now.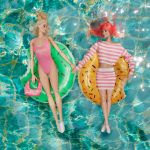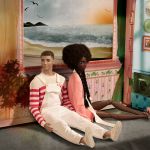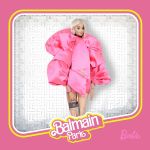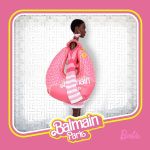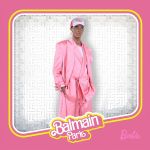 Along with the ready-to-wear collection, which will be available January 13 on the Balmain website, Mattel Creations and in stores, the collaboration marks Barbie's debut in digital art and includes three NFTs featuring Ken and Barbie dressed in the fashion house's clothing. Each avatar, accompanied by a matching physical drawing, will be auctioned January 11-14 on Mintnft.