Dr. Martens and Heaven by Marc Jacobs present a 90s-inspired collection
Available from September 9th
In 1993 Jurassic Park and True Romance were out at the cinema, Nirvana released In utero and young Hollywood stars were attending the Viper Room in Los Angeles, marking the beginning of the end of the X Generation, grunge and rebellious losers in flannel shirts, the same ones celebrated by Marc Jacobs in one of the most iconic collections of the '90s. The American designer, who at the time worked for Perry Ellis, brought to the runway the clothes that young people wore at the time: floral dresses style "granny", flannel shirts, wool caps and Dr. Martens, starting a collaboration that has continued until today. The new chapter of this partnership takes us back to that first episode, evoking with a touch of nostalgia the aesthetics and the desire for freedom of expression of the grunge era, revisiting them for a new generation of freethinkers.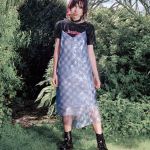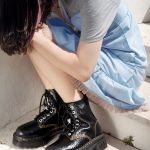 In the new collection Heaven by Marc Jacobs, created with Brooklyn-based designer Ava Nirui, the Audrick 8i HMJ Croc boot and the Audrick 3i HMJ Croc shoe, with its brand new, lightweight Quad Neoteric sole combined with a SoftWair insole, are back in the spotlight. Both silhouettes have been made of New Vibrance Croco leather, feature a heel loop and the signature Dr. Martens yellow stitching, and feature extra-long laces for a double wrap. The cute detail? The daisy-shaped eyelets.
The collection will launch on September 9th and will be available at drmartens.com and select partners.