Jean Paul Gaultier: the it-girls favorite designer
Despite the designer's farewell to the catwalks, the celeb still love the brand's archival pieces
It is clear that all the it-girls of the moment seem to have a soft spot for the enfant terrible of French couture, Jean Paul Gaultier. From Kim Kardashian, who, in the front row of the Fall 2022 Couture show with her daughter North, wore a dress from Olivier Rousteing's Jean Paul Gaultier collection that was an homage to the designer's look that Madonna wore in 1992, to Bella Hadid, who enchanted Cannes Festival with a 2002 dress by the brand, to Kylie Jenner who chose a skin-tight green bodycon dress from SS87 (rumored to be worth over $15,000) for her family reunion with Travis Scott and Stormi. More examples? Dua Lipa, who on the occasion of the video clip of Demeanor showed off an opulent Marie Antoinette-inspired costume by Gaultier, from the 1998 collection entitled Les Marquis Touaregs, a tribute to the French Ancien Régime as Sofia Coppola delivered it to our imagination and Madonna's outfit for Vogue's performance at the 1990 MTV Awards. And again, how can we not mention Jean Paul Gaultier's obsession with polka-dot prints from the historic Cyberbaba show in 1996 or the naked print brought back into vogue by the Jean Paul Gaultier x Lotta Volkova capsule in which some of the brand's archival pieces are revisited in a way appealing to Generation Z?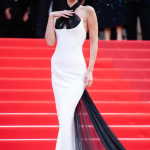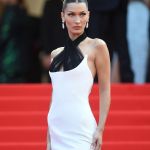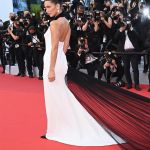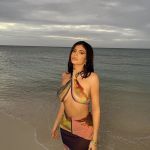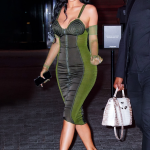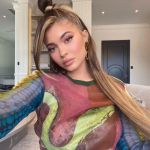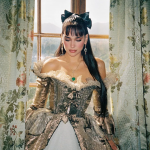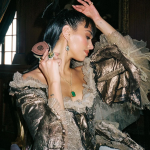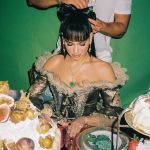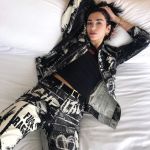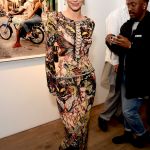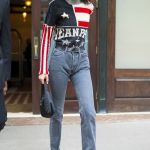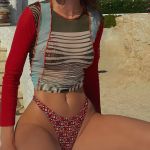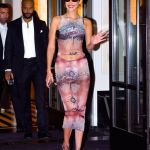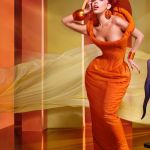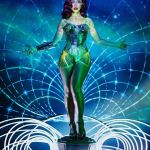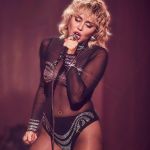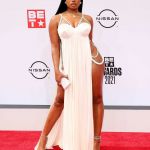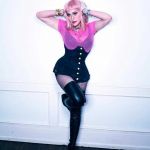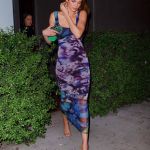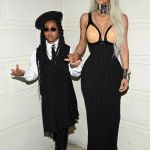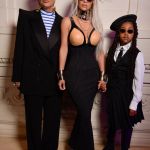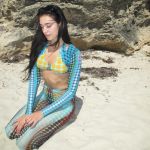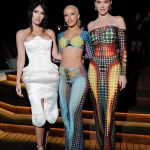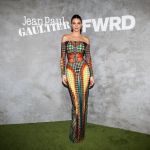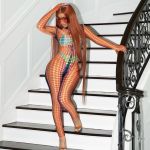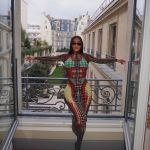 There seems to be a strong nostalgia for vintage in the air, especially among the stars, who more and more often together with their stylists are looking for unique pieces, almost impossible to find, among the archives of the most famous stylists in history - to amaze the public on the occasion of special events and give new life to unforgettable garments. The passion for JPG transcends any era or trend: just think that the brand's garments and accessories are depopulating on reselling platforms at multiplied prices, fueling their cult and collecting.
The history of Jean Paul Gaultier
Costume designer for directors such as Luc Besson, Pedro Almòdovar, Jean-Pierre Jeunet, historic collaborator of Madonna, for which he created the iconic cone bra worn during the Blond Ambition Tour, JPG dressed stars such as of Nicole Kidman, Cate Blanchett, Lady Gaga, Rihanna, Beyoncé, Nicki Minaj, Marion Cotillard, Dita von Teese, Solange Knowles.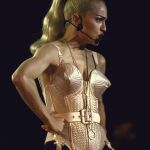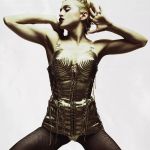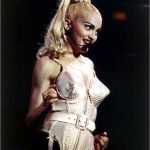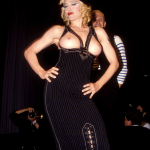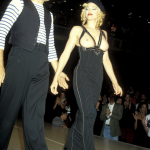 Gaultier was one of the first mentors of Martin Margiela and Nicolas Ghesquière, as well as an eclectic personality of French television, an artist repeatedly exhibited at MOMA in New York, artistic director of Hermès from 2003 to 2010. His long and histrionic career, witch includes different fields such as fashion, design, advertising, art, music, entertainment, begins working as an assistant for Patou and Pierre Cardin; Jean Pul launched his first collection at the age of 25, even if he never studied fashion, in 1976 with nine models at the Planetarium of Paris, thanks to the money raised between family and friends, the help of his cousin in sewing sweaters and only few journalists to attend. But Gaultier's success soon became worldwide thanks to his recognizable, eccentric, disruptive aesthetic, never the same, which draws inspiration from popular culture, from the mixing of genres, from sexual fetishism.
The term "Gaultiered" describes the classic pieces that have been reinterpreted by the designer, such as women's lingerie with pointed cup corsets, the traditional Scottish kilt that became a cult item in men's fashion in 1984, t-shirts with marinière stripes with a Parisian taste that for Gaultier are often cropped, unisex and combined with the Phrygian hat, as well as transparent bodysuits that simulate tattoos on the skin, taken up by Demna Gvasalia for Vetements years later.
His choice of using unconventional models, such as elderly men, curvy women, with piercings or completely tattooed, and the choice of setting up fashion shows intended as real performances with exceptional guests and burlesque shows has often shocked the audience.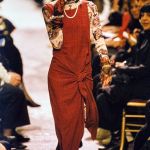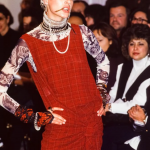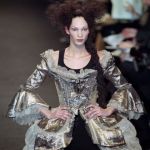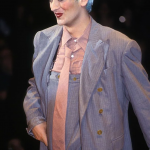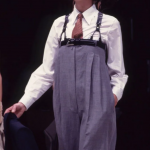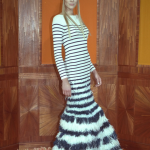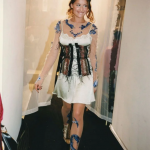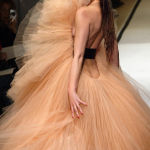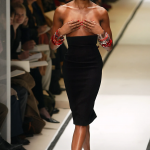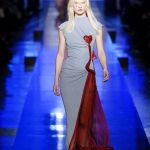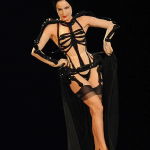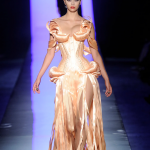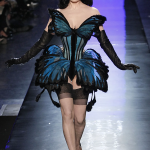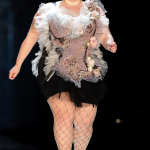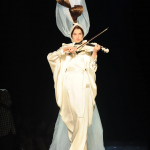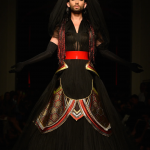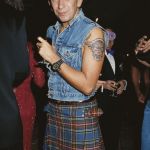 The farewell to the catwalks and the brand's second life
A man capable of reinventing himself and always daring, as shown by the choice of collaboration in 2017 with the streetwear brand Supreme, with Lourdes Leon as testimonial, the iconic prints of the brand on brightly colored jeans and denim jackets. The designer's farewell to the catwalks certainly contributed, first to pret-a-porter in 2015, then to Haute Couture in 2020. In fact, in January 2020 Jean Paul Gaultier announced his retirement with a spectacular show-party of over 150 cult pieces of the Maison, interpreted by the muses of all time: Anna Cleveland, Karen Elson, Beatrice Dalle a Dita Von Teese.
But this end, also announced on IG on the official page of the brand, although it marked the end of an era and the retirement from the games of one of the most influential and significant designers of all time, did not decree the end of the brand, which at the end of May 2021 launched another successful project: Les Marins, a collection created by several hands, with Palomo Spain, Lecourt Mansion, Marvin M'Toumo, Ottolinger and Alan Crocetti. Each creative was invited to view the maison's archive and to invent pieces that combined Gaultier's DNA with their own in a sort of mesh up, the result is a line of unisex and inclusive clothes and accessories, as well as a reboot of the successes by the French designer: the stripes are colored and distorted, almost psychedelic on long tight dresses, marine accessories but in leather.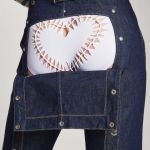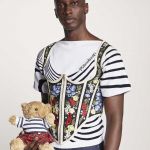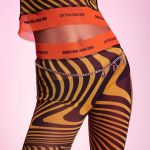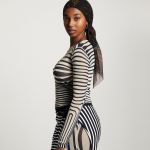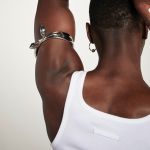 Haute Couture Fall 2021 saw the collaboration with Chitose Abe, the creative director of sacai, a collection-association between Japanese minimalism and Gaultierian excesses that translates into asymmetrical cuts, electric colors, hybrid dresses between high standards and workwear, jackets and bombers transformed into evening dresses, tulle tattoos, dramatic proportions. After Abe, it was the turn of Glenn Martens of Y/Project who presented a in a riot of corsets and maritime fantasies with theatrical atmospheres for SS22, followed by Olivier Rousteing. Balmain's creative director brought to the runway for FW22HC garments inspired by the SS 1994 Les Tatouages collection, the Le Male perfume bottle, and Madonna's outfit at the 1992 amfAR gala. Haider Ackermann, on the other hand, for SS23HC reworked the JPG archive with his unmistakable sartorial elegance.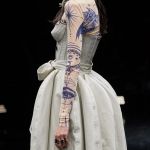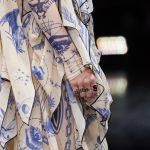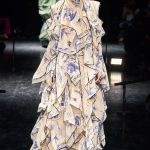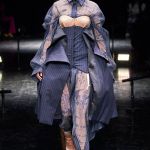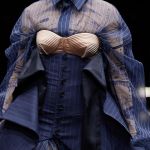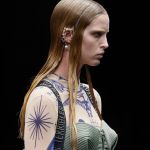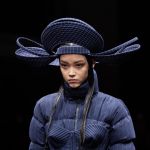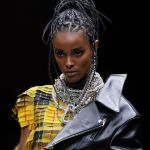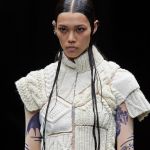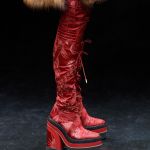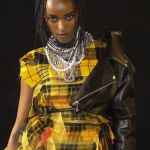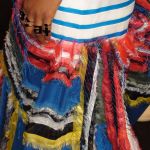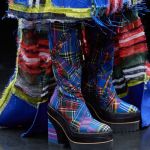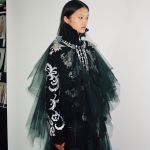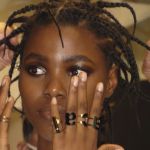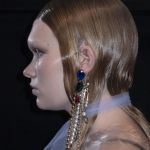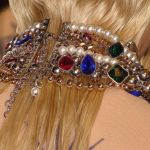 It is difficult to believe that Jean Paul Gaultier's farewell is definitive, that a man able to amaze with projects that are always different from each other, able to anticipate the body positive movement with his choices in terms of casting and to push the limits of gender distinction in terms of clothing, may simply disappear from the radar and enjoy retirement. What is certain is that his artistic heritage has had the opportunity to shine once again thanks to the new generations of designers to whom the designer has passed the baton, while vintage garments are the real attraction of the red carpets, showing us once again how fashion can always be current regardless the passing trends.