How to style Air Jordan 1s for summer
A guide on how to match our Jordans on any occasion during the hot season
A sneaker that needs no real introduction at all, the Nike Air Jordan 1. The basketball sneaker has well and truly stood the test of time, as they can be worn with almost any outfit. But as we dip into the hotter months, what are the best bottoms to pair with the iconic sneaker? That will not only be comfortable but look effortlessly stylish and on trend with the current fashions.
So nss G-Club is here to help you get ready for summer by providing an "how to style guide" of the 5 best types of bottoms to pair with the unanimous Air Jordan 1.
Sweatshorts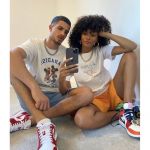 Sweatpants have evidently become the new uniform for many, as they can effortlessly be dressed up or down during the cold months. However, in the summer heat, sweatshorts are a smarter choice because they are just as comfy and easy to throw on, while allowing your legs to catch some sun, and are most popularly paired with an oversized graphic t-shirt.
Biker shorts
Biker shorts are another short style; they're a great option if you're going for a more athletic vibe. Biker shorts are just not for cyclists: they're the perfect mix of athletic and casual, making them ideal for sports as well as recreating the timeless 90s aesthetic with an oversized sweatshirt, chunky crew socks, and a pair of Air Jordan 1s.
Dresses & skirts
Whether that be skirts, mini, midi, or maxi dresses, Air Jordan 1s can go with them all. Gone are the days when only formal footwear could be worn with a dress; nowadays, the sneaker style simply adds to the classy look. So grab your best pair of no-show socks and a beautiful dress and you're ready for lunch or even a night out!

Wide-leg jeans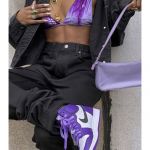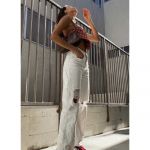 Even if the weather forecast for the next few months is for warmer days, there will always be that one cooler day or evening that forces you to return to full leg coverage. That's where wide leg jeans come to the rescue. The wide leg silhouette has become a year-round staple in recent years, as the baggy style allows for more breathability and comfort while still providing coverage and draping perfectly over Air Jordan 1s.