June Ambrose is PUMA's new creative partner
The famous image-maker will focus on the future womenswear collections
PUMA will collaborate with creative director and image-maker June Ambrose.
June is an icon at the intersection between fashion, music, culture and purpose. - Said Adam Petrick, Global Director of Brand and Marketing at PUMA - Having the opportunity to bring an individual with such talent into the world of sports is unique and we are excited to see how she can redefine what it means to create a sportswear collection.
The decision to work with Ambrose fits perfectly into PUMA's repositioning strategy, which has always focused on music and culture since it began in 2013. The stylist's impact on fashion in recent years is, in fact, undeniable: she predicted the dominance of streetwear, sneaker culture and was one of the first insiders to promote collaboration between hip-hop artists and high fashion brands. The looks she chose in the '90s for her clients have made history, like the fluffy shiny patent leather dress worn by Missy Elliott in The Rain video, the baggy jacket and pants of P Diddy in Mo Money, Mo Problems or Jay-Z's elegant suit in Excuse Me, Miss.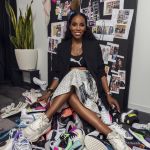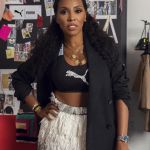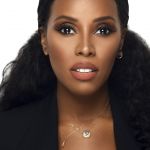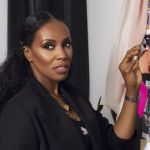 It was Jay-Z who suggested to the PUMA team the collaboration with Ambrose.
Jay (Jay-Z), Emory Jones and I have had many conversations about style, sport, purpose and legacy. From these conversations, Jay then introduced me to Bjørn Gulden (PUMA CEO) and Adam Petrick (PUMA's Global Director of Brand and Marketing). Adam and I talked about our visions and my impact on the culture at large, and it was from these interactions that I knew a collaboration with PUMA would be beautiful and transcend far beyond product. We can do things that impact the culture like what we did with music videos, and Black music in the '90s and early '00s.
June, who for over 25 years has been responsible for the style of stars like Rihanna, Missy Elliott, Selena Gomez, Alicia Keys, Jay-Z or The Weeknd will give a cool twist to the German company's womenswear by offering "a mix of fit, functionality and style that will be at the same time performing, but also elegant". The stylist will also create exclusive pieces that will be part of the PUMA Hoops line and a Title Nine collection inspired by June's desire to celebrate the brave and fearless women who manage to overcome even the most difficult challenges, staying fashionable and fit. In addition, the image-maker will be committed to promoting Puma's work in the field of social justice to empower young people through sport.
We'll have to wait a few more months to see Ambrose's first pieces for PUMA, but according to Jay-Z "Her creative eye, combined with Puma innovation, will be revolutionary."