The 10 best celebrity wedding dresses
From Chiara Ferragni's romantic Dior look to Jacquemus slip dress worn by Vittoria Ceretti
Location? Guests? Menu? Love? No. The most important thing in a wedding is the bride's dress. Whether it's a huge whipped cream cake like Lady D's model or a minimal and refined gown like the one worn by Carolyn Bessette Kennedy in the '90s, it doesn't matter. All eyes will be on those meters of silk and tulle.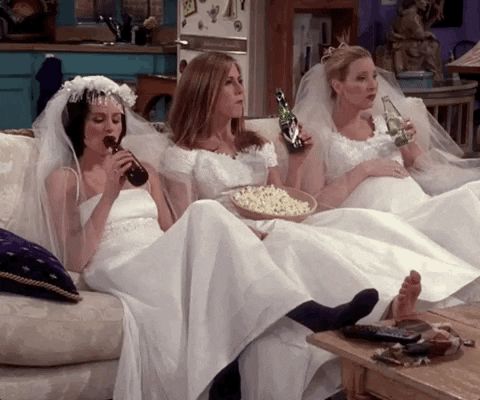 Think about it. It's the first thing we pick. Sometimes even before we've met our soul mate. We are ready to spend all our money and face weeks of drastic diet to be beautiful in our favourite model. Well-rewarded sacrifices to feel wonderful and special even just for one day? Maybe. Well, at least according to hundreds of Disney fairy tales and Hollywood comedies.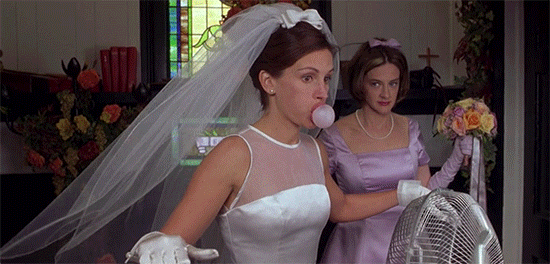 Even celebrities are falling under the spell of the wedding dress. They're the inspiring muses for an outfit that blows everyone's mind. There are those like
Sarah Jessica Parker
who breaks with tradition and prefers black instead of white; those like
Gwen Stefani
and
Jessica Biel
who opt for pink and those who introduce a unique element into their looks like
Angelina Jolie
who had her children's sketches embroidered on her
Versace veil
. Rules are only for royal weddings. Ask
Meghan Markle
and
Kate Middleton
. All other brides can follow their own style. They can recreate a romantic atmosphere like
Chiara Ferragni in Dior
, embrace an easier mood like
Kiera Knightley and her Chanel mini dress
, turn into a boho princess like
Kate Moss in Galliano
or into a pre-Raphaelite character like designer
Hannah Weiland in Shrimps
.
If you need some ideas for your wedding day look, here are the 10 best inspiring wedding dresses that celebrities have worn in the past few years.
Audrey Hepburn in
Pierre Balmain - 1954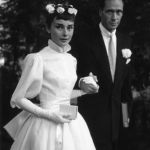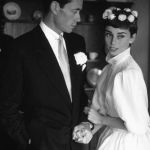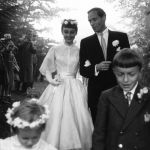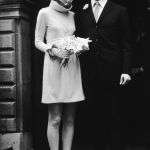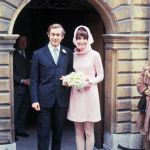 Audrey Hepburn cancels her wedding with James Hanson (she already had a Sorelle Fontana gown ready) to marry the actor Mel Ferrer she met at a Gregory Peck's party. During the ceremony, in Switzerland, she opts for a simple and refined creation by Pierre Balmain with puffy sleeves and a very narrow waist, embellished with a crown of white roses in her hair.In 1969, the star expressed her love to her second husband, the Italian psychiatrist Andrea Dotti, wearing a pink mini dress by Hubert de Givenchy matched with headscarves, gloves, white stockings and flats.
Mia Farrow in a tailored dress 1966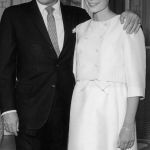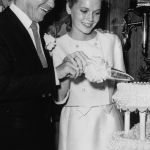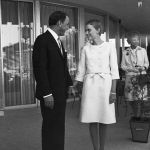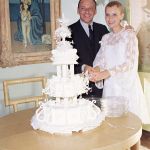 Mia Farrow Mia Farrow married Frank Sinatra on July 19, 1966. The couple, who had met two years earlier on the set of the film Express, caused a scandal: he was 49 and on his third marriage and she was only 21. For the ceremony in Las Vegas, the actress wore the iconic Rosemary's Baby pixie cut and a simple white tailored outfit consisting of a skirt fitted at the waist with a bow belt and a double-breasted cropped jacket.
Bianca Jagger in Saint Laurent - 1971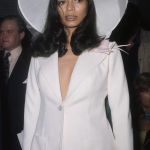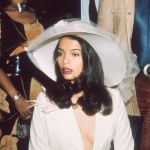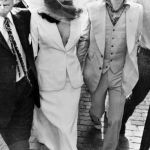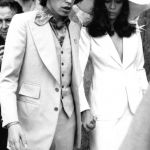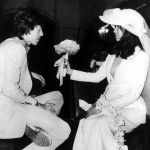 My marriage ended on my wedding day.
Despite this statement, Bianca Pérez-Mora Macias remains one of the most iconic brides ever. In 1971, already pregnant with her daughter Jade, she married Mick Jagger in St.Tropez wearing a white maxi skirt and a jacket by Yves Saint Laurent. She decided to ditch the blouse she'd intended to wear which, at four months pregnant, it no longer fitted. The only accessory was a wide brim hat with roses of fabric and a little tulle veil.
Kate Moss - John Galliano - 2011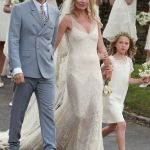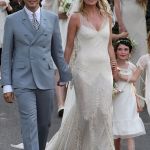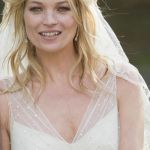 The marriage to Jamie Hince from The Kills didn't last long, but Kate Moss's dress has become one of the most popular ever. For the look of the boho ceremony in a Cotswolds village, the model called John Galliano. The designer, who was recently fired from the Maison Dior following his arrest under the influence of alcohol for violent behaviour and anti-Semitic insults, returned to work just for his friend and created a veiled slip dress inspired by the 1920s, with rhombus cuts and precious embroidery in rhinestones, beads and sequins adding a play of light. Kate's shoes were made by Manolo Blahnik.
Kim Kardashian - Givenchy - 2014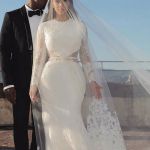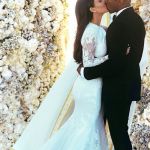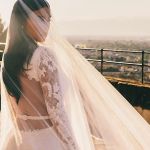 Following a bachelorette party and a pre-wedding dinner party in Paris, Kim Kardashian and Kanye West flew to Florence. On May 24th Kim walked down the aisle of the majestic Forte Belvedere with the voice of Andrea Bocelli and dressed in a white Givenchy lace mermaid gown by Riccardo Tisci. The designer also created the groom's tuxedo and the dress for North.
Solange Knowles - Kenzo - 2014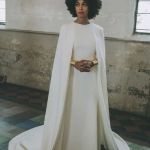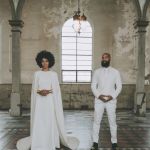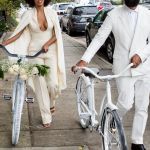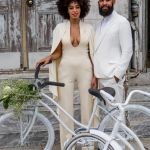 Solange Knowles proves to be it-girl also on her wedding day. The artist arrived Holy Trinity Church of New Orleans on a bicycle wearing a cream-colored jumpsuit by Stephane Rolland featuring a deep V-neckline and a cape. The cape was also the focus of the outfit chosen by Solange for the ceremony: a dress created by Humberto Leon for Kenzo, golden cuff bracelets by Jill for Lady Grey and orange-red lipstick.
Chiara Ferragni - Dior - 2018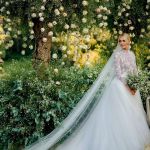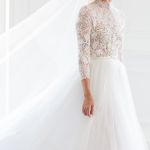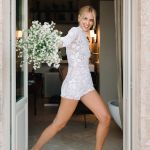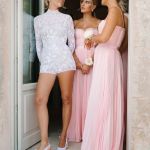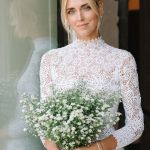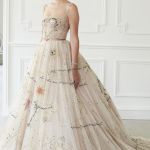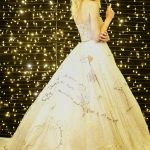 The Ferragnez wedding was one of the viral events of 2018. To celebrate their special day, the couple recreated a carnival in Noto, Sicily. Among gadgets and selfies, the attention was caught by Chiara Ferragni's outfits, all by Maria Grazia Chiuri, creative director of the Maison Dior. The influencer went to the aisle in a white dress featuring a lace bodice, adherent with long sleeves and fluffy tulle skirt. The secret? Detached the skirt, the corset turns out to be a jumpsuit. At the feet Chiara has white slingbacks customized with her name. For the party Ferragni switched her wedding dress with an ivory Haute Couture dress, characterized by the design of a small lion, the silhouettes of the two lovers in gold and multicolored threads and the lines of di Favorisca i sentimenti, the song with Fedez asked for the hand of his future bride at the Arena di Verona.
Hailey Baldwin - Off-White - 2019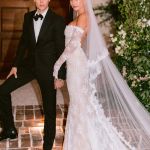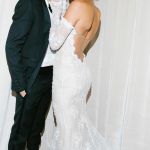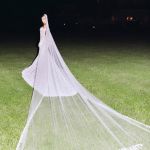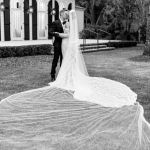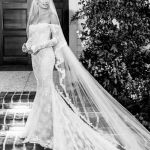 One year after the private ceremony in New York City Hall, Hailey Baldwin and Justin Bieber married in the Somerset Chapel of the Montage Palmetto Bluff Hotel, in South Carolina, in front of 154 guests, friends like Kendall, Kylie and Kris Jenner, Jaden Smith, Joan Smalls and Ed Sheeran. The bride's look was a lace mermaid gown by Virgil Abloh with bare shoulders and back, completed by a long veil featuring, embroidered at the end, the words "Till death do us part". The Off-White designer also created two other outfits for her friend: one silk model similar to the one Carolyn Bessette wore when she married John F. Kennedy Jr. in 1996; while the other recalled the dress designed by Stella McCartney for Meghan Markle's wedding party at Frogmore Cottage. For his tuxedo, Justin, instead, chose Celine.
Charlotte Casiraghi - Giambattista Valli - 2019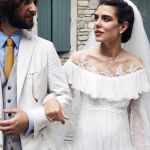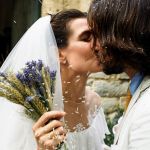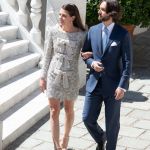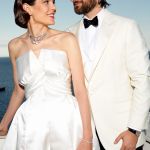 Double wedding for Charlotte Casiraghi and Dimitri Rassam. For the first one the princess wore an embroidered mini dress, with three large bows in front, by Anthony Vaccarello for Saint Laurent and, later, a white Chanel sleeveless dress with sweetheart neckline. During the religious ceremony in Saint Remy de Provance, Charlotte opted for a lace creation by Giambattista Valli that recalled the Dior by Marc Bohan wedding dress worn by her mother Carolina.
Vittoria Ceretti - Jacquemus - 2020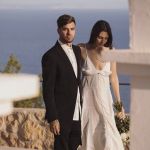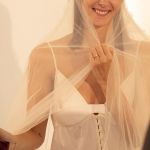 Vittoria Ceretti married DJ Matteo Milleri in Ibiza, in a small church overlooking the sea, in a white dress by Jacquemus. The creation that is part of the SS20 collection featured thin straps, deep V-neckline, soft skirt and a long row of central buttons that slides along the entire dress. To complete the minimal and Mediterranean look there were white sandals, a veil of organza and thin golden jewels.