The rebirth of Mugler
How the creative director Casey Cadwallader is reconnecting the iconic brand to contemporaneity
It all started when Cardi B wore a Fall 1995 dress inspired by Botticelli's Birth of Venus on the red carpet of the 2019 Grammy Awards. Followed shortly after by Kim Kardashian, who for the Met Gala dedicated to Camp fashion opted for a custom wet dress made especially for the occasion. And boom. Suddenly Mugler is once again one of the hottest brands on the scene.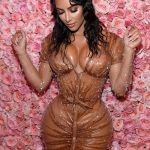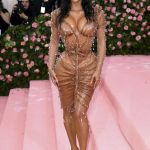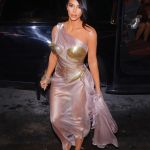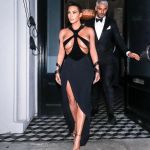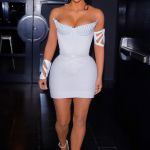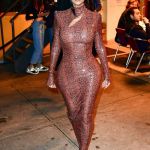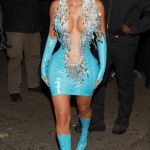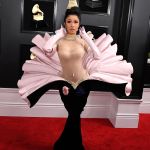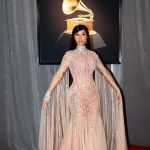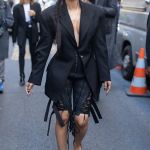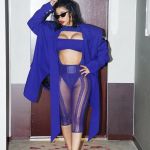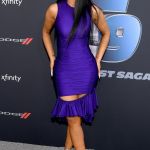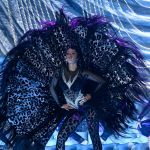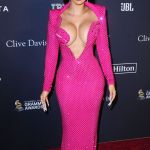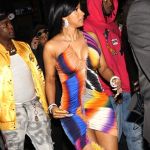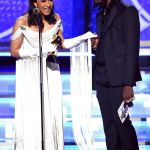 Not only for the new creations of Casey Cadwallader, but, above all, for the vintage clothes designed by Thierry Mugler in the '80s and '90s. As many have pointed out, for a generation grown up on hoodies and leggings, the exaggerated proportions and glamour of the Maison's founder are freaking seductive. Among the biggest fans of the French designer and his heir, conquered by the glamour d'antant and outfits made of cycling shorts with push-up effect, fitted blazers, sportswear hints, guêpière and catsuits are Dua Lipa (have you watched the video of Levitating?), Miley Cyrus, Rosalía, Bella Hadid and Beyoncé who chose Cadwallader's creations for the On the Run II tour.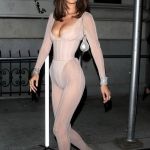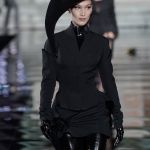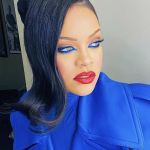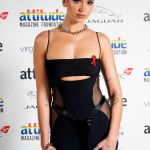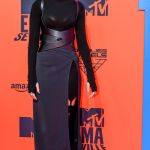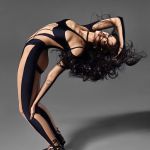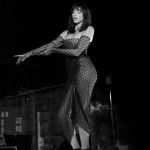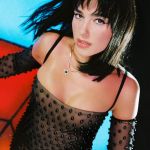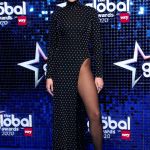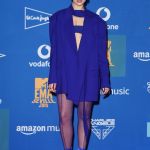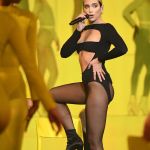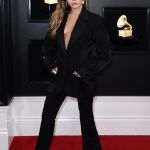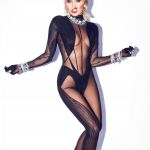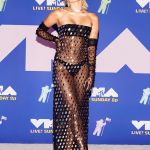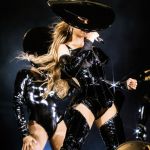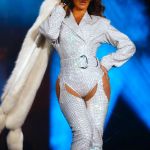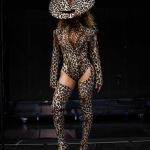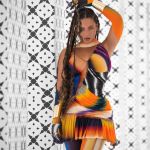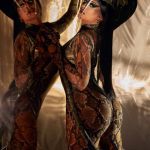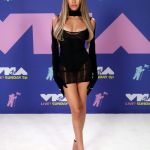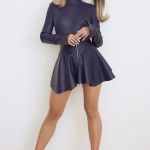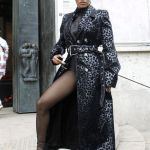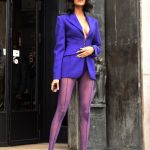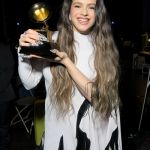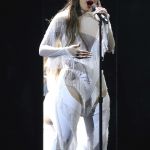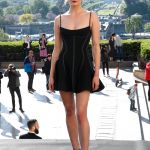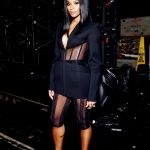 From the moment he joined Mugler in 2017, Cadwallader has proven to be the right man to shine a new light on the brand's image and connect it with contemporary taste. Until that moment, the American designer had mainly remained behind the scenes. Following his studies in architecture at Cornell University and an internship at Marc Jacobs, he worked on women's ready-to-wear for Narciso Rodriguez, Loewe and finally for Acne Studios.
His debut show (for the SS19), set up under the LED dome of the Éléphant Paname in Paris, was a great success. His coats and looks, made in collaboration with British artist Samara Scott, featuring a bizarre mix of ingredients (from hair gel to curry powder, chewing gum to toothpaste) trapped between the two layers of transparent vinyl were stunning. Since his first collection, the designer has shown that he knows the brand's DNA well: dramatic shoulders, structured corsets, latex, asymmetrical cuts, wide portions of the body left uncovered, deep necklines, transparencies. Reworked by Casey, these elements acquire a new freshness. This is what happened for FW20, in which the young designer brought to the runway a fetish world, dominated by a group of powerful and sexy Amazons, dressed in long wraparound dresses highlighting the curves of the body and maxi coats. Cadwallader's stylistic code is here: playing with provocation, alternating solids and voids, leather and voile, cut-outs that reveal the body.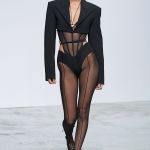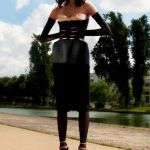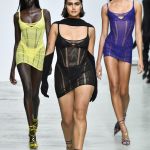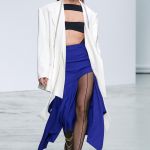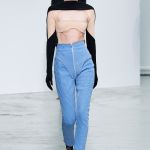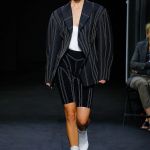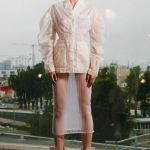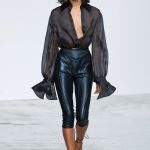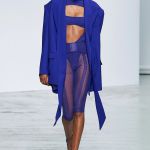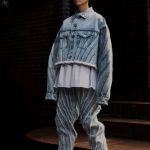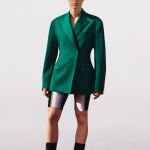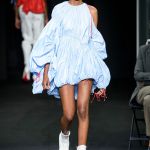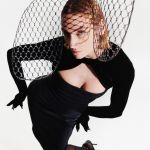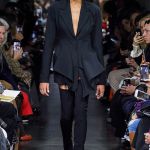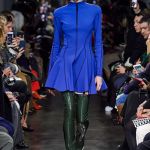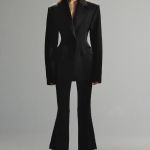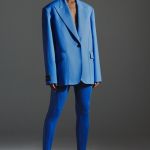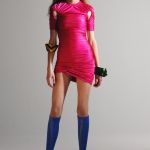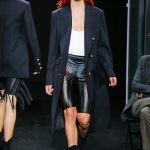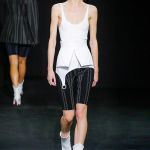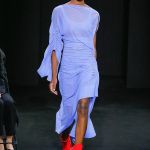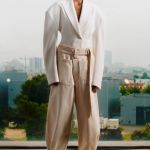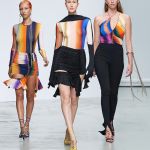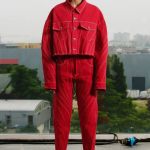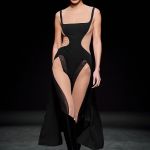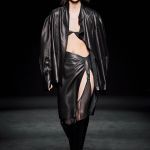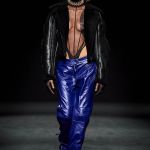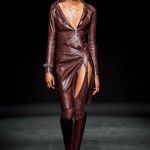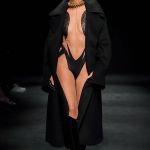 From the beginning, his approach has been focused and smart: using Monsieur Thierry's heritage without merely proposing copies of his cult pieces, but reinterpreting his sensuality in an inclusive way with an aesthetic language that reflects the woman of the 21st century. Thierry Mugler marked the fashion history for his visionary creations, for the angular, sexy, aggressive, hourglass silhouettes, created to fit feminine empowerment that is very far from the current one.
In the past it has been this supercharged heroine who's going to take over the world and take everyone out along the way—that's what culture was asking for back then. – said Cadwallader - It was the resistance to the norm. Women were objects in a man's world and they were fighting to be treated as an equal, to be as strong and as respected as men in the workplace and everywhere else. Mugler gave them what they needed to feel empowered to do that: he gave them the shoulders, the toughness, he allowed them to be these creatures of power. In the 1980s, women dressed for men. While today women always dress to get power, but they do it for themselves. Not to be accepted by men, but to remain true to themselves, and feel how powerful that feeling of security is, to be able to choose their own future.This is the substantial difference.
Thierry Mugler, with his unique and extravagant aesthetic, revolutionized a fashion market ruled by 80s and 90s androgynous minimalism. Originally from Strasbourg, he came to Paris to be a professional dancer and in his spare time he took courses in decorative art and began designing the clothes he wore in everyday life. Soon his passion for fashion prevails and Thierry founds his eponymous brand in 1974.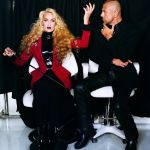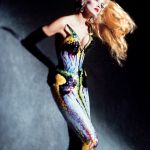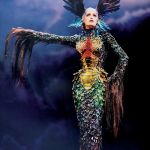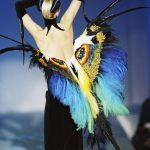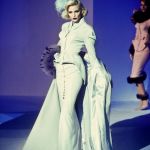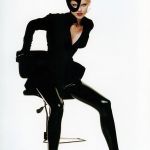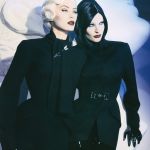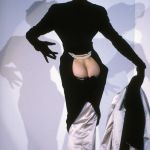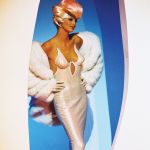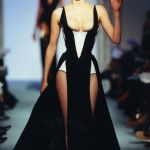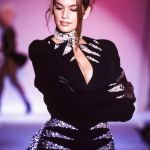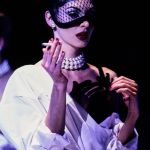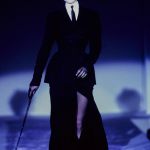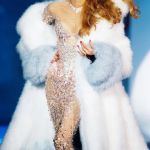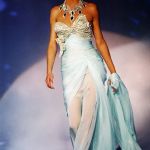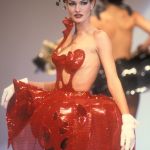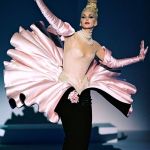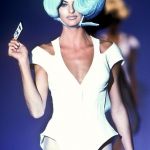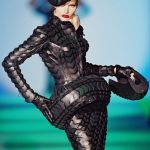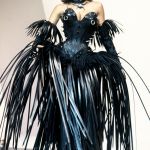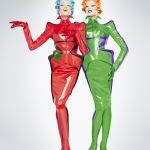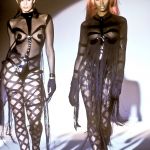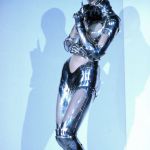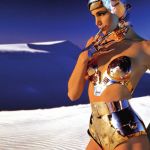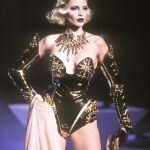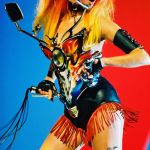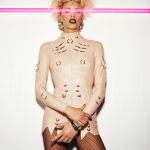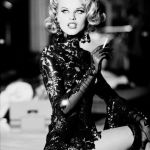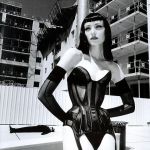 Provocation and seduction became his signature style. The women he brought on the catwalk are powerful femmes fatales dressed in rigorous suits, furs, rhinestones, latex, corsets, angular superstructures that tighten the waist. His creations wrap and exalt the female body and are inspired by cyborgs, insects, metamorphosis, and movie noir divas.
I have always been fascinated by the most beautiful animal on Earth: the human being. - Mugler often repeats in interviews and adds - I am an architect who completely reinvents the woman's body.
Genius, irreverent and innovative, he is one of the first to relaunch the hourglass silhouette sculpted by clean, angular cuts, but also the vinyl in a 1992 fashion show in support of Apla (Aids Project Los Angeles), with a unique cast on the catwalk that included Ivana Trump, Michelle Phillips, Debi Mazar, Brigitte Nielsen, Linda Hamilton, Sharon Stone. Thierry recalls:
The message that fashion wanted to promote was: protect yourself is directly related to protecting others, and so prevention became an act of generosity. Sophisms aside, I loved vinyl because it makes the body look like lacquer.
Mugler is a 360° artist, not only creates clothes, but he is a photographer, director, stylist. He designed the black little dress that Demi Moore wore in Indecent Proposal, he directed one of the most iconic videos of the 80s, George Michael's Too Funky, starring Linda Evangelista, Eva Herzigova and Tyra Banks. His clothes have been worn by many stars, from David Bowie to Liza Minnelli, from Diana Ross to Lady Gaga, and more recently he has been creative consultant and costume designer for Beyoncé's I Am... world tour.
In 1997, when profits were running down, the beauty giant Clarins took over the brand. At the beginning of 2003, Thierry retired and the label left the clothing sector to focus exclusively on perfumes (Angel is still one of the best-selling fragrances in the world today). In 2010 the brand was relaunched and led first by Nicola Formichetti and then, in 2013, by David Koma. Currently, thanks to the creative direction of Casey Cadwallader, Mugler is returning to the top of the fashion scene.