Amina Muaddi is Fenty's new shoe designer
The influencer has won over Rihanna with her glamorous and feminine creations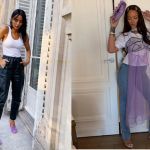 Amina Muaddi will work with Rihanna to create Fenty's new shoes. The news was revealed by the influencer during an interview with Footwear News, a magazine that has just awarded her the Designer of the Year at the FN Achievement Awards. Riri has always been the biggest fan of Muaddi. It seems, in fact, that just after the presentation of the first collection of shoes, the singer had her stylist Jahleel Weaver buy several pairs. From that moment on, the pop star has worn the sandals on several occasions and also wanted them as an accessory for the latest Savage X Fenty fashion show. It is, therefore, no coincidence that she has now chosen to hire the creative for her brand's next collections.
The new working adventure represents for the girl of Romanian and Jordanian origin only the last of a long series of successes. She arrived in Italy to attend high school, then studied at the IED in Milan and soon began to collaborate with the major fashion magazines in our country, before flying to New York at GQ USA. Back in Italy, in 2013 she co-founded the Oscar Tiye brand, which she left in May 2017. At the same time she started to create shoes for Alexandre Vauthier and, thanks to the growing popularity on social networks where millions of followers appreciate her looks shown off during fashion weeks and in the shots, she became one of the most beloved influencers. All the experience gained in recent years, including a period of training in the famous footwear district of the Riviera del Brenta, has helped Amina to launch its namesake brand in summer 2018.
Dua Lipa, Kendall and Kylie Jenner, Bella and Gigi Hadid, Rosie Huntington Whiteley, Hailey Baldwin and many other girls immediately fell in love with Muaddi's creations. Her shoes seem perfect for a modern Cinderella: glamorous, sexy, original, able to blend traditional manufacturing (they are strictly made in Italy) with an international taste that reflects the cosmopolitan life of the designer. The feature that makes them unmistakable is the heel, with its silhouette that widens at the base creating an architectural effect. Another element to emphasize is the out of season approaches. Amina opts for the see now buy now and for special drops at selected retailers such as Bergdorf Goodman, Saks Fifth Avenue, Harrods and Harvey Nichols.
Influencer, designer, Amina Muaddi is definitely one of the contemporary talents to keep an eye on, especially now that we wait to see what she will create for Fenty, whether she will remain true to her hyper-feminine style or introduce details with more street and sporty vibrations.