Sunnei Rubberized Earrings portrayed by Ronni Campana
The hottest accessories of the Milanese brand are shot in a multi sensorial campaign
There's a very simple way to measure the popularity of a fashion accessory: Instagram.
The growth of anticipation, desirability, to say it with a streetwear term, of hype, is directly proportional to the number of published posts dedicated to an item. During not so extended periods of time alternate for example Dior Saddle Bags, Loewe oversized sunglasses, Bottega Veneta Pouch Bags or squared toe sandals. Along with short-lived trends, establish cult items that are constantly trending, such as the Jacquemus Le Chiquiti, a meme/must-have bag basically useless in everyday life, and the Sunnei Rubberized Earrings.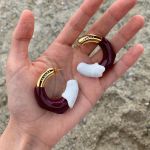 If these golden earrings dipped in a wide range of different nuances have become the object of desire of thousands of girls, the credit goes also to the specific, clean and catchy aesthetic that has characterized Loris Messina and Simone Rizzo's brand since its early days. On top of that, there's the prolific collaboration with artist and photographer Ronni Campana, whose equally powerful and refined imaginary does not hide flaws or imperfections, but highlights them for an unexpected outcome. Campana has a different take on everyday life, what might be ugly or usually erased is part of a layered shot that is nevertheless disarming natural and real.
After the series of images portraying Sunnei sunglasses under a splash of water, Campana returns now to collaborate with the Italian brand for a unique project starring the well-known Rubberized Earrings. Following that naturalness and realness that is part of Sunnei DNA, women of different ages and races are portrayed in spontaneous expressions while reacting to the noise in the background: the buzzing of a fly, laughter, a scream, traffic, a mouth chewing. Campana creates small videos that add to the visual part a sound element, to make us enter the image we're looking at, creating an even more close bond with the earrings symbol of the Sunnei aesthetic, sophisticated, but down to earth.
Sunnei Rubberized Earrings are now available here.