Milan Fashion Week, all the beauty trends we saw
Graphic eyes with saturated colour and hair with unstructured waves: SS24 inspirations to copy
When Milan Fashion Week takes the stage, the focus isn't only on the clothes, but more importantly on the beauty looks that accompany the catwalk outfits. While New York focuses on laid-back luxury trends for the coming season and London flirts with punk influences, it's all about Instagram-worthy trends in the Italian fashion capital. Eyes highlighted with a fleeting application of gloss or a cobalt blue tint, relaxed and versatile hairstyles for every occasion of the day – let's take a look at the five trends you can try now for face and hair, straight from Milan Fashion Week.
Ombre lips
A big comeback from the 90s, this is becoming increasingly popular because it plumps up the lips. It involves applying a lipstick that is one shade darker than your natural lip colour generously and then blending towards the centre for a plumping visual effect. Moschino opted for these lips, while Gucci personalised them with a vinyl gloss in their new, more violet red.
Long live the gloss
Not just for the lips: The exquisite wet look offered by the most versatile product ever is back in the spotlight. Gloss can be applied anywhere, even on the eyes and cheeks, for a natural look as if you've been dancing all night or on a reflective walk.
The most beautiful applications of this moisturising product have been admired at Max Mara, Ermanno Scervino, Diesel, Iceberg and Bally. Avavav also uses it to recreate tears, a great idea for fans of Euphoria-style make-up.
Colour, colour, colour and Spider Lashes
Sometimes all it takes is a touch of orange or blue to make your complexion glow. Etro and Antonio Marras know this well, as they've enlivened their eyelids with a vibrant cerulean. At Prada, apricot is the colour of the season, while Giorgio Armani presents sumptuous shades of purple with a touch of bright white.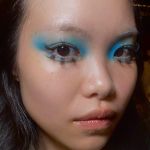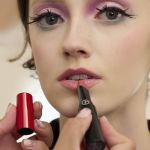 The plus? Combine it with Spider Lashes, dramatic, almost 'product-encrusted' lashes that resemble a spider. We've seen them at Marras and Armani, with one clear reference in mind: the beauty look made famous by British model Twiggy in the 1960s. Here's how to recreate them: Use an eyelash curler to bend them perfectly, and use the mascara brush to sweep it generously over one lash strand at a time, creating spider legs.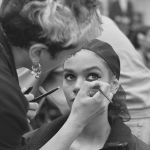 Luisa Spagnoli, on the other hand, goes for a magnetic look with gold smokey eyes. The look is rounded off with eyeliner, which comes in the classic elongated cat-eye shape, geometric shapes or even winged.
Free-spirited hair
At Milan Fashion Week, hairstyles were on show that didn't stray too far from their natural state. The hairstylists' aim was to emphasise the natural beauty of the hair and create a gentle wave that gives the impression that the hair has been tousled by the wind. Roberto Cavalli and Ermanno Scervino chose this path, while Moschino added a brilliant twist, following the wishes of its founder Franco when he established the house forty years ago: on one side they're extra straight, on the other there is a frisé strand as an embellishment.
Baby hair also found its way onto the catwalk at Etro, accentuated by voluminous ends with a wavy texture. N°21 took inspiration from Courtney Love's 90s style with "scrunchy" waves that look like they just got out of bed. This style is also suggested for brides and complemented with small lace veils.
If you don't like free-flowing curls, here's the updo
Prada sets the tone for the season with its minimalist but effective look. If you're looking for an alternative to a chignon, opt for an updo secured with an elastic band reminiscent of nylon tights.
Fendi goes for a low ponytail with a very clean texture, accentuated by a silver gemstone in the middle. Max Mara's chignon, on the other hand, is retro and has a side parting, while Antonio Marras' perfect updo is a soft, slightly tousled half ponytail and Versace's finishes with a bow.