Celebrities' pre-holiday hairstyles changes
From Kim Kardashian to Emrata, the buzzwords of summer are new hairstyle
Even celebrities prepare for their holidays and make a list of things to pack. Sunglasses? Yes. Tops? Done? Sports shorts? Checked off. Hat to hide from paparazzi? Checked. But what could really put off the throngs of photographers who usually follow them? A new hairstyle, perhaps. From Kim Kardashian to Anna Hataway, from Katy Perry to JLo, stars cut their locks, dye their hair, wear bangs, use wigs and extensions. All just to have 15 minutes of peace or, conversely, to make more of a splash even when they are not at the movies or on stage?
Here are the biggest changes in celebrities' hairstyles before the holidays.
Kim Kardashian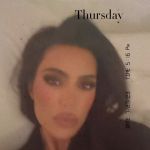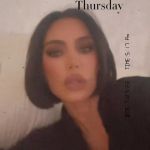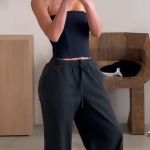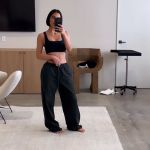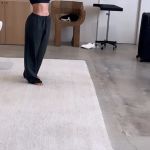 "I want to show you my new hair," Kim Kardashian says in a story on Instagram, using the new SKIMS sets to show off her new hairstyle. In the last few years, the businesswoman has got us used to long hair (even XXL thanks to the use of wigs or extensions), scaled, centre parted, sometimes dark brown, sometimes blonde, with or without fringes, but it's been quite a while since she ventured into such a short cut, a 90s bob, with centre parting and extra smooth crease, the strands ending perfectly at chin level. First fan comments? She looks more and more like her sister Kourtney Kardashian, who has been wearing a bob mignon since this spring, first platinum blonde and now black, her natural colour.
Florence Pugh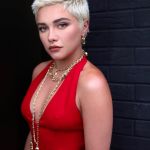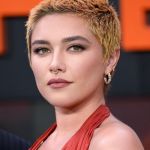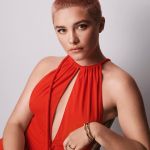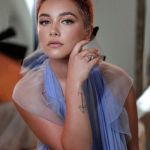 Florence Pugh loves to experiment and play with her image. That's why her fans were not surprised when the actress presented a brand new pink buzz cut as a guest in the front row of Valentino's Haute Couture show for autumn-winter 2023/24. An homage to Barbie? Perhaps, but the cut, created by Peter Lux, seems to take on new shades with each of the star's public appearances. On 12 July, Pugh attended Oppenheimer's London photo shoot in no less than two different colours: from bright pink, her hair went first to a pale peach shade and then to platinum blonde, with the dark roots shining through.
Emily Ratajkowski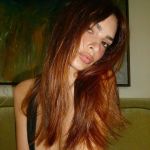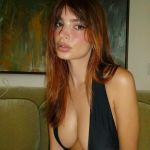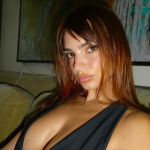 The supermodel prepared for the holidays with a new look that may have been inspired by The Little Mermaid. Like the beautiful Ariel, her hair was also dyed a foxy red. It's a rich, warm shade that will be popular next autumn and was created for Emrata by her trusted hairstylist Jenna Perry. Using Kérastase's Chroma Absolu protocol, Perry created a coppery red shimmer with hints of blonde and orange that colours the hair without compromising its health. The cut, on the other hand, is the same as last period: medium length, slightly stepped on the sides and with a curtain pony.
JLo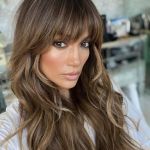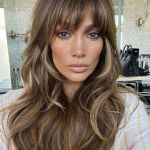 JLo decided to change her look just before the summer solstice and added a bang to her classic long, layered-back cut that is both full and light. Lopez eschewed the very long hair for a layered cut with slightly shorter strands on the sides of her face, created by her hairstylist Lorenzo Martin. She also said goodbye to the blonde of the past few months. In the run-up to the hot season, the star opted for a brown shade speckled with small lighteners that give movement to the hair and light to the face.
Levante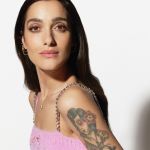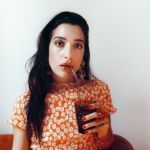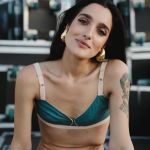 After appearing on stage at Sanremo 2023 with blonde hair and blorange lengths, earning bitter criticism, Levante bid farewell to summer by going back to brunette. She did so with irony and flair, posting a video on Instagram in which she dreams up various showbiz personalities, from Pilar Fogliati to Linus, from Colapesce and Dimartino to Fiorello, who do not approve of her hair colour and suggest she go back to brunette. When she wakes up, the singer realises that her time as a blonde was just a bad nightmare. Author of the "old" blonde and the new chocolate brown is Graziella Cassianelli.
Camila Cabello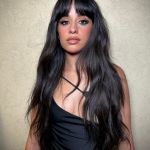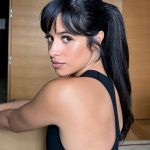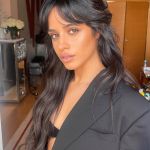 "Retro brunette, dark and sexy for summer 2023" is how celebrity hairstylist Nikki Lee calls Camila Cabello's makeover. The new raven black hair indeed gives the artist a mysterious but at the same time romantic, sweet appeal, especially thanks to the fringe-long hair combination and as mermaid waves. And if Camila wants to change and adopt a more confident vibe? Then just straighten the curls, put them in a high ponytail and hide the fringes under a headband.
Anne Hathaway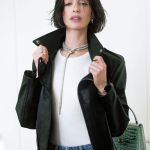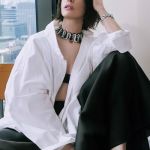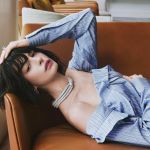 She had cut her long brown hair on camera for the role of Fantine in Les Misérables, and she also wore a pixie cut in the film One Day, but it's been a while since Anne Hathaway has stuck to her lengths. Recently, however, some pictures surfaced showing the actress with a never-before-seen French bob with fringes that showed her off so much. Did she really cut her hair or is it a wig? Probably the second option is the most plausible. Anne, in fact, only showed this haircut by Adir Abergel at a photo shoot for Elle Japan. Too bad, because she really looked great!
Katy Perry
New fringes for Katy Perry too. The singer showed off on Instagram with her usual long, raven-black hair and a baby fringe with slightly wavy strands that ended a few inches above her eyebrows. A little bit pixie, a little bit 90s, Katy looked great with the new beauty detail, but a comment from her hairstylist Jen Atkin makes you wonder if it's her natural hair. Perhaps the strands on her forehead are the result of a clipped-on fringe.
Doja Cat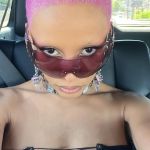 Like Florence Pugh, Doja Cat likes to experiment with her appearance and often dyes her buzz cut. The latest shade before the summer holidays is a hot pink that seems to wink at Barbie and Barbiecore.