Cannes 2023: 5 beauty trends to replicate this summer
From the Croisette to our beauty routine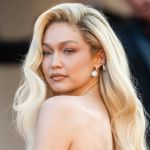 The Cannes Film Festival is perhaps the fanciest event in the film calendar. The venue, the Côte d'Azur, the glittering jewellery, the evening dresses, the accessories and even the make-up and hairstyle are pure glamour. The celebrities compete to have the best specialists by their side to make them beautiful and make them shine brighter than the flashes of the paparazzi. But even without the help of famous MUAs and hairstylists, there are a few beauty secrets we can steal from them to make us feel special these summer weeks. We can take a cue from Scarlett Johansson and Iris for the red lips, Gigi Hadid for the blush bronzer, Simona Tabasco for the wet hair, Dua Lipa for the light smokey eyes and Lily-Rose Depp for the messy haircut.

Here are 5 beauty trends from the Cannes 2023 red carpet that you can copy this summer.
BB updo
Some call it The Pam, others hairstyle à la Brigitte Bardot, but whatever term you prefer, the messy updo with loose tufts framing the face is back in fashion, just in time for Cannes and to save our bad hair moments in summer. On the Cannes red carpet, Uma Thurman, Ashley Graham, Sydney Sweeney and Lily-Rose Depp opted for it, with slight differences in terms of the chignon, which can be more or less elaborate or even replaced by a chignon or alternatively a ponytail in everyday life. It's very easy to achieve and perhaps this, along with the relaxed and sexy look, is why the shaggy hairstyle, created for the Baywatch star by hairstylist Halley Brisker in the 1990s (and clearly inspired by the iconic BB ), remains a classic that the stars can not do without, even at the Croisette: Simply make a chignon at the top of the head, leave it very soft and then pull out small strands to let them fall wildly over the face.
Red lipstick
There are those who, like Elsa Hosk, preferred to stay true to the 90s aesthetic, with lip liner and nude colours leaning towards brown, and those who, like Jennifer Lawrence, opted for jelly lip gloss, which always gives a fresh look, but if there's one thing Cannes 2023 taught us, it's that when it comes to make-up, nothing is more glamorous than red lips. Just one coat of cherry red lipstick is enough to add glamour and meaning to the face. Alexa Chung, Anja Rubik, Rosie Huntington-Whiteley and Scarlett Johansson know this very well. All three opted for a natural clavicut, no make-up, warmed the complexion with a light touch of glassy blush and left the bold lips as the only protagonists. The look everyone was asked to copy was suggested by Iris Law. The model confirms herself as a beauty icon of Generation Z. At Cannes, she walked the red carpet in a see-through Saint Laurent outfit, but what made her shine in the flash of light was Anne Sophie Costa's make-up: a pale complexion warmed only by a light touch of blush, mascara on the lashes and velvet red lips (Iris' colour was achieved by mixing different shades of lipstick). The result is retro, but not too much so, and definitely sensual.
Blushing Bronzer
The beauty trend of summer 2023? The Blushing Bronzer, is a hybrid blending terracotta with a light peach or pink tinted hint of blush. Marion Cotillard, Uma Thurman, Gigi Hadid, Karlie Kloss and many others were among the celebrities who, even on the red carpet of the Cannes Film Festival, could not resist wearing a sun-kissed look somewhere between bonne mine and summer tan. But what products did they use to sculpt their cheekbones? For Alicia Vikander, Kelly Cornwell used Charlotte Tilbury make-up like Cheek to chic, Hollywood Glow Glide Face Architect highlighter and Airbrush Bronzer. Adriana Lima relied on Patrick Ta products like Shes Blushing Blush, while Allan Avendaño used L'Oreal Paris' Infallible Blush in Daring Rosewood and Fearless Coral shades for Simona Tabasco. And Marion Cotillard? The make-up signed by Christopher Danchaud for Chanel Beauty was warmed up by the pink blush stick Baume Essentiel in the shade Rouge Frais.
Wet hair
What happens when we bring together the release of The Little Mermaid, the arrival of summer and the season's chicest red carpet? Celebrities fall in love with wet hair and wear it with their precious dresses. At Cannes 2023, there are many actresses and models who have chosen to appear on the Croisette as if they had just emerged from the waves of the sea, but with an added touch of glam that the beach look does not usually offer. Like a true mermaid, Fernanda Liz parted her long, sleek locks in a centre parting and traced her baby hair in sinuous waves that framed her face. Grace Elizabeth opted for a tomboyish look by combing her short haircut to the side and pinning her topknot up slightly on her forehead. Irina Shayk also created an Old Hollywood look with vintage waves in flapper girl style, but the coolest solutions to copy were those of Laura Harrier and Simona Tabasco. Both actresses wore their wet hair with the tips up, but with a few differences. Harrier combed her long bob close to her head and parted it through a centre parting. The only movement was the upswept tips, reminiscent of the extended eyeliner shape, while The White Lotus star favoured more volume and left a side quiff loose.
Softly smoked eyes
Who says smokey eyes are too heavy for summer? The trick is to lighten them up and give them an extra touch of brightness. As Rosé of the Blackpink, Lily-Rose Depp, Dua Lipa and Julia Garner showed us at Cannes. Dua stunned everyone with a messy haircut and XXL fringes. Smokey eye make-up in a mix of grey and silver shimmer shimmered out from between the strands, adding depth to the look. The finishing touch? Mascara to accentuate the curved lashes and, if desired, a black kohl line.